On 6 May 1815 Captain James Reilly – with Archibald Robbins part of his crew –  sailed "from Saybrook, Conn., for the Cape de Verde Islands."
As Robbins' obituary reports, they didn't make it.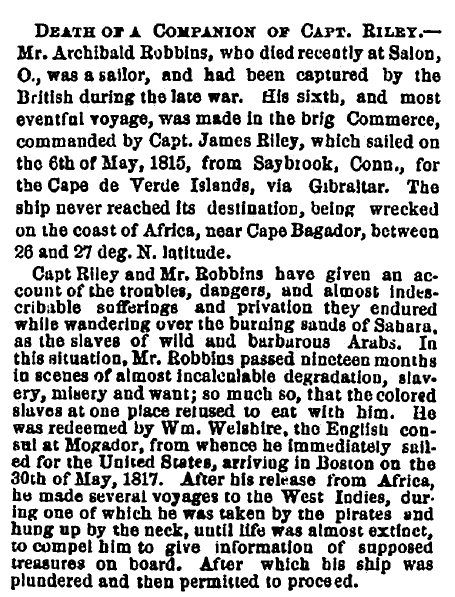 When their ship was wrecked off the coast of Morocco they were forced to swim to shore, where their troubles turned from bad to worse.
They were captured and made slaves.
Archibald Robbins' obituary refers to:
…the troubles, dangers, and almost indescribable sufferings and privation they endured while wandering over the burning sands of Sahara, as the slaves of wild and barbarous Arabs.
Gripping.
Thank you GenealogyBank for preserving this story.
Find your ancestor's story – don't let it be lost to the family.
Find it, preserve it, and pass it down to the rising generation.
GenealogyBank is your source.
Today's special: new members can join GenealogyBank and save up to 25% – but you must join before the end of today, June 24. Get Savings Now
Related Obituaries Articles:
(Visited 20,894 times, 1 visits today)