Introduction: In this blog article, Gena Philibert-Ortega provides three genealogy tips to help you find your ancestor's obituary. Gena is a genealogist and author of the book "From the Family Kitchen."
You've invested time in searching for your ancestor's obituary, only to come up short. Maybe you are at the point of giving up, admitting defeat over that particular brick wall. It's true that not every death was documented with an obituary – but before you give up, ask yourself: have you really looked "everywhere"?
I know it seems like you have looked everywhere, but if you've limited your search to a single newspaper title or even a specific city or state, you may have missed the obituary you seek. A person's obituary or death notice may be published in numerous locations, not just where they last lived or died. When you can't find the obit where you believe it should be, it's time to rethink your search.
So how do you rethink that newspaper obituary search? Consider alternative locations and newspapers. Don't just search one newspaper for the obituary; start thinking about where else that obituary can be, and do a series of searches that employ a combination of both narrow and broad parameters. Here are three search tips to help you.
Hometown Newspapers
What's the name of your hometown? The answer to that question might not be a simple one. What your children consider their hometown may not be the one you think of. Perhaps a city previous to your current residence is the one you think of as "home." The dictionary defines a hometown as "the town where one was born or grew up, or the town of one's principle residence."* When I think of my hometown it's actually not where I spent the first years of my life, nor the two cities I lived in as an adult – it's where I lived for 15 years starting at age 11. I went to school there, worked my first job there, and rented my first apartment. I spent a lot of time there and it is where my parents still reside.
Have you considered what your ancestor's hometown was? That's important because someone could have placed an obituary for your ancestor in that local newspaper, or asked the local newspaper where the person last resided to add the phrase "please copy" to the obituary.
In this column from the New Hampshire Sentinel, there are two examples where the death notices contain the phrase "please copy." This phrase directed newspapers in other cities or states to copy and print the information for their readers. This is a good indication that your ancestor had ties to those other locations. For the notice of George Grimes's death, newspapers in Massachusetts were asked to copy, while Illinois newspapers were asked to print David Wheeler's death notice. These two notices include broad requests involving an entire state; it would be interesting to see how many newspapers in those states reprinted these death notices.
This heartbreaking example from Little Rock, Arkansas, is about the tragic death of two siblings days apart. The heartfelt notice requests that newspapers in Georgia, Alabama, and Mississippi please copy. This request leads one to believe that family and friends could be found in each of those states.
Remember a hometown may be where your ancestor was born, grew up, or resided in for a number of years. When expanding your obituary search, consider the newspapers where close family lived, where your ancestors spent their formative years, or where your ancestors lived the longest.
Ethnic Newspapers
If your ancestor lived in a large metropolis, it might be harder to find an obituary for them in the city's main paper. Obituaries found in newspapers in larger areas were sometimes reserved for the well-known, famous, or infamous. But if your ancestor was part of a specific ethnic, religious, or immigrant group, chances are their passing might have been recorded in a specialized ethnic newspaper that covered their community more closely than the main paper.
GenealogyBank has several historical ethnic newspaper collections:
These newspapers were published in a specific city but they often covered a larger territory, even nationwide. So it's important not to narrow your search to just one newspaper title. Don't forget the ethnic newspaper collections in your obituary search.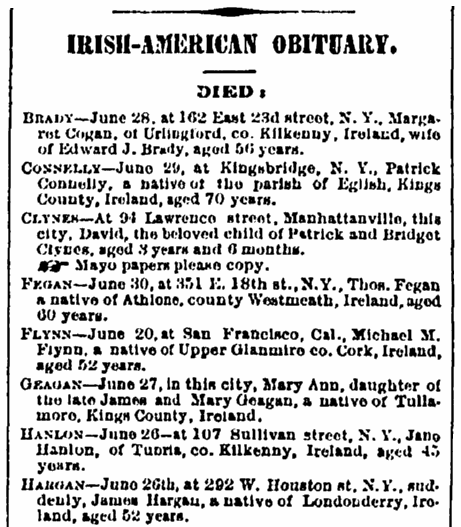 Newspapers Where Family Members Lived
Survivors of the deceased may have placed an obituary in a newspaper where they lived in addition to where the deceased lived. This can be for several reasons including the need to let friends and community members know of a loved one's passing.
While it may be impossible to search the newspapers in the locality of every close family member, it's important to remember to not always narrow your search by place. By searching on the entire United States you may pick up an obituary printed in an unexpected newspaper.
Because a common surname may make this task overwhelming, consider including keywords such as the name of a surviving family member or even a related family surname (son-in-law's surname, for example) to your search. Remember that when you conduct a search on GenealogyBank you can "include" and "exclude" keywords. So include related surnames, names of close family or even the name of a church/religion or occupation.
If you receive too many results in your nationwide search, then exclude anything that is not pertinent like words that are associated with the surname (in cases where a name is also a noun like Park or Hall) or the name of others who share that moniker. In one case, where my research involves a woman who went by her initials, there is also a well-known man of that time period with the same initials – so I try to exclude the title Mr. and the name of that gentleman's wife when I am searching.
Search Again!
Where's that obituary? It might be out there but you have to incorporate additional search strategies beyond just looking in the deceased's local newspaper. Obituaries can be more challenging to find than we think. Not having any luck finding an obituary? Try the above tips to expand your search.
Note: FamilySearch International (FamilySearch.org) and GenealogyBank are partnering to make over a billion records from recent and historical obituaries searchable online. The tremendous undertaking will make a billion records from over 100 million U.S. newspaper obituaries readily searchable online. The newspapers are from all 50 states and cover the period 1730 to the present. Find out more at: http://www.genealogybank.com/family-search/
—————————–
* Hometown. Merriam-Webster. http://www.merriam-webster.com/dictionary/hometown
Related Obituary Articles:
(Visited 9,276 times, 1 visits today)