I like newspaper articles where the oldest person in town is interviewed and gives their best advice for living well to an old age. They tell it as they lived it.
Here is the advice Sam Cox (1819-1922) gave on his 102nd birthday as "he sat in his home yesterday afternoon smoking a cigar and shaking hands with those who called."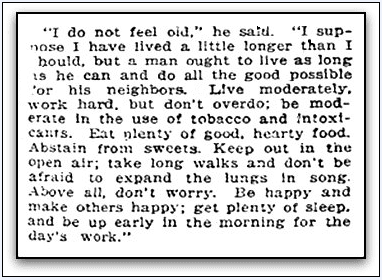 He said:
"…A man ought to live as long as he can and do all the good possible for his neighbors."
"Live moderately, work hard, but don't overdo."
"Be moderate in the use of tobacco and intoxicants."
"Eat plenty of good, hearty food."
"Abstain from sweets."
"Keep out in the open air; take long walks and don't be afraid to expand the lungs in song."
"Above all, don't worry."
"Be happy and make others happy."
"Get plenty of sleep, and be up early in the morning for the day's work."
Great advice.
Newspapers are not only a great way to find your ancestors' vital statistics – they are a tremendous resource for discovering great advice and the stories of their lives as well. Dig into GenealogyBank's Historical Newspaper Archives and find your ancestors' stories. Start your 30-day trial now!
Related Articles: