Introduction: Mary Harrell-Sesniak is a genealogist, author and editor with a strong technology background. In this guest blog post, Mary looks through newspaper articles to find stories about the oldest people to have ever lived—and issues a challenge to readers to find even greater claims of longevity in the newspapers.
With the Baby Boomers aging and advances in medicine, longevity is a hot topic in the news these days. There's a lot of talk about how long people lived in the past—and speculation about how long people will live in the near future.
Newspapers are a great resource to research how long our ancestors lived—and a good way to keep up with current health, medicine and aging issues going forward. According to knowledgeable sources, the oldest verified person to have ever lived attained the astonishing age of 122 years, 164 days!
Her name was Jeanne Calment (1875-1997), a resident of France. According to this 1997 Georgia newspaper article, she was interred in Trinquetaille Cemetery in Arles, France.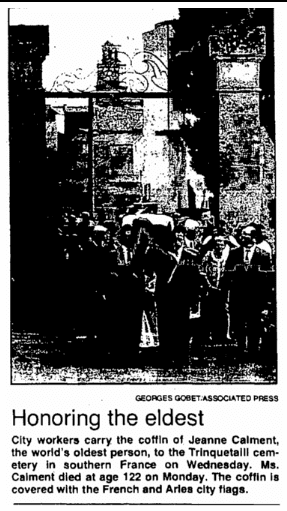 Several groups track longevity, including Wikipedia on this Oldest People webpage. Guinness World Records tracks the oldest person by specific activities. Some oldest-person GWR listings include the oldest person to have a total hip replacement, the oldest person to obtain a pilot's license, and the oldest person to sail around the world.
Those Guinness senior citizen records are all interesting, but it is more intriguing to focus on overall longevity.
Jeanne Calment, who received her certificate from Guinness Records in 1988 at the age of 113, passed away on 4 August 1997. This 1988 South Dakota newspaper article shows her in her ripe old age holding a large certificate noting her birth on 21 February 1875.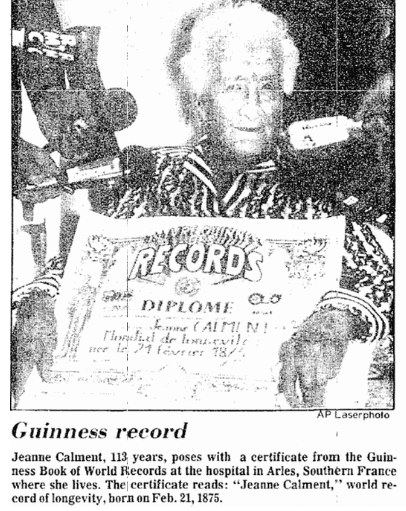 After her in the rankings of greatest longevity are three other centenarian women: Sarah Knauss (119 years), Lucy Hannah (117 years) and Marie-Louise Meilleur (117 years), although some verification of their ages is disputed.
Another entry in the greatest-longevity rankings whose age is disputed is Carrie White, who was supposedly 116 when she died in 1991. She was said to have been born in 1874, a time "when Ulysses S. Grant was president and Gen. George Armstrong Custer was still two years away from his last stand" according to this 1991 newspaper article from Illinois.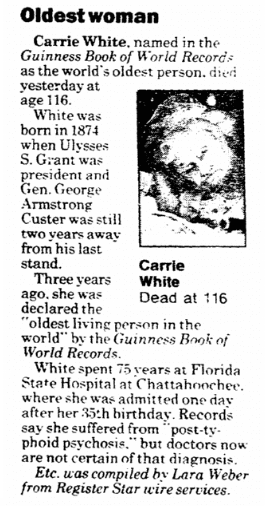 In 1998, when Sarah Knauss was informed of her honor as the oldest person alive, she reacted with a simple "So what?" according to this 1998 Illinois newspaper story found in the online archives.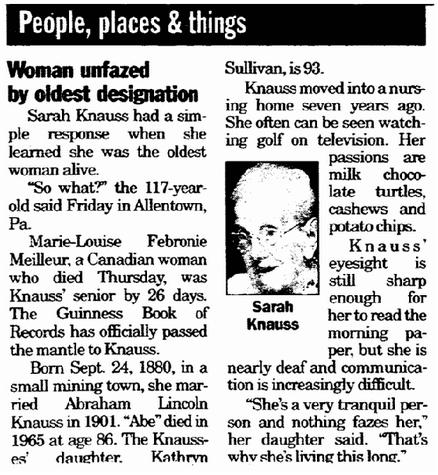 Genealogical Challenge: Find the Oldest People to Ever Live
But who's really counting when you are a centenarian of distinction?
We are, that's who! So readers, we challenge you to verify the life of a centenarian older than any of the women mentioned above—or, alternatively, find the oldest claimed age at death. You'll find an outrageous assortment of longevity claims reported in GenealogyBank's historical newspaper archives, though certainly none as old as the Bible figure Methuselah—who reportedly attained an age of 969 years!
By browsing this collage of obituaries, you can review a succession of extraordinary longevity claims.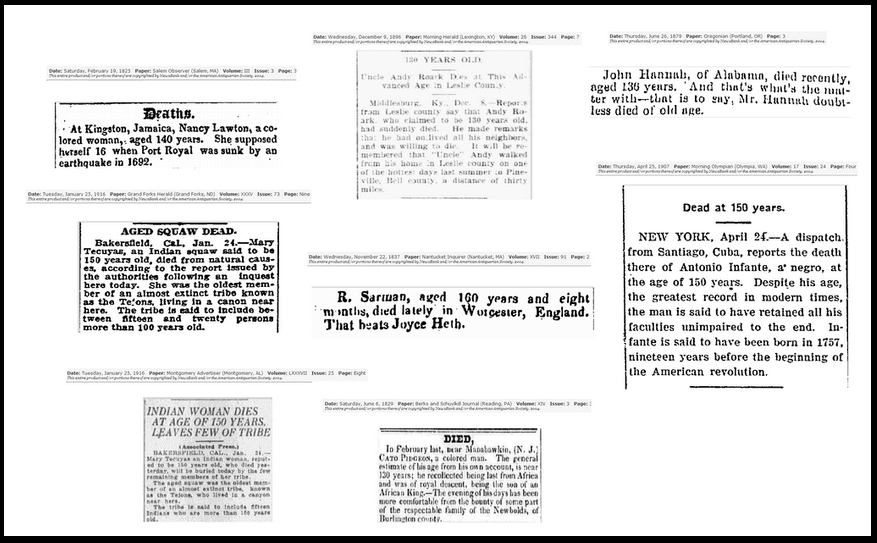 It's as if each newspaper wanted the bragging rights for the oldest centenarian. Did Andy Roark and Cato Pidgeon really attain the age of 130 years? Was it possible for Nancy Lawton to reach 140, and who was R. Sarman, reported to have lived to 160?
Andy Roark: 130 years
Cato Pidgeon: 130 years
John Hannah: 136 years
Nancy Lawton: 140 years
Antionio Infante: 150 years
Mary Tecuyas: 150 years
R. Sarman: 160 years
I tried to verify these age claims, but was not successful. See if you can verify any of these ages—or, if not, see what other incredible age claims you can find in the newspapers.
Follow these guidelines and let us know what you find in the comments on our FaceBook or Blog page. There are two ways to participate in this longevity challenge.
Part 1: Verify a previously unknown oldest person
Submit evidence to prove and verify a centenarian's age older than Jeanne Calment.
Show supporting documentation, supported by generally accepted genealogical records (GAGR).
These may include civil and church registration, census, family records, and other documentation to show longevity. Tombstone photos alone do not suffice as evidence, as errors in birth years are often caused by confusion between persons of the same name.
Part 2: Find the oldest person as reported in an obituary
Even if you can't verify the longevity, let's see who can find the oldest reported person in an obituary or other newspaper article. No evidence is required—just an obituary or newspaper article from GenealogyBank, printed around the time of death. Recollections or reprints from long afterwards do not count.
Let's see who can come up with the most convincing proof of extreme longevity—and who can come up with the most incredible and unbelievable claim of extreme old age!
Good luck! We look forward to your responses.
"In this world nothing can be said to be certain, except death and taxes."
—The Works of Benjamin Franklin (1817)