Introduction: Mary Harrell-Sesniak is a genealogist, author and editor with a strong technology background. In this blog article, Mary follows up on an article she wrote back in January 2013 and, thanks to helpful suggestions from some of her readers, tries to uncover more of the Robert Ripley genealogy mystery.
Early in 2013, the GenealogyBank Blog published my article on Robert L. Ripley (see Solve the Robert 'Believe It or Not!' Ripley Ancestry Brick Wall), and – believe it or not – we're still working on his ancestry. Knowing that Ripley's family history was a mystery, in that 2013 article I asked readers to help break through a brick wall in the Ripley family tree. Their answers were informative, although much of his ancestry continues to be elusive.
What I want to do now is provide an update to this genealogical quest to uncover Ripley's family history. First, I suggest you click on the link to read my previous Ripley article, to see what clues I could present to my readers at that time. Next, read the comments several readers left at the end of that article, providing additional clues. Let's look at some of those follow-up clues now, to make what progress we can in smashing through this Ripley brick wall.
The Ripley Brick Wall
As I explained in my 2013 article about the Ripley genealogy mystery:
I can't seem to crack the brick wall in his genealogy. He left no descendants and was only married briefly to actress Beatrice Roberts. I can't discover his family history any further back than his maternal grandmother.
Prefers "Robert" to "Leroy"
Leroy Robert Ripley (c.1890-1949), (who went by "Robert" or "Robert L."), did many things in his career, including work as a cartoonist, a sportswriter and amateur anthropologist.
Conflicting Birth Dates
Ripley's World War I draft registration reports that he resided at 136 W. 65 Street in New York. He was 25 and recorded his birth on the registration form as 15 February 1892 in Santa Rosa, California. What is interesting about this is that, at other times, he reported his birth date as 25 December 1890 and 26 December 1890 (thought by some genealogists to be his real date of birth). Wikipedia reports Ripley's birth date as 22 February 1890.
[search_box]
Ripley described himself as an artist, writer and cartoonist working for associated newspapers at 170 Broadway. As his mother had died several years earlier, he reported that he supported a brother and was single. He signed his name as Robert LeRoy Ripley. Although recording errors are common, it would be interesting to find his birth record to confirm the actual day and year on which he was born.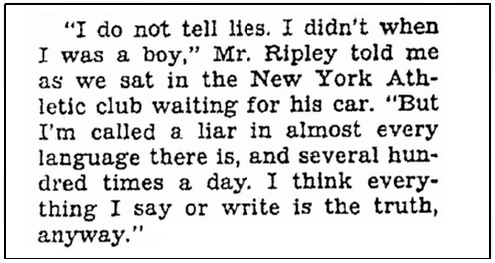 No Descendants
Ripley was married briefly to Beatrice Roberts in 1919. She was only 14 at the time of their marriage, and the couple separated after just three months. They finally divorced in 1926, and had no children. Ripley never remarried, and died childless.

Ripley's Parents
Robert Ripley was the son of Isaac Davis Ripley (1854-1904) and Lillie Belle Yoka, Yocka or Yocke (1868-1915). His parents married on 3 October 1889 in Sonoma, California (California County Marriages 1850-1952, database at familysearch.org) and are buried at Odd Fellows Lawn Cemetery in Santa Rosa, California (see findagrave.com).
Ripley's Father
In 1870, the Belpre (Washington County) Ohio Census reports that Isaac was possibly residing in the household of Jason and Phelia A. Stubs (or Stubbs or Stutes). Isaac was 16 at that time and attended school. (See http://ohgen.net/ohwashin/OMP-2.htm, Ohio Historical Society, Newspaper Microfilm Reel # 38487 – marriage license for Jason Stubbs and Phelia A. Hunter of Belpre on 8 May 1865.)
Once he reached California, various Great Registers (see familysearch.org) report that Isaac Davis Ripley worked as a carpenter. His birth place is consistently reported as Ohio, which is confirmed by the 1900 Santa Rosa (California) Census reporting him being born in Ohio in September of 1854.
His Mother and Maternal Grandparents
Lillie Belle was the daughter of Nancy Yocke (1828-?) and an unknown father from Germany.
In 1880, Lillie lived with her widowed mother, according to the Analy (Sonoma County) California Census. Her mother was listed as a housekeeper. She had been born in Tennessee and her parents were both from North Carolina. Lillie was the only child in the household. Her birth was shown as Missouri and her parents as having been born in Tennessee and Germany.
At the time of Lillie's marriage to Isaac Davis Ripley in 1889, he was 35 and she was 20.
One of the readers of my 2013 article, Donna Bailey, wrote:
Well, this article [Miami News (Miami, Florida), 13 May 1962, from Google News Archives] helps explain a little. It states that Lillie Belle was born on the Santa Fe Trail in a covered wagon on the way to California. And Isaac ran away from home at age 14, which explains why he is at the Stutes home in 1870 already on his way to California, which he does show up in voter lists in Yuba in 1874.
Donna later wrote again, adding more information:
Some more clues. There is a marriage record for a Phillip Yoka and a Nancy A. Card, married in Washington Township, Johnson County, MO, on 4 Dec. 1870. According to her grave at Find a grave [Sebastapol Memorial Lawn Cemetery], Nancy's middle name was Ann, so this could be our Nancy.
I checked the marriage record and it seems consistent with other records. It does note that the officiant was Justice of the Peace William Fisher, so it is unlikely that a church record exists. I also checked the Miami News article. It gives us the clue that Isaac Davis Ripley was born of old American stock in West Virginia, which differs from records reporting Ohio. Perhaps his roots were from that state.
His Two Siblings
When Robert Ripley died on 27 May 1949, he left the bulk of his estate in trust to his two siblings, Douglas and Ethel "Effie" Ripley. Effie (1885-1965) married Fred Marion Davis (1884-1957) and is buried at Golden Gate National Cemetery in San Francisco next to her husband, who was a veteran of World War II. We still have not located the final resting place of Douglas.
[search_box]
His Sister
Another reader named Mallory wrote:
Ethel (Effie) Davis was married to Fred Davis – she was alive in 1947 and apparently in 1949 when she and her husband flew back to NY from the funeral of her brother [Robert Ripley]. She and her other brother Douglas inherited the majority of the estate. Effie was dead before 1971. The family home still exists… Ethel was born in 1893, her brother Douglas in 1904. The father Isaac died in 1905. Robert (Leroy) had to work to help support his mom and sister. There are two nephews named Robert and Douglas (not sure who their parents were) – they show up in local newspaper clippings.
The Renewed Ripley Brick Wall Challenge
So readers, there you have it.
With the genealogy research we've done since my 2013 article was posted, we have learned that Robert Ripley's father, Isaac Davis Ripley, ran away from home – and we have learned the probable identity of his Yocke grandfather, a German named Philip.
But that's about it – so I am opening up the Ripley brick wall challenge again. Can any of our readers help us get back further on Ripley's family tree?
Related Article:
[bottom_post_ad]
(Visited 211 times, 1 visits today)