Introduction: In this article, Melissa Davenport Berry continues her story showing how paternity cases affected life in the 17th century Massachusetts Bay Colony – and, in particular, describes the Gilman family line. Melissa is a genealogist who has a blog, AnceStory Archives, and a Facebook group, New England Family Genealogy and History.
Author's Note: My last story covered the Gilman brothers, Ephraim and Zadock, descendants of Joseph Mayo and Sarah Short of Newbury, Massachusetts. Mayo had two paternity cases and fathered two daughters with two unwed women from Newbury's most prominent pioneer families. He married one of the mothers, Sarah Short (daughter of Henry Short and Sarah Glover). The children bred by Mayo make up several generations of the sons and daughters of Old Newbury. A living descendant, Barbara Anne Waite, has shared some of her family relics and photographs.
Their family line went this way: Ephraim and Zadock, sons of Eliphalet and Joanna (Louge) Gilman; grandsons of Revolutionary soldier Captain Jonathan Gilman and Elizabeth Sanborn; and great grandsons of Maverick Gilman and Sarah Mayo (daughter of Joseph Mayo and Sarah Short). The Gilman brothers were wealthy merchants who moved down South and their families left many descendants.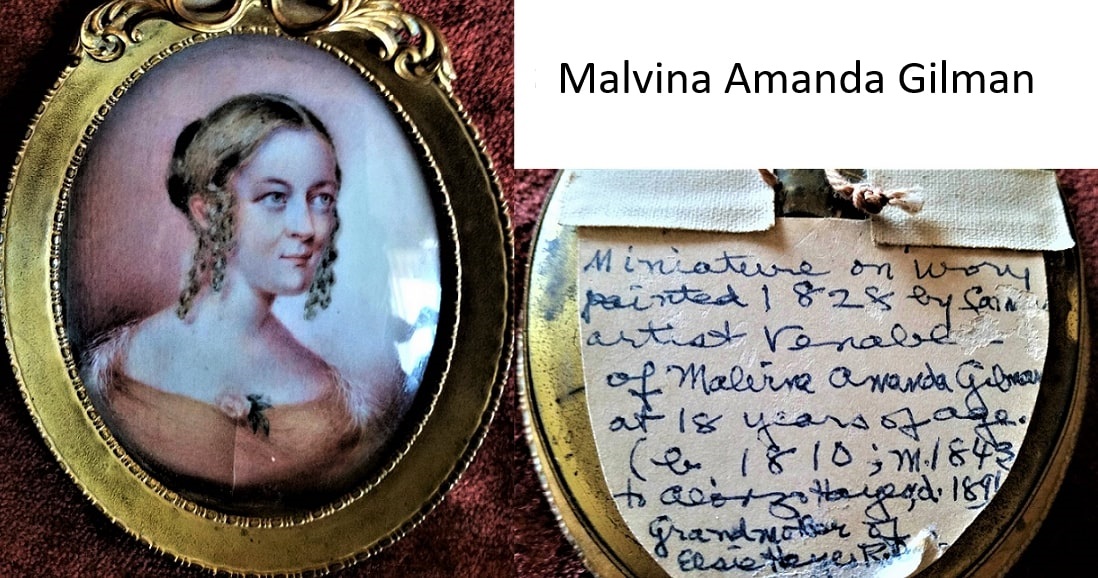 For example, Ephraim's daughter Malvina Amanda Gilman (1810-1891) married Rev. Alonzo Hayes in May 1843.
The Newbury line of Mayo connects again through this marriage. Hayes' mother Mary Hale was a great great granddaughter of Rev. John Hale of Beverly and a direct descendant of Mary Cutting Moody Lunt – who was the mother of Joseph Lunt, who married Joanna Adams, the illegitimate daughter of Hannah Adams and Joseph Mayo (the first of Joseph's two paternity cases).
Genealogy of Alonzo Hayes (1810-1858):
Mary Hale and Captain John W. Hayes (son of Samuel Hayes and Hannah Demeritt)
Thomas Wright Hale and Lydia Drew (daughter of James Drew and Susanna Carmey)
Major Samuel Hale and Mary Wright (daughter of Capt. Thomas Wright and Hepzibah Seavey). Note: The Portsmouth Atheneum, New Hampshire, has the account book of Major Samuel Hale, as well as the family papers and genealogies.
Samuel Hale and Apphia Moody (daughter of John Moody, the son of Samuel Moody and Mary Cutting; and Hannah Dole, the daughter of Richard Dole). Note: Mary Cutting Moody (daughter of John Cutting and Mary Coffin) married 2nd Daniel Lunt (son of Henry Lunt). Daniel Lunt married 1st Hannah Coker (daughter of Robert Coker).
John Hale and Sarah Noyes (daughter of Rev. James and Sarah Brown Noyes)
Robert Hale and Joanna
Children of Malvina Amanda Gilman and Alonzo Hayes:
Annie Malvina Hayes
Mary Hale Hayes (married Charles Chinn)
William Douglass Hayes (married Etta Maria Cameron)
Alonzo Gilman Hayes (married May Carrie Reed)
Barbara has in her possession a teacup owned by Susanna Carmey Drew, grandmother of Alonzo Hayes.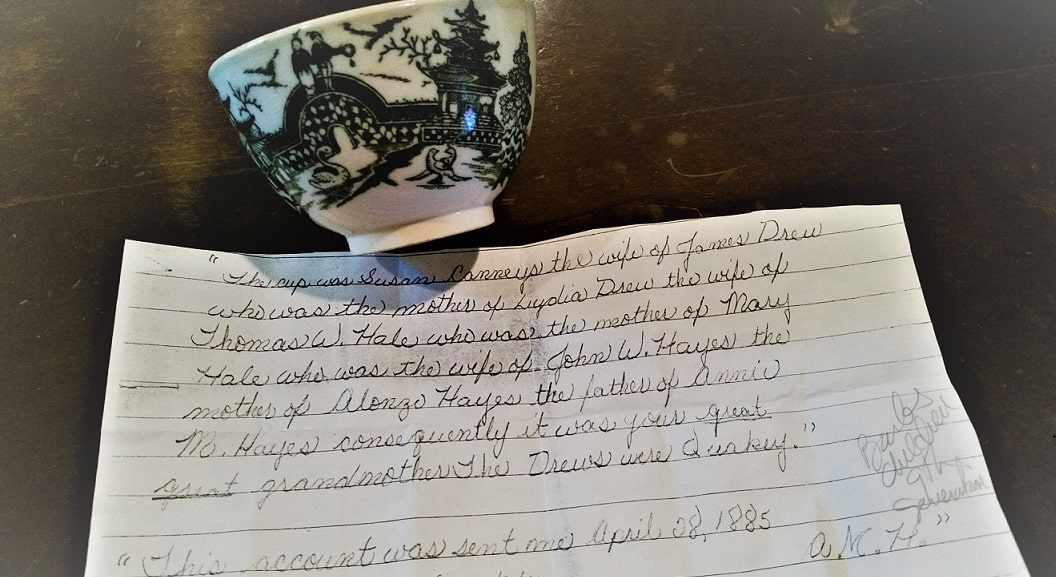 Alonzo attended Andover Theological Seminary in Andover, Massachusetts. He was a Congregational clergyman in: West Barnstable, Massachusetts; Dublin, New Hampshire; and Alexander, Virginia – where he died in 1858.
I found a wonderful memorial on Alonzo in the Boston Recorder entitled "A Tribute to a Good Man." He was described as "earnest and efficient" and was said to be "tender and true" to his family and congregation. A pious and patient Godly man who lived with a "Christ-like simplicity."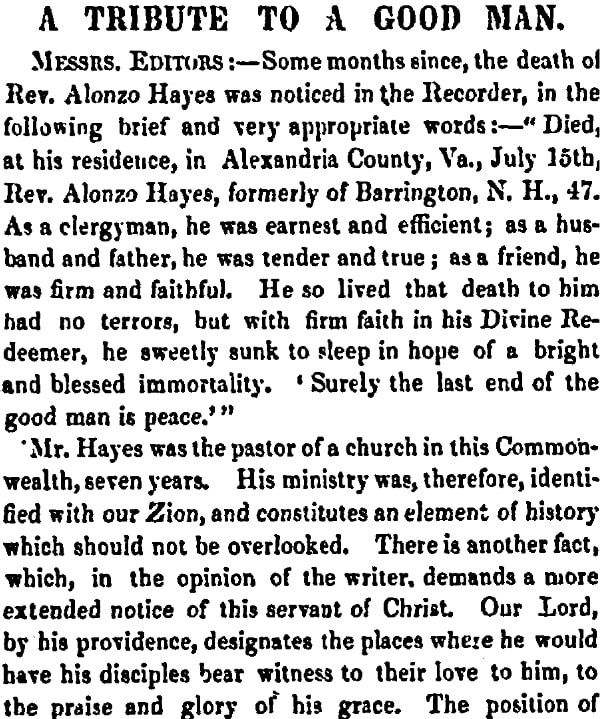 Sounds like he inherited some of his ancestor's traits, as accounts have depicted Rev. Hale in a similar way – especially during the 1692 Salem witch hysteria.
Barbara has some photos of the family at their home base known as "Sunny Bank" in Ballston (Balls Crossroads), Arlington County, Virginia, across the Potomac River from Washington, D.C., near the site which is now the Pentagon.
Here is a picture of the family in front of their home, late 1880s:
Here is a picture of the family in their yard, c. 1890: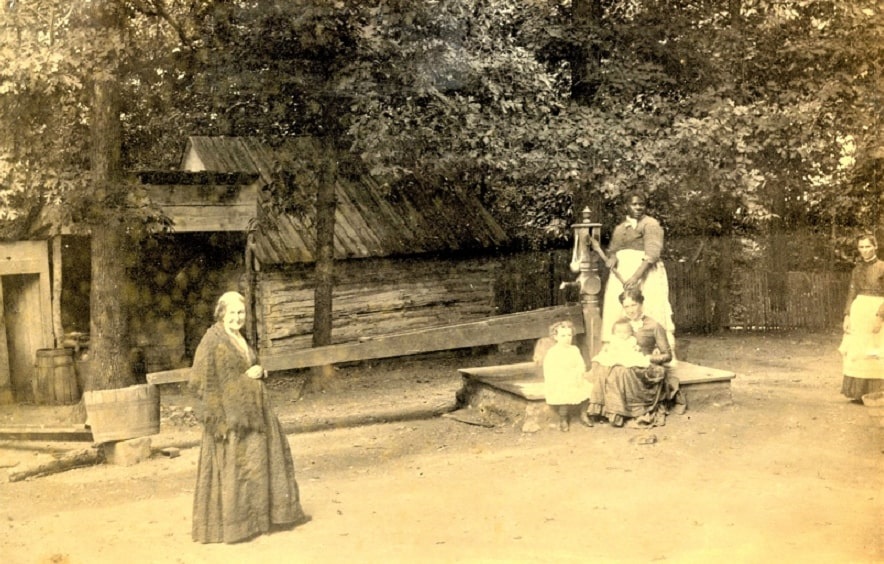 Note: Just as an online collection of newspapers, such as GenealogyBank's Historical Newspaper Archives, helped tell the stories of the Gilman family, they can tell you stories about your ancestors that can't be found anywhere else. Come look today and see what you can discover!
Related Articles: