Introduction: In this article, Melissa Davenport Berry continues exploring an aspect of Puritan life in the 17th century Massachusetts Bay Colony that is often overlooked: paternity and child support cases. Melissa is a genealogist who has a blog, AnceStory Archives, and a Facebook group, New England Family Genealogy and History.
Author's Note: In an earlier article, I wrote about unwed mothers in 17th century Massachusetts – who had the law on their side to collect child support payments (see: Puritan Court Drama: Woman Won't Identify Child's Father). Under a 1668 law, the mother's word was often enough to convict a man of fornication, label him the father, and sentence him to a lifetime of payments.
Today's article is about a man who fathered two children with two different, unwed women within the same year – and the ensuing courtroom drama as the women fought for financial support. The mothers were represented in court by family members who had the money and the means to collect child support, and secure a marriage for one of the mamas.
Many of the names who were involved in these paternity cases are listed on the Founders' Monument located on the lower green in Newbury, Massachusetts.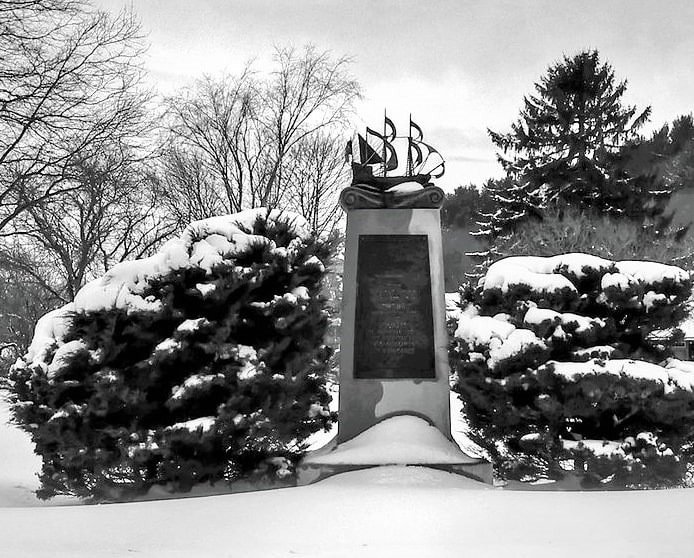 The first of these paternity cases is mentioned in a Newburyport Daily News newspaper article about Joanna Adams, who married Joseph Lunt (son of Daniel Lunt and Mary Cutting Moody) on 4 December 1708.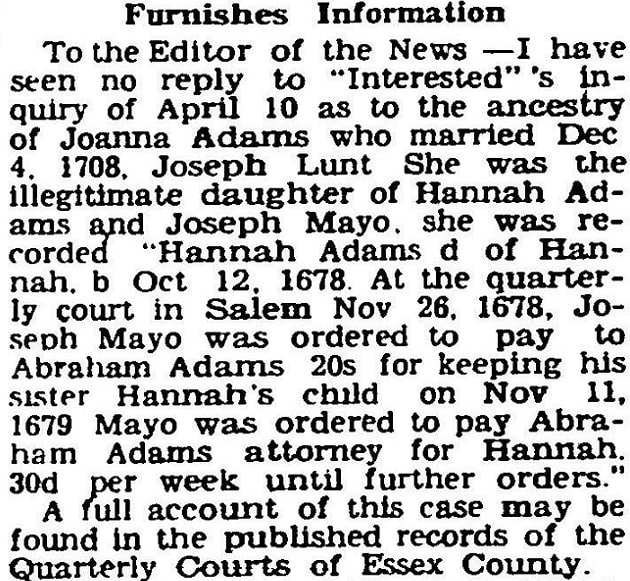 As the article reported, Joanna Adams "was the illegitimate daughter of Hannah Adams and Joseph Mayo," born 12 October 1678. The Quarterly Court in Salem determined that Joseph Mayo was the father of Joanna on 26 November 1678, and ordered him "to pay to Abraham Adams 20s for keeping his sister Hannah's child. In addition, on 11 November 1679, "Mayo was ordered to pay Abraham Adams, attorney for Hannah, 30d per week until further orders."
The article also provided information regarding Hannah and her daughter Joanna in the will of Hannah's father, Robert Adams, a prominent farmer and the first American ancestor of the Newbury Adams branch. Hannah was born from Robert's first marriage to Elinor Wilmot.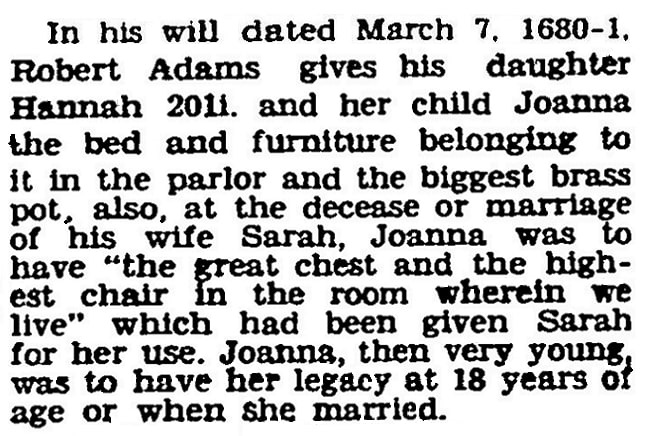 Joseph Mayo, the father of Hannah's illegitimate child, was the son of Captain Samuel Mayo and Tamsen Lumpkin, and the grandson of Rev. John Mayo, the first minister of Old North Church of Boston.
The paternity case of Mayo/Adams is cited in the "Records and Files of the Quarterly Courts of Essex County V. 7" (RFQCEC) available online through the University of Virginia.
The midwife Sarah (Greenleaf) Dole and assistants Anne Thurlow and Constance Moores testified in court on 22 November 1678. The women's testimony served to strengthen the paternity suit filed against Mayo on 14 May 1678.
Joseph Mayo was brought before commissioner John Woodbridge, charged by Adams with being the father of the child of Hannah, his sister. Mayo denied it, and on 19 June 1678, Adams gave bond to prosecute at the next Ipswich court, and Mayo was committed to prison.
Stay tuned for more on this paternity case. This story is far from over. While Hannah was pregnant, Mayo seduced her stepsister Sarah Short!
Related Articles: