Introduction: In this article – part of an ongoing "Introduction to Genealogy" series – Gena Philibert-Ortega discusses alternative marriage records for when you can't find your ancestor's marriage license. Gena is a genealogist and author of the book "From the Family Kitchen."
Let's face it, sometimes we aren't lucky enough to find a marriage record for an ancestor. There can be numerous reasons for this. Maybe the record just doesn't exist, or it was destroyed during a war or natural disaster. Perhaps there are privacy restrictions that won't allow you to order it. So, what do you do next?
Just as there are birth and death record alternatives (see Genealogy 101: #9 Birth Certificate Alternatives and Genealogy 101: #6 Alternatives to Death Certificates), there are also marriage record alternatives. While they may not be the perfect source for proving a marriage, these alternative records can be an important clue to your research. Here are a few ideas you should consider as you continue your search for that elusive marriage date.
The U.S. Federal Census
Take another look for your ancestral couple in the federal census. Don't forget that some census years provide clues to a marriage date. While every census provides marital status, in some of the early years – and in every census after 1880 – the census includes relationship information, including information that can help pinpoint a marriage year, such as:
1940: Those women who were asked the supplemental questions (two people per sheet) provided age at first marriage, and if married more than once.
1930: Recorded age at first marriage.
1900 and 1910: Recorded number of years of present marriage.
1880: Reported if married during census year.
1870: Recorded month of wedding if married within the past year.
If you're not sure what information is provided in a census year, consider downloading the census template forms. You can find these online through websites like the FamilySearch Wiki.
Military Pensions and Records
Some alternative marriage records are going to seem obvious, but others not so much. For example, consider military records. Military records may mean anything from the soldier's service records to a pension application. Remember that if a widow could apply for a pension, then she would need to prove her marriage to the deceased veteran.
My paternal great-grandfather's discharge papers are a great example of searching military records for a marriage date. Although he was not married when he entered the Navy right after the World War I armistice, by his 1923 discharge date he was married to my great-grandmother. He originally joined the Navy on the east coast but met and married his wife in California, thus wanting to be discharged near his new home. His military request states: "I married here over a year ago and have an established home… and intend to make my permanent home in Calif."
If I could not find my great-grandparent's marriage record, this military discharge request would at least provide a clue to a possible date and place.
Birth and Death Certificates
It may not seem obvious to search a death certificate for a birth date. While not the most ideal birth source, death certificates can help you at least narrow down a possible birth date by stating the age of the deceased. The same is true for marriage dates. Have you obtained the death certificates or death records for the couple you are researching? Death certificates also list the marital status of the deceased. In some cases, the spouse may also be the informant. While this doesn't provide a marriage date, it's one more clue.
If you know the name/s of any children for the couple, have you searched for birth certificates for those children? Depending on the time and place, there might be an indication if the couple is married. At one time, birth certificates listed whether a child was legitimate or illegitimate, providing a possible date range for the couple's marriage.
Although I'm suggesting analyzing vital records carefully for information, I do want to issue a caution. Each type of vital record was meant to record only one type of event. Birth and death certificates are not the best sources for learning a marriage date, so use them as a clue to other records.
Newspapers
Newspapers, such as GenealogyBank's online Historical Newspaper Archives, are a great source for marriage information. Consider every article where your female ancestor is referred to as Mrs. (Husband's Name). Tracing the dates of those articles can help you narrow down a possible year range.
Consider looking for newspaper articles that document the engagement or elopement of the couple, such as the example below. These articles can provide a date and place, as well as information about the couple and family members.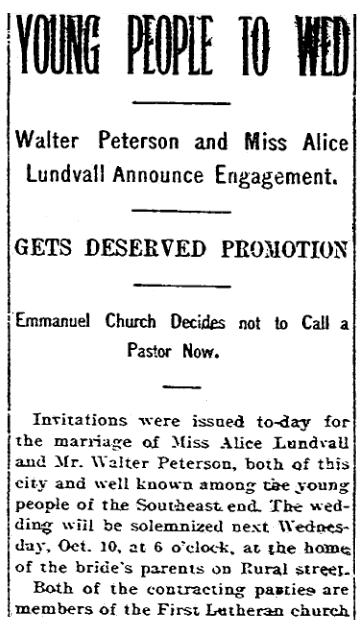 Obviously, the wedding itself may also be covered in the newspaper. These articles can be everything from a small mention to a large article complete with a photo and description of the big day – including who was there, what they wore, and where the couple plan to honeymoon.
There are other newspaper articles that provide an alternative to a marriage record, such as an anniversary notice. The great thing about these milestone articles is that they tend to also provide rich family history detail, including descendants' names. In this 50th wedding anniversary article, the husband's military service and the wife's occupational history are mentioned.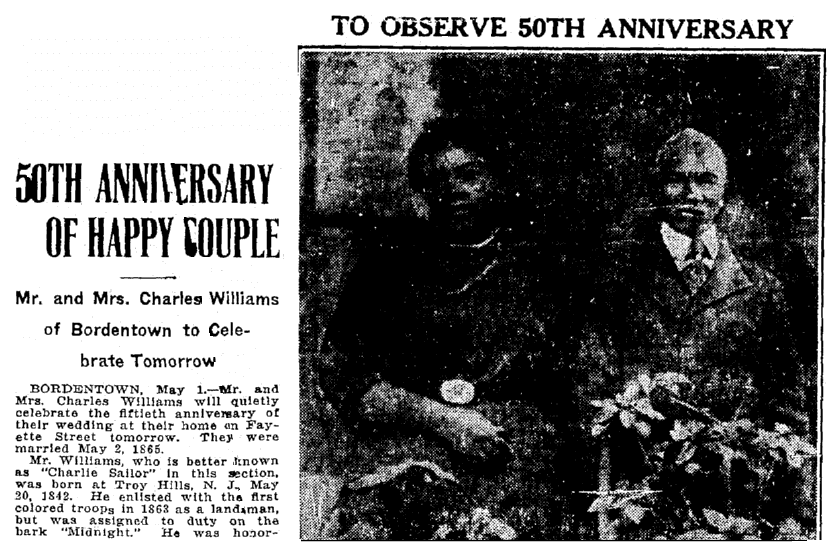 If the couple didn't live happily ever after, don't forget to search for notices of divorce in the newspaper. A mention of divorce can be useful in tracking down the original court records, which should provide the wedding date.
There's More!
The list just goes on when we talk vital record alternatives. Consider also: wills, naturalizations, passports, church records, photographs and even in some cases land records. Most importantly, don't forget about archival collections such as journals, scrapbooks, and local history materials. Keeping a timeline that lists all the records you find might assist you in narrowing down a date range.
Start Searching for Marriage Records Today!
Don't forget to read over my previous posts on birth certificate alternatives and death certificate alternatives, since those may also contain marriage information.
Related Articles: