Introduction: In this article – part of an ongoing "Introduction to Genealogy" series – Gena Philibert-Ortega discusses alternatives to one of the most important documents for genealogy: a birth certificate. Gena is a genealogist and author of the book "From the Family Kitchen."
Things don't always go as planned with your genealogy research. Sure, it seems like a given to use a birth certificate to prove an ancestor's birth – but what if there is no available birth certificate for that time and place? What if the birth was simply not registered? Total compliance with birth registration by physicians and midwives didn't happen automatically once it was made into law, and it took some time before nearly everyone's birth was recorded.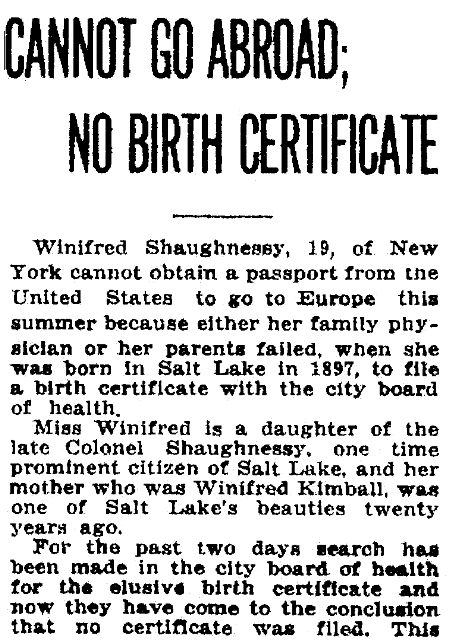 No Birth Certificate? Now What Do You Do?
Yes, genealogy doesn't always go as planned – so it's good to know your sources and try to branch out to seek other documents that might be of use. When proving a birth without a birth certificate, you want to think about what resources exist for the time and place where your ancestor lived.
What sources report a birth or age? In some cases, those sources were not created until years after your ancestor's birth – which means they won't be as credible as a birth certificate, but may be your only option. If this is true of the source/s you are looking at, make sure to analyze what you find with a critical eye.
Death Certificate
OK, there's no birth certificate to be found – so you might instantly think: what about the death certificate? After all, a death certificate provides a birth date, right? Yes, it typically does, but it's not the best source for proving a birth date. Why?
A death certificate has information from multiple informants. For example, a physician might be the informant for the medical information including cause of death. Another informant might be a family member, friend, or even just information found in a medical file. The information provided may include personal information like name, home address, parents' names, birth date, and occupation.
The problem is, unless the person's mother is the informant, there's no guarantee that the information about the birth is correct because the informant was likely not an eyewitness to the birth. Similarly, the federal census provides an age, and in the case of the 1900 U.S. census there is even a birth month and year. However, the informant is not identified, so we need to treat it as merely a clue that may not be correct. So, while a death certificate and census records provide dates, you should still follow up with additional searches for more information.
Where Else Do I Look?
It really depends. Once again, ask yourself: what sources are available that provide a birth date during my ancestor's time period and place? Also, ask yourself questions like: what activities were the person involved in that might have recorded a birth date or age? Some suggestions include:
Church Records
Pensions
Military Records
School Records
Yearbooks
Membership Records
Passports
Journals/Scrapbooks (created by the individual or someone they knew)
Correspondence
Newspaper Articles
Diaries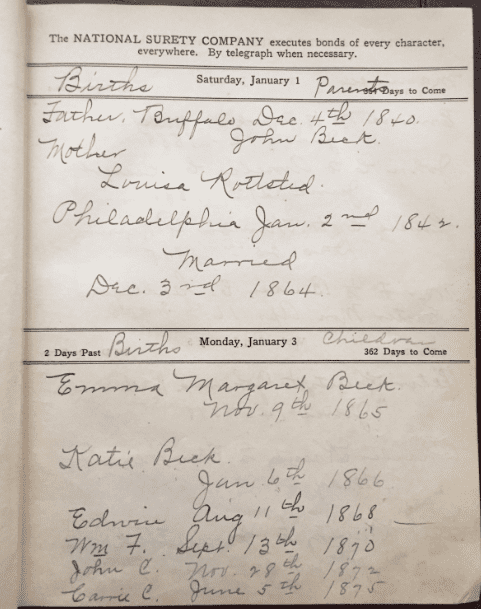 I know you might be thinking: how do I find correspondence or a journal kept by someone that my ancestor knew? While some of the sources listed above – such as military records, pensions, or school records – might be found online or housed at any number of museums or libraries, items left behind by community members are most likely found housed in an archive and must be searched for using an archival catalog like ArchiveGrid. Make sure to search on the place your ancestor was from, and then you can add additional keywords like the name of a membership organization, church, or school.
What Types of Newspaper Articles Provide a Birth Date or Age?
As always, don't forget to include an online collection of newspapers, such as GenealogyBank's Historical Newspaper Archives, as one of your main sources for family history information. Obviously, a newspaper article that publishes community vital statistics will include births – but aside from the obvious, what else might you find in newspapers? Think in terms of articles that celebrate milestone events like a long life, a 25th, 50th or longer wedding anniversary, or a story of a family reunion where the oldest family member is being honored.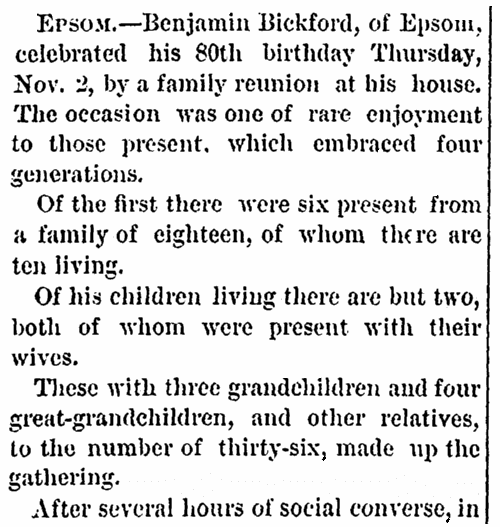 This 50th wedding anniversary newspaper article from 1899 is unique in that it not only gives the couple's birth date, but also the place where they were each born. While this is not something you find in all wedding anniversary articles, it shows the importance of looking for all types of newspaper articles in your search and not making assumptions about what you might find.
Where Will You Look?
As with any research, start by noting all the records available for the place/s your ancestor lived as found on free sites like FamilySearch and subscription genealogy websites like GenealogyBank. Identify which records might list an age or birth date. In the absence of a birth record, build a case using various documents to help you narrow down the birth date of your ancestor.