Were you there when it happened—when the Beatles arrived in America and a new era began? Can you believe it was half a century ago? Part of the fun of doing genealogy research in historical newspapers is not just learning about our ancestors' past; it is also about reliving our own past, the history that we have lived through.
The Beatles are now so established as icons—not just in rock 'n' roll music but in popular culture overall—that it is hard to imagine a time when they were new and unknown. However, that was the case for most of the then-record television audience of 73 million American viewers who watched the Ed Sullivan Show Sunday night, 9 February 1964. That was the first time the Beatles, who had just arrived from England two days before, appeared live on American television. History was made that night, and American music and culture would never be the same.
Looking at film clips of the rapturous members of the Sullivan audience that historic night, screaming and swooning at the Beatles' every word and gesture—as well as the throng packed outside the CBS studio clamoring to get in—it is easy to accept the conventional wisdom that the Beatles were an immediate success in America.
That was not necessarily the view of the mainstream media at the time—its embrace of the four "mop-topped" Britons was not universal.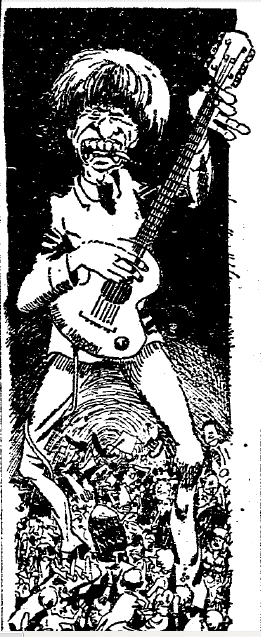 In fact, as the following six newspaper articles show, many reporters and reviewers were disdainful of the Beatles' appearance on the Ed Sullivan Show. In reading these comments now, in light of today's acceptance of the Beatles as the greatest rock group ever, it is startling to read such descriptions as "disquieting," "revolting," "unkempt, untalented noisemakers," and "distracting bore." One of these reviewers certainly got it right, however, with this comment: "some things may never be the same."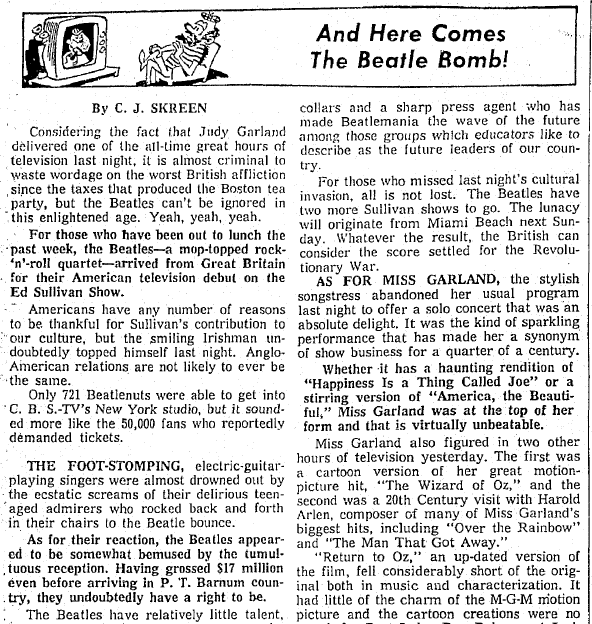 Seattle critic C. J. Skreen included this zinger in his newspaper review:
The Beatles have relatively little talent, if their Sullivan show performance can be believed, but they appear to be a rather likeable crew in contrast to their American predecessors in our native art form.

Their success seems to be a combination of shaggy locks, skintight suits with velvet collars and a sharp press agent who has made Beatlemania the wave of the future among those groups which educators like to describe as the future leaders of our country.
He concluded by asserting that, after inflicting the Beatles on America, "the British can consider the score settled for the Revolutionary War."

New York critic Cynthia Lowry included these comments in her review:
Beatle clothes look about two sizes too small, and I've seen Hungarian sheep dogs with more attractive hairdos.

But thousands of squealing young girls get their message. Camera shots of panting youngsters in Sullivan's audience were disquieting, in fact.

Maybe after two more exposures to the Beatles on television, all of us elderly people will become Beatlenuts, yeah, yeah, yeah, but I doubt it.
Oregon critic Francis Murphy was also not impressed.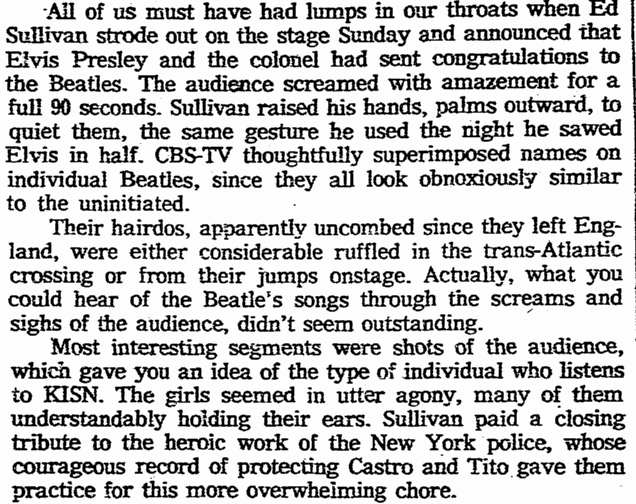 Nor was Cleveland critic Bert Reesing.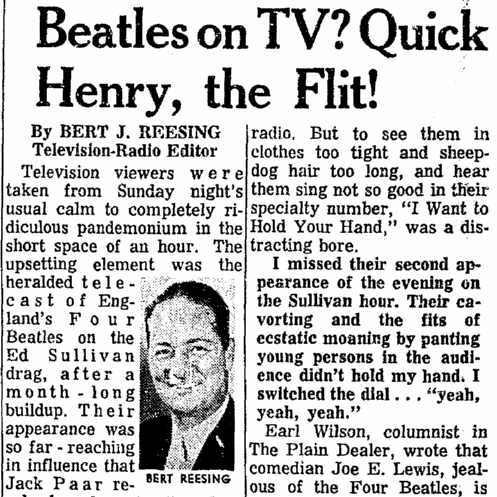 Reesing's review included these comments:
Perhaps it's a dangerous mission for anyone older than 16 to offer an account of the initial mop-topped TV appearance of the Beatles. Shades of Elvis! The mass hysteria by Sullivan's teenaged girl audience was nothing short of revolting.

…We've all heard the foot-stomping group's recordings. In fact, it's been nearly impossible to escape them on radio. But to see them in clothes too tight and sheepdog hair too long, and hear them sing not so good in their specialty number, "I Want to Hold Your Hand," was a distracting bore.

I missed their second appearance of the evening on the Sullivan hour. Their cavorting and the fits of ecstatic moaning by panting young persons in the audience didn't hold my hand. I switched the dial…"yeah, yeah, yeah."
This newspaper review concluded with this comment:
In Queens, meanwhile, a rabbi addressing a youth group inveighed against the "deplorable, immature adoration showered on the…four unkempt, untalented noisemakers" and pleaded for a return to behavior "that does not border on the fringe of lunacy."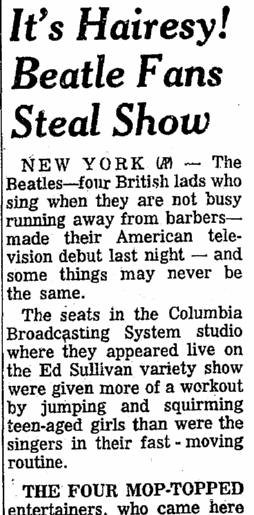 This newspaper review article emphasized the crazed reaction of the Beatles' studio audience:
Throughout their two appearances during the show, the 721 members of the audience—mostly young girls—kept up a steady stream of squeals, sighs and yells.

The four British imports, appearing for a total of about 20 minutes on the hour-long show, may well have ended up with second billing.

Camera crews were lavish in their shots of the audience, showing young girls leaping from their seats, throwing their arms into the air and staring bug-eyed. Some appeared as if on the verge of coma, staring open-mouthed.

At one point before the program, there was some doubt that the four singers would be able to make their way into the studio through the masses of teenage fans trying for a glimpse of their idols.

But hundreds of Manhattan police, including mounted officers, shoved back the eager fans and cleared a path for the four entertainers.
If you have memories of the Beatles' 1964 arrival at New York's John F. Kennedy Airport February 7, or their historic appearance on the Ed Sullivan Show February 9—or any of the Beatles' subsequent appearances in America—please share them in the comments section.
Do you love American music? Discover song lyrics, get the details of famous musical appearances, and find out more about the lives and careers of your favorite musical artists in historical newspapers. Read news articles about several genres of music across every American era dating from the Colonial period up to modern day times in GenealogyBank's extensive online archives.