History of Roots by Alex Haley
Today is the 22nd anniversary of the death of Alex Haley (1921-1992), the author who wrote the popular African American novel Roots: The Saga of an American Family. The publication of Haley's novel in 1976, and the subsequent ABC television miniseries based on his book that aired in January 1977, spurred tremendous interest in genealogy in the United States.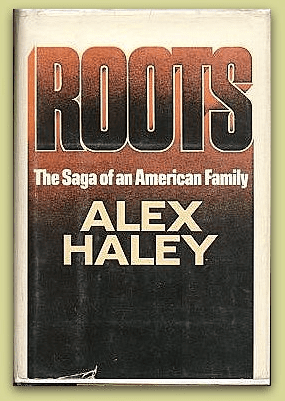 Haley's award-winning novel was a fictionalized account of his own African American family history, tracing his roots all the way back to an African ancestor, Kunta Kinte, who was kidnapped in the Gambia in the 1760s, shipped across the Atlantic and sold into slavery in Maryland. Haley spent ten years researching his black genealogy, relying on both oral history and documentation to support his claim that he was a seventh-generation descendant of Kunta Kinte.
Both the book and the television miniseries were enormously popular and successful. The novel was translated into 37 languages and has sold millions of copies around the world. Haley was awarded a special Pulitzer Prize for his book in 1977. The eight-part TV miniseries fascinated the American public and was watched by a then-record 130 million viewers.
Genealogy Research Suddenly Skyrockets!
After reading Roots and watching the television miniseries, Americans—both black and white—wanted to find out more about their own family roots. Requests to the National Archives for genealogical material quadrupled the week after the TV show ended. The number of genealogical societies in the U.S. skyrocketed. Libraries and government offices received a steady stream of requests to review books, official records, and microfilm collections.
In the spring of 1977 this newspaper article reported on the growing popularity of genealogy.
According to the article:
The increasing trend toward genealogical research apparently started three or four years ago, picked up stimulation in the Bicentennial year [1976] and was spurred again by Alex Haley's "Roots" and the tremendously successful ABC television series based on his book.

That series, the most-watched ever on television, led thousands of blacks and whites alike to a search for their own roots. The National Archives reported that its mail requests quadrupled in the week after the series.
A decade later, newspaper articles such as this one were still crediting Haley for the public's interest in genealogy.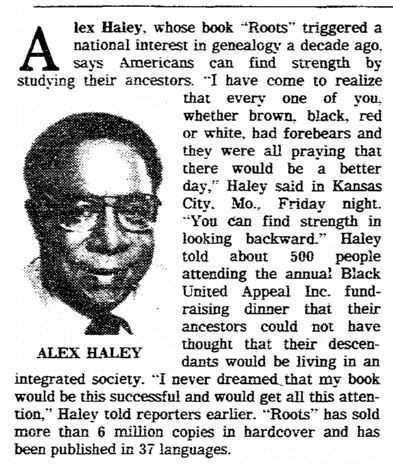 Ten days before he died, Haley gave a talk at Hope College in Holland, Michigan. A local newspaper, the Afro-American Gazette from nearby Grand Rapids, published this remembrance after his death.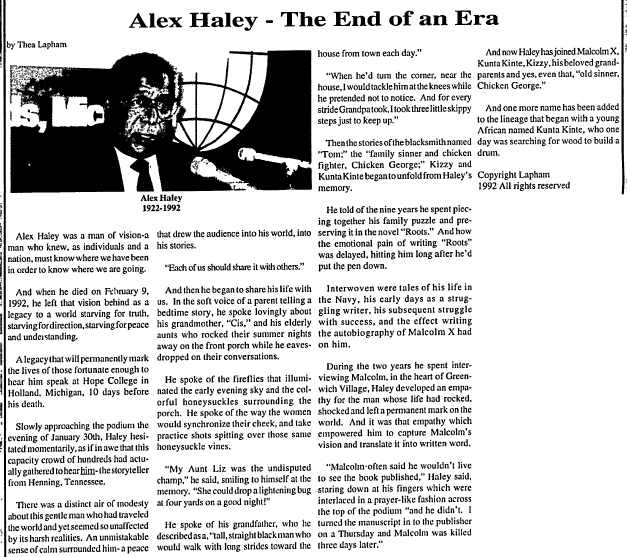 The news article begins this way:
Alex Haley was a man of vision—a man who knew [that], as individuals and a nation, [we] must know where we have been in order to know where we are going.

And when he died…he left that vision behind as a legacy to a world starving for truth, starving for direction, starving for peace and understanding.
Alex Haley's Obituary
This obituary, published the day after Haley died, said he "inspired people of all races to search for their ancestors" and stated:
Mr. Haley's warmhearted and rich descriptions of his ancestors' lives set off a wave of interest in genealogy, lasting long after the book faded from best-seller lists.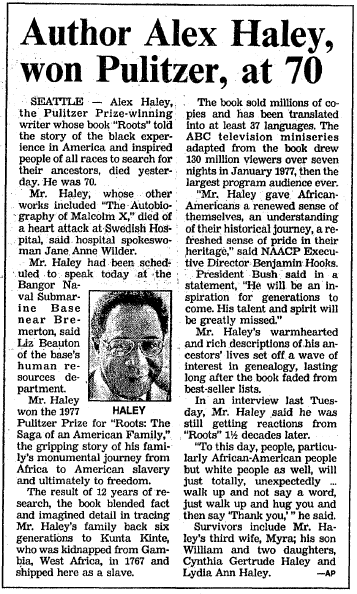 To find out more about Alex Haley's life and influence—and to begin your own search for your family roots—dig into GenealogyBank's Historical Newspaper Archives, a collection of more than 6,500 newspapers featuring the largest obituary archive online. Also, search our African American newspaper collection to trace your black family history.