Introduction: Gena Philibert-Ortega is a genealogist and author of the book "From the Family Kitchen." In this guest blog post, Gena searches old newspapers to learn about a building proposition our ancestors knew well: prefabricated home kits sold by Sears, Roebuck and Co.
How did you buy your last home? Was it an older home that you purchased from a family who had spent years making it their own? Did you buy it brand new, built to your specifications? Maybe because of the economic downturn in the last few years you picked up a foreclosure.
While these are the ways we purchase homes now, there was a time when you could order your home as a kit from Sears! Yes, that will surprise many people who, when they think of an old Sears, Roebuck and Co. ad, have something like this 1925 full-page newspaper advertisement in mind.
Sears, the retailer of clothing, household items, and Craftsman tools—selling home kits? Yes, and they weren't the only retailer who offered build-your-own homes to consumers. While today we often associate Sears with the catalog which began in the 1890s, in the past your family may have bought a lot more than tools, furniture, and clothes at Sears. They may have bought a new prefabricated home delivered by train!
In a 1932 publication, Sears boasted that they were the "biggest home building organization on earth."* According to the Sears Archives, between "1908-1940 Sears, Roebuck, and Co., sold about 70,000-75,000 homes through their mail-order Modern Homes program." Customers could also purchase garages, farm buildings and—for those purchasing small cottages—an outhouse. The Modern Home program catalog offered consumers a range of homes from the palatial to the very simple. These Sears homes were like the Ford of their times, mass produced and shipped with everything, or almost everything, the would-be home builder needed. Because of the way the Sears houses were produced, the building and construction materials were less expensive resulting in a more inexpensive home for the buyer.
In this full-page 1926 newspaper advertisement, we not only learn more about the Sears Homes and what is offered, but we are provided a glimpse into how the homeowner can put together their home kit and reduce the costs.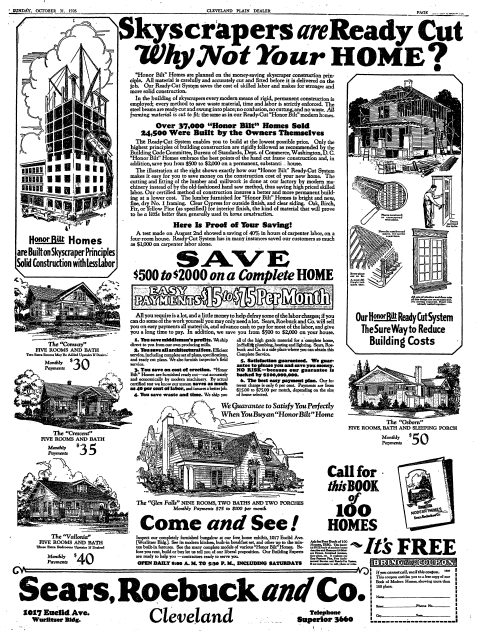 Innovations, such as numbering the materials to correspond with the plans, helped simplify the building process. Homes are touted as being built on the "skyscraper principle." The Sears Archives website writes that "balloon style" framing, drywall and asphalt shingles allowed for these homes to be built relatively easier and quicker. What's interesting is that the addition of drywall and asphalt shingles also had the added bonus of being fire resistant.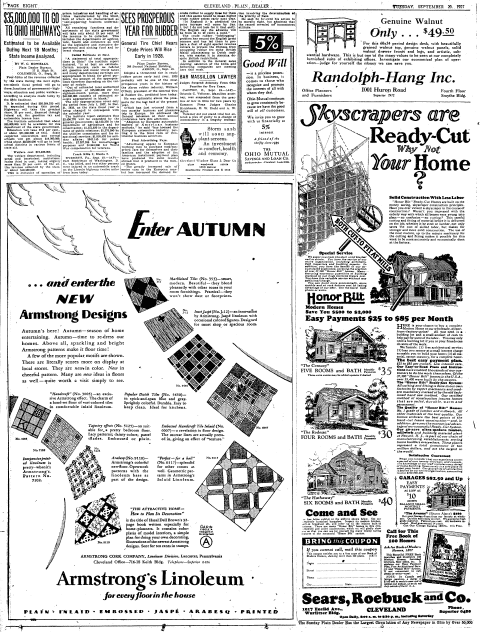 A similar historical newspaper advertisement from 1927 explains to readers that they are furnished with "free architectural service" and everything one would need "except masonry, for a complete home." Not only that but Sears also offered, until 1933 when the program was discontinued, to lend money with a "small interest charge" so that you could afford your new Sears home. One promotional piece boasted that you could own a home for low monthly prices, just like rent.**
In 1982 this Texas newspaper "asked readers to tell us about Sears homes in Texas," made from home kits that were described in the Sears 1908 catalog as "the greatest building proposition ever made."
More than 30 readers responded, with stories about how much they loved their Sears homes. One satisfied Sears homeowner, Edith Sides of Dallas, lived in a home that was built in 1911 and sold to her stepfather in 1917. The family has owned the Sears kit house ever since. Edith, 74, told the newspaper:
You know how many times I've watched "Gone with the Wind"? Six times. And I always remember what Scarlett's father told her: Keep the land. I have. And you know what? I think my house compares favorably with Tara.
Did someone on your family tree own a Sears kit home? Check historical newspapers (for the year that home was available) to find advertisements highlighting your ancestor's style of home. You can also look for the exact home specifications from the Sears Archives website. Several books are available that are reprints of early Sears home catalogs and histories. Check out Google Books for titles and previews. You might also be interested in the book, The Houses That Sears Built: Everything You Ever Wanted to Know about Sears Catalog Homes, by Rosemary Thornton.
Have questions about a Sears home? Sears Homes Enthusiasts are available to answer questions about these homes. You can find a list of them and their interests on the Sears Archives website.
______________
*Sears House Designs of the Thirties. Sears, Roebuck, and Co. Dover Publications 2003. pg. 2.
**Sears House Designs of the Thirties. Sears, Roebuck, and Co. Dover Publications 2003. pg. 5.