Introduction: Scott Phillips is a genealogical historian and owner of Onward To Our Past® genealogy services. In this guest blog post, Scott shows how he used military records that he found in old newspapers to fill in some of the gaps in his family history.
Certainly none of us likes war. It tears families apart, causes untold destruction, and all too often results in the loss of life or severe injury. However, there is one benefit to us as genealogy fans—and that is the fact that military service, notes, casualty lists, etc., were often reported in historical newspapers. As a result those military records are available to help us fill gaps in our family history, providing many excellent details about our ancestors.
Here are just a few examples of the dozens of military details I have been able to find in GenealogyBank's Historical Newspaper Archives.
Often during wartimes, things that may seem mundane during times of peace become newsworthy—such as an enlisted man getting a furlough. That was the case with this article I discovered in a 1942 Ohio newspaper. This news article contains some terrific detail on one of my mom's favorite uncles, Charles G. Evenden. In just a few short sentences, I learned his rank (First Sergeant.), his years of service (24), his brother's name and address, plus the fact that he was seeing his mother in nearby Lorain.
Then there was the icing on the cake! In the upper corner of the page is his photograph, which happens to be the only one we have of him in our family tree. What a family history treasure to discover in an old newspaper!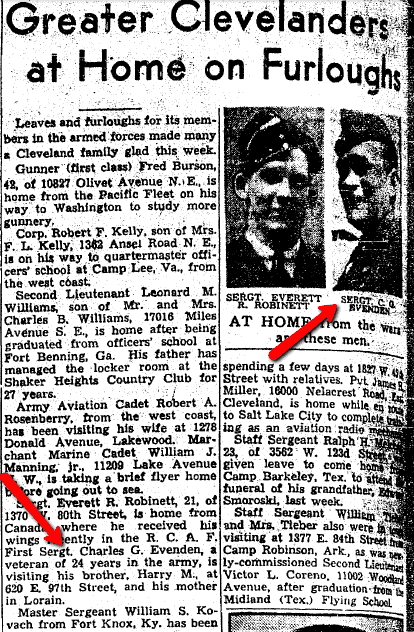 Recently, I have been working to gain a more detailed look into the actions of my dear father's unit during World War II. He was in the 83rd Infantry Division of the U.S. Army, which is often called "the Ohio Division." Unfortunately, his record file at the National Archives was lost during the 1973 fire. However, I have been very pleased at the amount of information I have discovered in local newspapers that reported on the activities of the 83rd. This article, from a 1945 Canton newspaper, provided me with quite a detailed description of many of the movements of the 83rd after their landing in Normandy, France.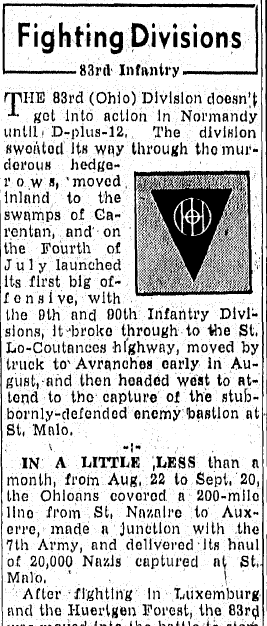 I was very proud to read of the hard fighting and success achieved by my father's division, especially the conclusion of this news article:
Crossing the Rhine [River], the Ohioans cleaned up several enemy pockets, then drove for the transportation center of Hamm. Taking that vital place, the 83rd slipped into high gear and began to speed through the Reich.

In 14 days of its push from the Rhine to the Elbe [River], the Ohioans captured 24,000 Germans and liberated 75,000 Allied prisoners of war.
Then an article from a 1945 Cleveland newspaper gave me some remarkably fine detail about the movements of the 83rd as they approached the Elbe River, a destination that my father had mentioned to me.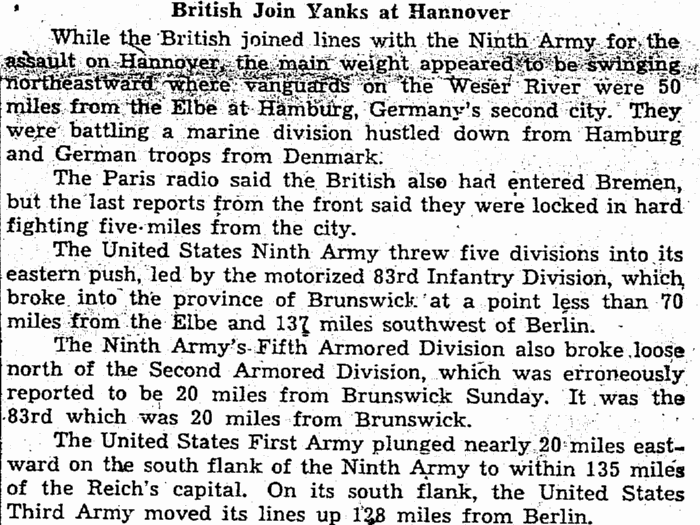 I am still reading more of the dozens of articles that resulted from my search on the 83rd Infantry Division, amazed at how much I am learning about the performance of my father's division during WWII.
In addition to my searches on the 83rd, I learned more about a troubling aspect of my father's wartime experience by trying a different approach. This time, I searched the old newspapers for a place name: Langenstein Concentration Camp. This newspaper article from a 1994 Illinois newspaper gives as stark a description of this concentration camp as did my father the one and only time he ever spoke of the fact that he was one of this camp's liberators. Among other things, it states: "The smell of death was there." The smell was the first thing my father had mentioned.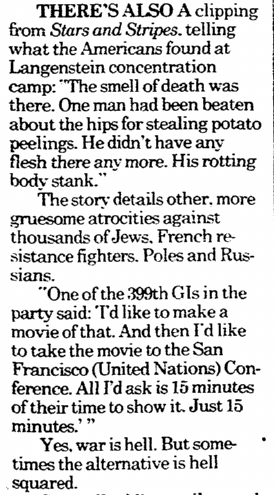 Unfortunately, death is also a part of war, and I was saddened when I discovered this obituary in a 1945 Ohio newspaper. It informed me that an ancestor, Pfc. Norman Sloan, had been killed in action in Germany, leaving a wife and 6-week-old daughter.

Looking further I found an additional article from the same Cleveland newspaper, a longer casualty list article giving details about Pfc. Sloan's death and his family, and providing a photograph as well.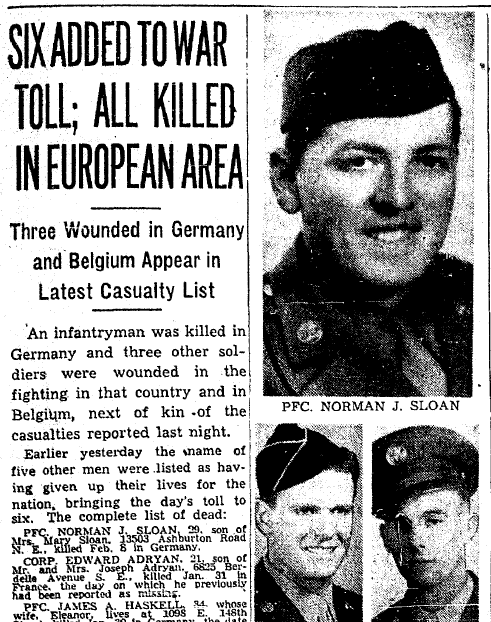 Using the information from this newspaper article, I was able to trace his burial as listed by the American Battle Monuments Commission, which in turn helped me find a photo of his grave marker in the Henri-Chapelle American Cemetery in Henri-Chapelle, Belgium. While a bittersweet find, it was wonderful to be able to add so much information to my family history.
Newspaper articles can provide immense help when you're researching your veteran ancestor. I hope you have, or will, search old newspapers for battle reports, casualty lists, service records, pension lists, etc.—and let me know what you have found as a result.