Introduction: In this article – in celebration of Mother's Day this Sunday – Gena Philibert-Ortega searches old newspapers for recipes to make a special brunch for mom. Gena is a genealogist and author of the book "From the Family Kitchen."
Are you celebrating Mother's Day this Sunday? How do you traditionally celebrate? You could take her out for brunch but be prepared for the crowds. Mother's Day is one of those holidays where everyone has the same idea: take mom out to eat.
Why not stay home and create your own brunch for mom? Need some recipe inspirations? There are so many great ideas in historical newspapers to use for recipes that she will love. Try searching for the keywords "Mother's Day" and "recipe" in the GenealogyBank search engine, or use the following recipes for some inspiration.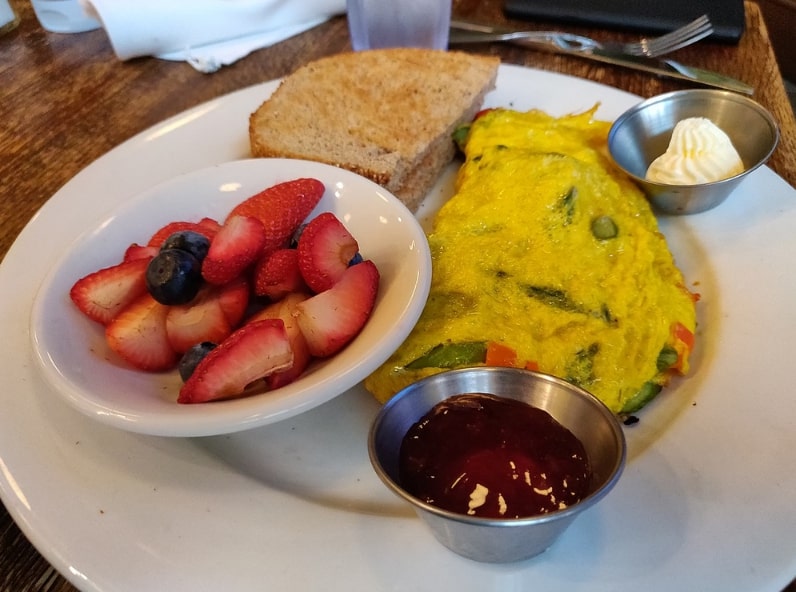 Eggs
Eggs can be the main dish for a brunch. The nice thing about eggs is they are so versatile, so it is the perfect time to try something other than scrambled. Here are three ideas for your brunch.
I love this 1983 newspaper article encouraging kids to try their hand at an omelet. It's a great article because it takes kids from the shopping and prep to the cooking. This would be a good newspaper article to share in the days prior to Mother's Day (or anytime you want to teach kids to cook a meal). The omelet recipe is for Ham, Tomato, and Mushroom Omelet, a recipe the chef states children can make.
Because there are quite a few ingredients and steps, if a younger person is cooking this meal, I'd suggest a dry run a few days prior to avoid frustration on the big day. If mom doesn't like the suggested ingredients, peruse the end of the recipe for possible variations that might be more to her taste.
If you want to try something different, this recipe for Eggs Parmesan looks fairly easy and features a few ingredients. You start cooking this dish on the stovetop but you will need to finish it in the broiler.
If you're up for a challenge, this recipe for Eggs Saint Denis might be just your speed. The newspaper article asserts that all women like Eggs Benedict (it is my favorite) and this recipe is similar. Like Eggs Benedict, it will require knowledge of how to poach an egg. And like Eggs Benedict, it uses a sauce. But this sauce has more ingredients than a hollandaise, so make sure to prepare the ingredients ahead of time.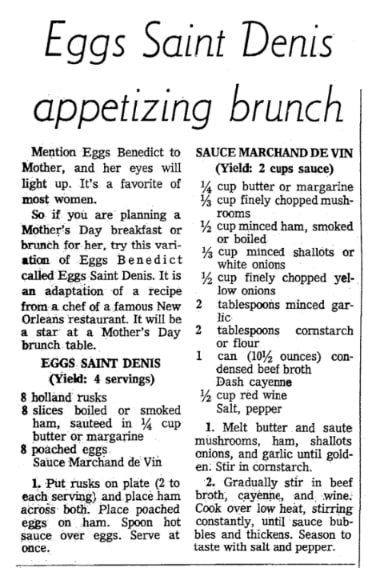 Something to Drink
Brunch is great, and serving a drink with the food helps to make it an even more special meal. Yes, you could serve mimosas (champaign and orange juice) or some other alcoholic cocktail, but there are non-alcoholic options. I like to take fruit juice and add some sparkling water. You can even add fresh fruit like blueberries to the glass.
This Strawberry Cooler recipe could incorporate any number of fruits to substitute for the strawberries.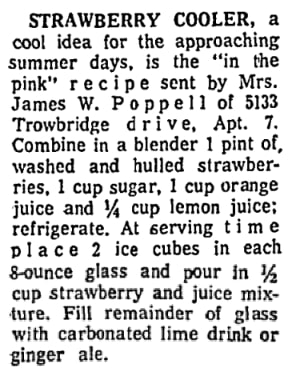 This 1952 newspaper column has some drink ideas; I like the Aloha Ade the best. It includes ginger ale, pineapple juice, mint, and sugar – though I think you might be able to cut down the sugar depending on taste. You can also mix any number of fruit juices with ginger ale, so feel free to experiment.
Desserts
If mom likes antique shopping and buying everything vintage, surprise her with a mid-century recipe. This Strawberry Fluff Pie can be made using a pre-made graham cracker crust from the store. It's recommended that you garnish with strawberries, but you could also buy other berries to add some color.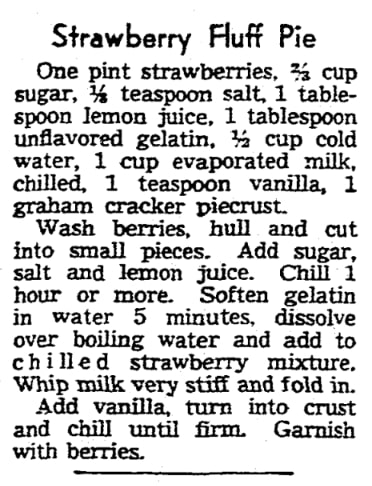 Easy is always better – especially so that kids can be involved in honoring mom. The Strawberry Angel Basket in this Mother's Day article can easily be made with pre-made angle cake that you can buy in the store. It can be an easy way to end the meal, especially if you've gone to extra effort to make the egg dishes above.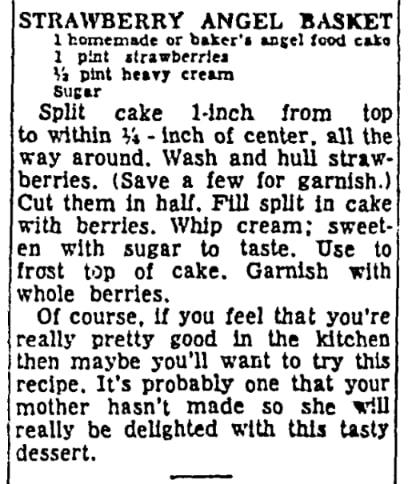 Happy Mother's Day!
Mother's Day is a good day to let her rest and do what she wants to do. Taking care of the meals for the day helps her do just that. Mom will love the food you cook so don't stress too much if you're not the best cook. Just remember to clean up the kitchen!
Explore over 330 years of newspapers and historical records in GenealogyBank. Discover your family story! Start a 7-Day Free Trial
Note on the header image: Mother's Day celebration. Credit: https://depositphotos.com/home.html