Introduction: In this article – to celebrate Mother's Day this Sunday – Melissa Davenport Berry searches old newspapers to discover some past celebrations of Mother's Day. Melissa is a genealogist who has a blog, AnceStory Archives, and a Facebook group, New England Family Genealogy and History.
In honor of Mother's Day this Sunday, I share some celebrations from the past.
Mother's Day 1934
The Atlanta Journal featured photos with the headline "Beautiful Atlanta Mothers and Their Children" for Mother's Day in 1934. I found some genealogy and history on most of them.
From top, left to right:
Harold L. Ebersole, of 20 Fourteenth Steet, N.E., and her sons Bill [John William] and Peter Fletcher.
(Mrs. Ebersole, born Charlotte Meador to John Frank Meador and Millie Peck, married Harold Leon Ebersole, son of Amos Ebersole and Bertha Powers Thummel.)
Allison Thornwell, of 220 Fourteenth Street, N.E., and her sons Jimmy and Allison Jr.
(Mrs. Thornwell, born Jennie Warren Robinson to James Dixon Robinson and Emily English, married Edward Allison Thornwell, son of Rev. Dr. James Henley Thornwell and Florence Lacelle Earle.)
Robert Tyre (Bobby) Jones Jr. and three children, shown at their home on North Side Drive. Left to right, Clara Malone and Mary Ellen Jones, Mrs. Jones, and Robert Tyre Jones III.
(Mrs. Jones, born Mary Rice Malone to John Norton Malone and Mary Rice. She married Hall of Fame golf champion Robert Tyre Jones, son of Robert Purmedus Jones and Clara Thomas, grandson of Robert Tree Jones and Susie Smith Walker.)
Middle, left to right:
William T. Healey Jr. and daughter Callie Jackson Healey of Valley Road.
(Mrs. Healey was born Callie Jackson Orme to Aquilla Johns Orme and Caroline "Callie" Cobb Jackson. She married William Thomas Healey Jr., son of William Thomas Healey Sr. and Ada Moore in 1929.)
Note: The name "Callie" was a popular one in the family through many generations. Here is a photo of five Callies taken in 1901, which includes little Callie Jackson Healey's grandmother Caroline "Callie" Cobb Jackson Orme, born to Henry Rootes Jackson and Sarah Addison Cobb, granddaughter of Brigadier General Thomas Reade Rootes Cobb.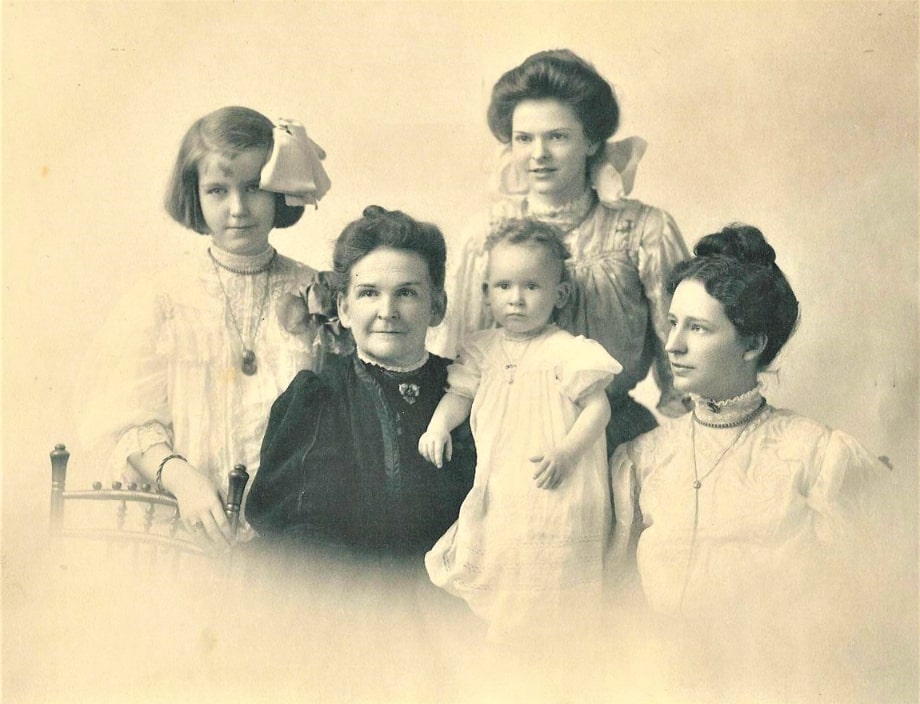 Claude A. McGinnis Jr. and children Mary Lee and Claude III of 1341 Ponce de Leon Avenue, N.E.
(Mrs. McGinnis, born Rebecca Bayless Ashcroft to Stiles Lee Ashcroft and Mary Bayless, married Claude Augustus McGinnis Jr., son of Claude Augustus McGinnis Sr. and Mary Bennett.)
Wright Bryan and daughter Ellen Newell of 217 Fifteenth Street, N.E.
Nathan Brandon and Nathan Jr. of Howell Mill Road, N.E.
(Mrs. Brandon, born Marie "Marlie" McAfee to Homer Alexander McAfee and Caroline "Callie" Wheeler, married Nathan Christopher Brandon, son of Christopher Morris Brandon and Harriet Frances Inman.)
Mother's Day 1945
For Mother's Day 1945 Miss Maxine Tvede, a clever 13-year-old from San Francisco, California, designed a special white flag with a red and blue border that was flown throughout the country.
Maxine was the daughter of Iris Bertie Cramer and Christian Nicolai Tvede.
Mother's Day 1952
University of New Hampshire students paid tribute to their mothers in 1952. A huge photo spread appeared in the Boston American.
Among the more than 2,000 mothers who attended this celebration on campus, here are some mentioned in this article:
From top left: ROTC Cadet Franklyn Ware Jr. of Teaneck, N. J., helped his mother Grace (Steneck) Ware register with him at Notch Hall for the event.
Bottom left: All fraternity and sorority houses in Durham, N.H., held special activities for mothers. From L-R students and moms: John Hewey and Mrs. Harold Hewey, Cape Elizabeth, Me.; Larry Federhen and Mrs. Mae Federhen, Newton, Mass.; Roger McGlone and his grandmother Mrs. Sarah Gammond, Ashland, N.H.; Cadet Officer George Ford and Mrs. Margaret Ford, Concord, N.H.
Top right: All-Eastern tackle for U.N.H. Cadet Major Earl Eddy of Portsmouth, N.H., with his mother Mrs. Claire Eddy on his left arm and his sweetheart Anna McCann of Dover, N.H., on his right.
Middle: Huber Gillespie of Melrose, Mass., with his son John Barnes; and next to them are Mrs. Francis Avery of Keene, N.H., with her son Cadet Officer David Avery.
Mother's Day 1969
In 1969 it was a "Temporary Mother's Day" for foster mother Mrs. Beutonne Kendall Berry, wife of Joe Thomas Berry of Texas. She is featured with her temporary children, along with one of her own: Kevin Berry (sitting on her lap).
Mrs. Berry was foster mom over time to more than 70 children for Hope Cottage adoption services. She was featured in Redbook magazine in December 1967 in the article "The Parents Who Loved 58 Children."
Mother's Day 1972
In 1972 a group of Bostonian moms hiked for hunger on Mother's Day. Here is the skinny from the Boston Record American, which included a photo feature of one mom, Mrs. Marianne Hughes, with her two children Joseph and Kristen rubbing her feet to prep for the big day.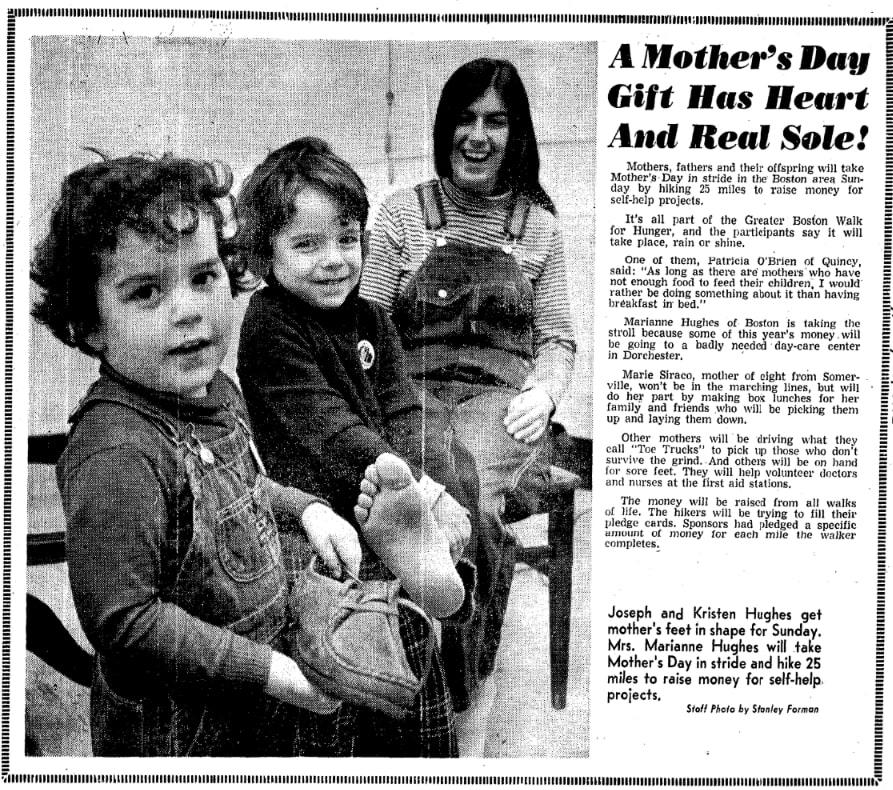 This article reported:
Mothers, fathers, and their offspring will take Mother's Day in stride in the Boston area Sunday by hiking 25 miles to raise money for self-help projects.

It's all part of the Greater Boston Walk for Hunger, and the participants say it will take place, rain or shine.

One of them, Patricia O'Brien of Quincy, said: "As long as there are mothers who have not enough food to feed their children, I would rather be doing something about it than having breakfast in bed."

Marianne Hughes of Boston is taking the stroll because some of this year's money will be going to a badly needed day-care center in Dorchester.

Marie Siraco, mother of eight from Somerville, won't be in the marching lines, but will do her part by making box lunches for her family and friends who will be picking them up and laying them down.

Other mothers will be driving what they call "Toe Trucks" to pick up those who don't survive the grind. And others will be on hand for sore feet. They will help volunteer doctors and nurses at the first aid stations.

The money will be raised from all walks of life. The hikers will be trying to fill their pledge cards. Sponsors had pledged a specific amount of money for each mile the walker completes.
Happy Mother's Day!!
Explore over 330 years of newspapers and historical records in GenealogyBank. Discover your family story! Start a 7-Day Free Trial
Note on the header image: flowers to celebrate Mother's Day. Credit: https://depositphotos.com/home.html