Introduction: In this article – the third and final in a three-part series – Katie Rebecca Garner gives tips for researching your ancestor's Civil War pension. Katie specializes in U.S. research for family history, enjoys writing and researching, and is developing curricula for teaching children genealogy.
Previously in this series (see links at the end of this article), we learned what was involved in your ancestor getting a Civil War pension and where you can find the records. This series concludes today with a case study showing how finding the pension record was key to discovering more about the Stewart family.
Photo credit: https://depositphotos.com/home.html
Contents of a Pension Record: Barton H. Stewart
When trying to extend the lines of Barton H. Stewart and his wife Elizabeth Hillis, census and vital records research quickly ran dry. The only census showing the couple married with children was the 1870 census. Elizabeth was a widow in the 1880 census because Barton had died in 1874. It was uncertain when Elizabeth died or if she remarried.
Even though the censuses showed the couple living with children born before 1860, they were not found together in the 1860 census. There was evidence that Barton H. Stewart had served in the Civil War, and hardly any other clues.
Therefore, I ordered his pension records from the National Archives, and these proved to be a key to breaking the brick wall.
The pension files give a glimpse of Barton H. Stewart's Civil War story, as well as his family's life during and after the war. Barton served in Company A of the 130th regiment of Indiana Volunteers. He enlisted in Curtisville on 30 December 1863. He had committed for three years but had to be discharged early because of disability and disease. His muster rolls show him as being absent a lot due to being sick.
By combining information from a few reports within the pension file, it is possible to piece together Barton's story of Civil War service – at least the part of his service where he contracted his disability.
Barton was on a campaign in Georgia from 4 June to 14 July 1864. On 27 June 1864, during a charge at Kennesaw Mountain in Georgia, Barton became overheated and contracted a severe cold, which superinduced fits. During the charge, he was shot in his left shoulder. On 16 October 1864, Barton went to a hospital in Atlanta, Georgia, for cholera. Additionally, Barton contracted epilepsy during his service.
All this led to his early discharge on 10 July 1865. These conditions affected Barton for the rest of his life and eventually led to his death.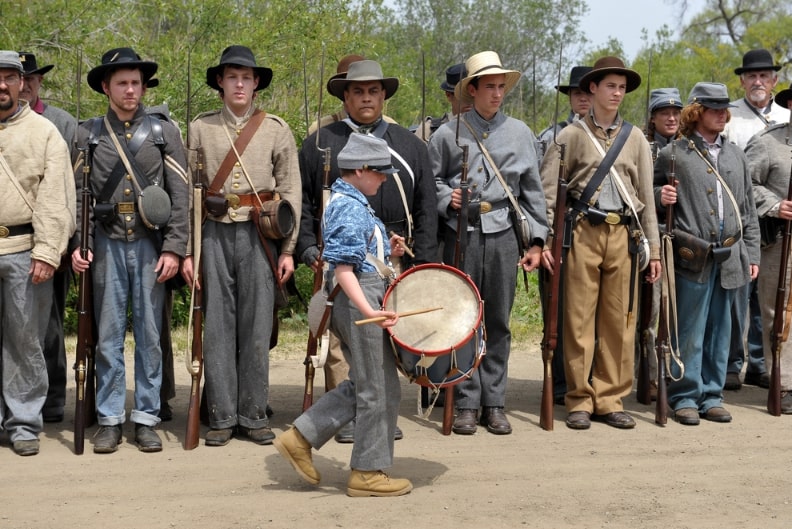 Photo credit: https://depositphotos.com/home.html
In addition to Barton's war story, the pension records also give the following information about his family:
Barton H. Stewart and Elizabeth Hillis were married 22 September 1862 in Madison County, Indiana, by John M. Sabin.
Barton H. Stewart died on 31 October 1874 of dropsy, which resulted from injuries contracted in his Civil War service.
Elizabeth Hillis remarried twice after Barton died: 6 September 1881 in Grant County to David Lewellen; 18 August 1885 in Howard County to Samuel H. Hendrickson.
Barton H. Stewart was born in Henry County, Indiana.
The pension file contained copies of the original marriage licenses and certificates for Elizabeth's remarriages to David Lewellen and Samuel H. Hendrickson, but no copy of an original marriage record for her marriage to Barton Stewart. However, the name of the person marrying them is a clue. A search for Sabin in a digital copy of a Madison County history pulled up a life sketch of John M. Sabin, which stated he served as Justice of the Peace for four years. This indicates that Elizabeth and Barton had a civil marriage, and records should be searched among government collections.
Some of the pension applications made in 1903 indicated that Elizabeth Hendrickson was deceased and that Manerva, one of the daughters of Barton and Elizabeth, was also deceased. Finding Elizabeth Hendrickson on the 1900 census helped to narrow when she and her daughter died. Since Elizabeth was alive in 1900, she died between 1900 and 1903.
The 1900 census further stated that Elizabeth had eight children and three were living. The pension application records list four known children for Barton and Elizabeth, so one of the five deceased children (died before 1900) must have been Manerva.
Elizabeth's 1903 death certificate listed her parents: Levi Hollis and Nancy Jarvis. This find could not have been made without Barton's pension files. In fact, it proved to be impossible to find Elizabeth after 1880 without Barton's pension files, because it was otherwise unknown that she remarried. Because Elizabeth is a common name, searches of only her first name and other known information yielded too many results to know which was the ancestral Elizabeth.
In conclusion: much was learned of Barton and Elizabeth Stewart and their families through their pension records. Additionally, the pension records provided clues for continued research. Without their pension records, research for them was at a brick wall. Pension records of your ancestors could prove just as useful in your research.
Explore over 330 years of newspapers and historical records in GenealogyBank. Discover your family story! Start a 7-Day Free Trial
Note on the header image: Civil War cannon at Gettysburg. Credit: https://depositphotos.com/home.html
Related Articles:
Resources:
National Archives, Record Group 94 (Office of the Adjutant General) compiled military service record; Record Group 15 (Department of Veterans Affairs), invalid pension, app # 194,473, widow's pension, app # 249,416, minor's pension, app # 796,558; Barton H. Stewart pvt., Co. A 130 Indiana Volunteers.
John L. Forkner and Byron H. Dyson, "Historical Sketches and Reminiscences of Madison County, Indiana," (Anderson, Indiana, 1897), p. 358.