Introduction: In this article, Gena Philibert-Ortega shows how historical newspapers can help you learn more about your immigrant ancestors and what their immigration experience was like. Gena is a genealogist and author of the book "From the Family Kitchen."

What is your ethnic background? Who was your first immigrant ancestor? Newspapers are a great resource for learning more about our individual ancestors as well as the social history of their time. How did your ancestor come to the United States? What was life like when they arrived? Whether you use the newspaper for photos, passenger lists, articles, or some historical background, there's a good chance you can learn more about your immigrant ancestor by searching an online newspaper database such as GenealogyBank's Historical Newspaper Archives.
Immigrants Arriving in America
Ellis Island wasn't the only arrival port for immigrants in the United States, but over time it has become synonymous with immigration. This short notice and image of Ellis Island in a 1907 North Dakota newspaper proclaims that a million Europeans a year entered the United States.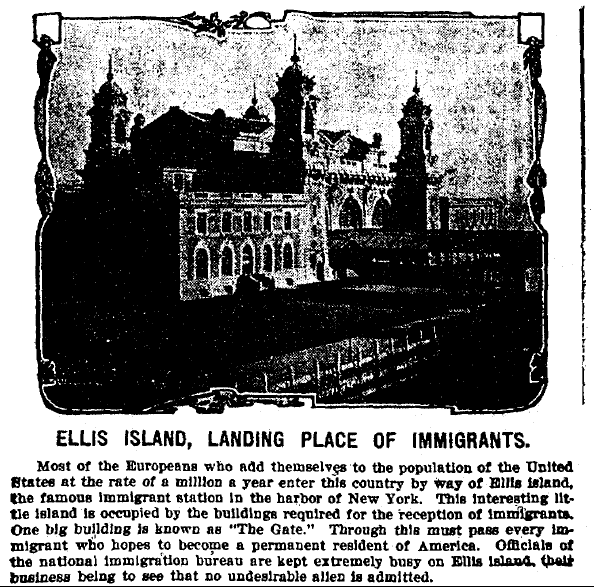 Ship lists printed in the newspaper are a great source of information, such as this example from an 1897 New York newspaper.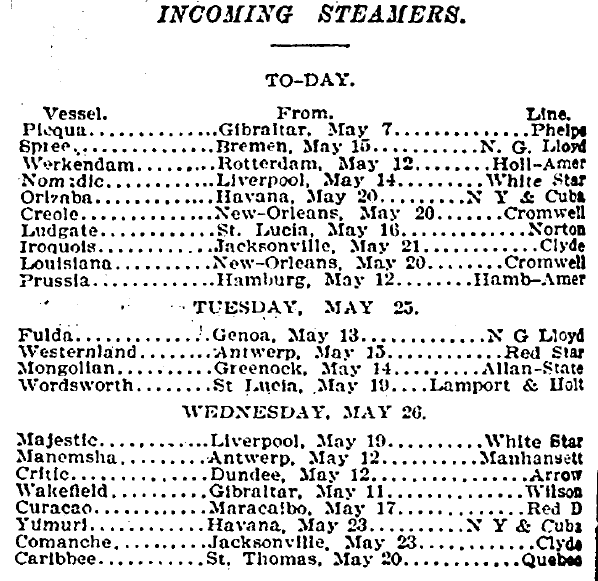 Once you have searched on your immigrant ancestor's name, the passenger ship they sailed to America on or their country of origin, narrow your search on GenealogyBank's Search Results page by using the category "Passenger Lists" to focus on just those types of articles.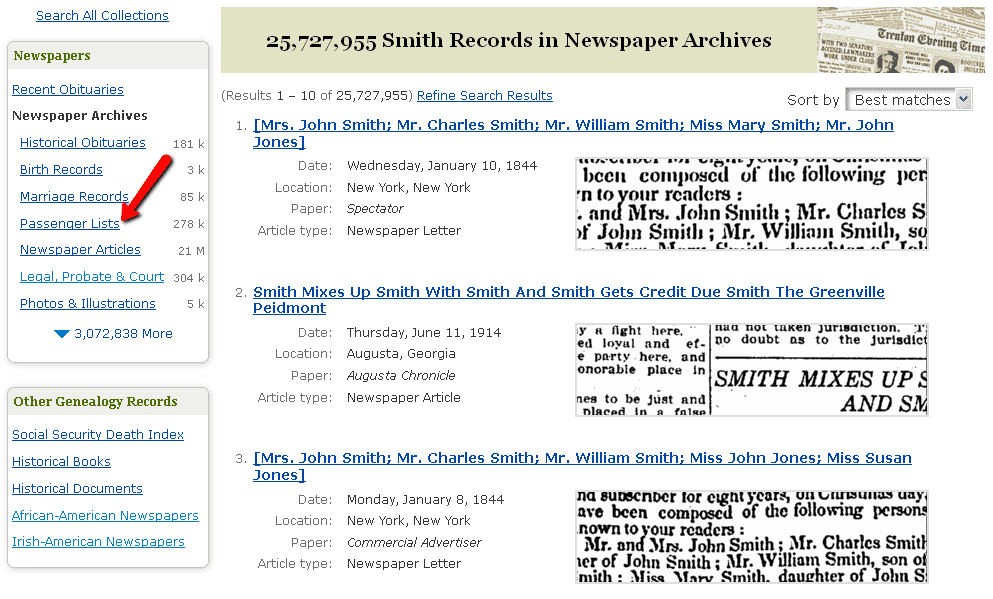 In the absence of finding a passenger list with your ancestor's name and the ship they arrived on, consider the ports and modes of transportation available to them. Research their lives in the United States in your effort to learn more about their journey.
Photos Tell a Story
Images are one way to search historical newspapers. GenealogyBank's Search Results page lets you narrow your search to articles that contain images by clicking on the "Photos & Illustrations" category.
Exploring old photos in newspapers is a great way to learn more about immigrants during the time period that your ancestor came to America. All types of images of newly arrived immigrants graced the pages of newspapers.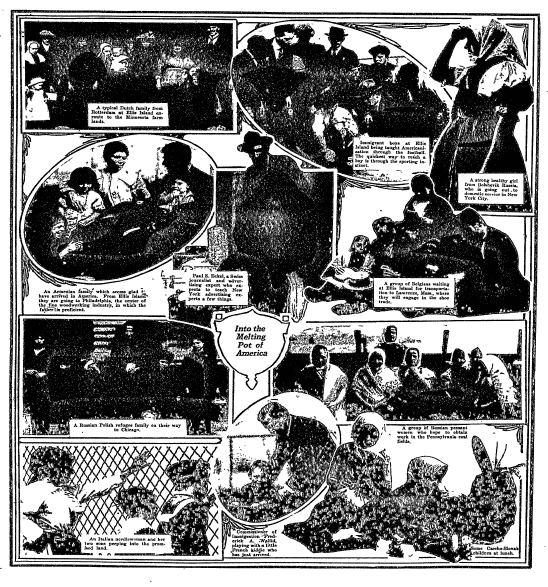 Photos of immigrants wearing their native costumes can be found in newspapers, and there can also be photos telling the stories of individual families. For example, the following photo focuses on one particular Dutch family and its 15 members, mostly children of the family. Whoever wrote this newspaper caption had a great sense of humor when they proclaimed: "No nation can beat the Dutch in this wonderful matter of human productivity." Note that the father's complete name, Hendrik Feyen, is listed. As a whole, they are referred to as the Feyen family and the wife/mother is referred to only by her first name. When conducting searches for your ancestor, make sure to conduct multiple searches and take into account variations of your ancestors' names.
If your family immigrated as a group, make sure to search on every name in that family group including a search on just the surname. It's important not to make assumptions about newspaper articles. For example, in this article about immigrant women traveling to meet up with fiancés living in the United States, the names of the women—but not their beaus—are listed, and where they are from. It would be easy to assume that women would not be mentioned as readily as male partners, but that is not always the case.

Other types of articles about an individual may not be obvious sources of immigration information. Don't forget about interviews with older family members and what those can tell you about the person's life. Anyone who had an unusual story, lived to a ripe old age, or was married for 50+ years may have found themselves the subject of a biographical newspaper article that included their immigration experiences.
GenealogyBank's Ethnic Newspaper Archives
Searching all possible newspapers is a great idea for researching your ancestor—but don't forget that GenealogyBank's Ethnic Newspaper Archives are especially helpful because it's in the ethnic newspapers that an immigrant community might be written about in more detail than a newspaper serving the general public. Readers of ethnic newspapers would be interested in people from their homeland, so it makes sense that the story of your immigrant ancestor might be featured there.
What's your ethnic background? Good chance you can learn more about your immigrant ancestor as well as what immigration was like by searching historical newspapers.
Related Immigrant Ancestor Articles: