Be sure to check passenger lists that were routinely printed in newspapers—they have critical genealogical information about your immigrant ancestors that you need for your family history research.
Look at this typical example, published in the Irish Nation newspaper in New York City.
This passenger list reports on the Irish passengers who arrived in New York City on board various ships recently arrived from Europe. Look at the entry for Jane Williamson.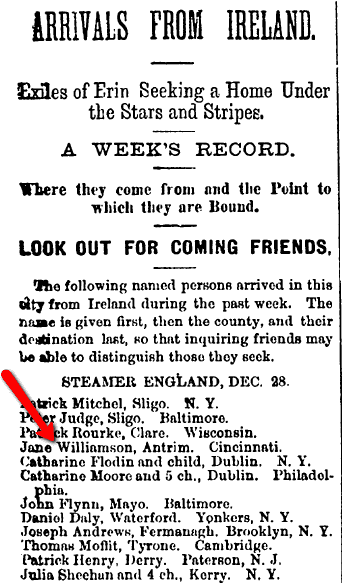 This passenger list newspaper article tells us that Jane Williamson, from County Antrim, Ireland, arrived on 28 December 1881 on board the steamer England. It also says that her ultimate destination in America was Cincinnati, Ohio.
I looked at the original passenger list online, and found that it has no mention of the facts that Jane was from County Antrim or that she was heading to Cincinnati.
For the entry "Place of Last Residence" it was blank.
For the entry "Province of Last Residence" it read: "Unknown."
For the entry "City or Village of Destination" it read: "United States."
How did the Irish Nation newspaper get more complete information about Jane Williamson for its newspaper article than was contained in the original passenger list?
Did they pay arriving Irish immigrants for self-reporting this information? Did they devote a lot of reporters' time to getting all the facts—and do this for the hundreds and hundreds of Irish immigrants that arrived every day?
What a great resource for genealogists who are tracing their ancestral roots overseas!
The federal passenger lists contain part of the story—to get the rest of the story, you need to turn to old newspapers.
It is essential to check the deep newspaper archives on GenealogyBank to get more of the details about your ancestors and their immigration to the United States.
Keep digging and discover the stories of your ancestors' lives.