Introduction: Scott Phillips is a genealogical historian and owner of Onward To Our Past® genealogy services. In this guest blog post, Scott searches old newspapers to find out more about the superstition of Friday the 13th being an unlucky day—and finds that the day has been unlucky for many, but lucky for some.
I believe every family, no matter where, is aware of some sort of adage, saying, or superstition. For instance, in my family my maternal grandmother always seemed to have some saying or another that would help us get through the day. "Find a pin and pick it up and all the day you'll have good luck" was one of her favorites. I guess this old family saying is not quite as prevalent today as back then—when almost everyone in my family knew how to sew and straight pins were a constant menace to my bare feet.
Then of course there is the granddaddy superstition of them all: Friday the 13th! Since today is indeed one of those special Fridays, I decided to look up its history in GenealogyBank's Historical Newspaper Archives. I found out quite a lot!
Friday the 13th a Very Old Superstition
The superstition about Friday the 13th being unlucky has been with us for a long time. Talk about an old superstition! This 1912 Washington, D.C., newspaper article explains that this belief goes all the way back to Adam and Eve, the ancient Persians, and Norse mythology. Now that is old. For example, the Norsemen believed that Loki, the dark god of evil, was the 13th god at the banquet table—and he proceeded to wreak havoc against the good gods there.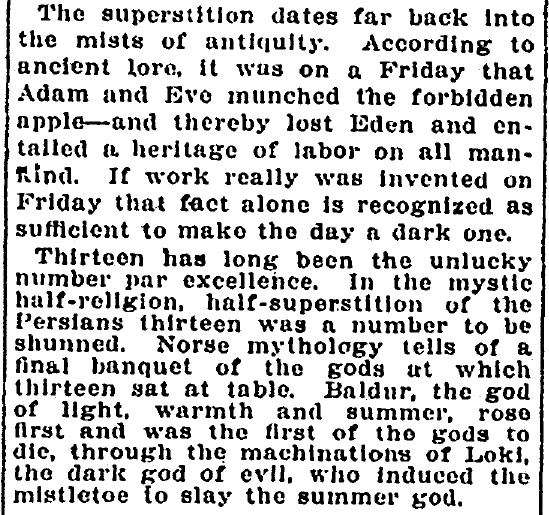 Kenneth Nalley & Triskaidekaphobia
I learned that the fear of Friday the 13th is actually called "triskaidekaphobia." I discovered this tidbit when I came across this 1963 Texas newspaper article. It seems Kenneth Nalley was loaded with 13. He was celebrating his 13th birthday on Friday the 13th, there are 13 letters in his name, and the number on his football jersey was 13. But on the good news side of the ledger, it seemed the only thing he was concerned about was his pending spelling test.
Friday the 13th Is Unlucky for Charles Hitchcock
On the darker side of Friday the 13th is this 1908 Texas newspaper article. It seems that a certain Charles Hitchcock was given a banquet in his honor on Friday the 13th, during which all the guests noted that there were 13 people seated at the table. While the guests all reportedly laughed, they weren't laughing when Mr. Hitchcock, while getting off a train, fell, hit his head and died!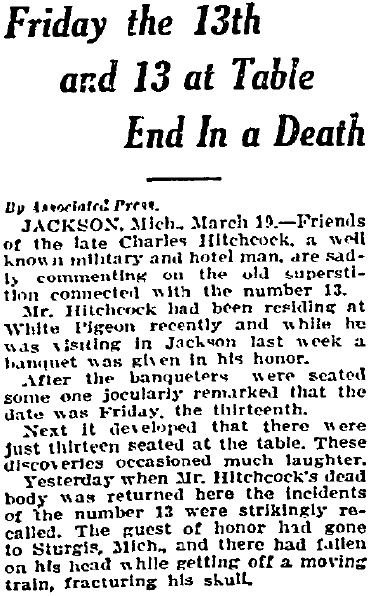 The Tale of John Gentile
There is also the just plain inexplicable side to Friday the 13th. Take for example this story published in a 1985 Ohio newspaper. Ship's captain, Lt. John Gentile, was interviewed about his adventures with the icebreaker Neah Bay, and he had this recollection:
There was one day, a Friday the 13th, when we had 30 ships stuck in 1,000 yards of the (St. Clair) River, with seven of those all jammed up together and 200 more waiting to get through. It was total chaos, the most incredible thing I've ever seen, ships hitting each other and running aground all over the place. It was a real mess.
I think after that experience, Lt. Gentile is most likely a true believer in the power of Friday the 13th.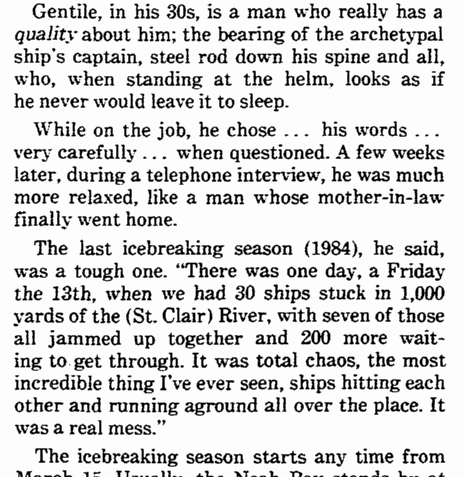 Ice Storm Freezes NC
Mother Nature played her nasty game again on another Friday the 13th, as explained in this 1978 North Carolina newspaper article. It reported that on the last Friday the 13th, in January, a terrible ice storm hit the city of Greensboro leaving some 8,000 homes without power and heat. Plus, the article went on to explain, that Friday the 13th was also the day that "the happy warrior," Sen. Hubert Humphrey, passed away.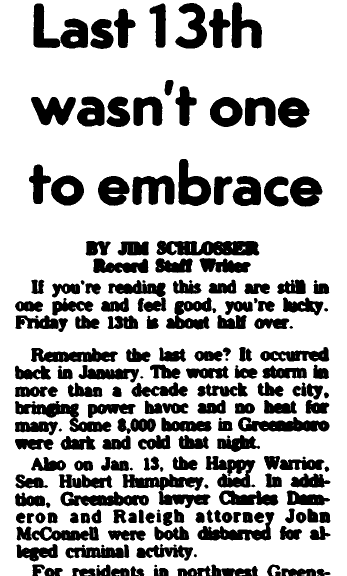 Lucky Talismans for Protection
Then of course there are the interesting talismans that are said to protect us from the evils of Friday the 13th. This 1896 Illinois newspaper article reports on the sale of rabbits' feet decorated in gold to help ward off the voodoo of Friday the 13th.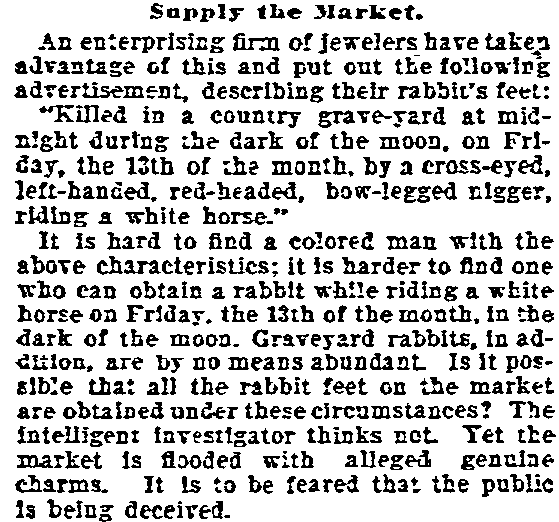 Woodrow Wilson & Lucky #13
And speaking of good luck, this article from a 1912 Georgia newspaper explains that 13 was presidential-candidate Woodrow Wilson's lucky number. On Friday the 13th, he sat in seat number 13 "in a parlor car." Seems there was something good about 13 throughout the life of President Wilson. For example, in his 13th year teaching at Princeton University he was elected the school's 13th president.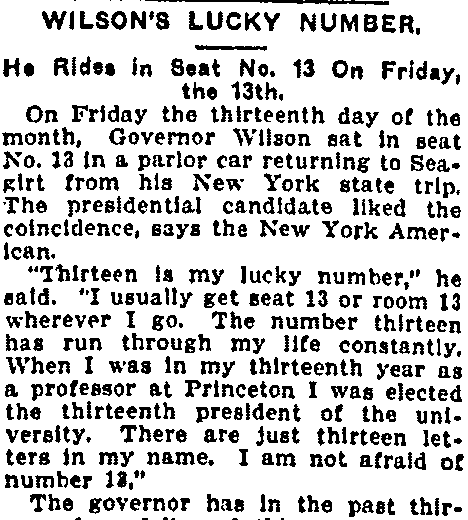 Dr. Naftzger & Auspicious 13
And if you want really lucky, check out this article from a 1908 Indiana newspaper. It provides an incredibly extensive list of how lucky the number 13 and Friday the 13th were in the life of Dr. Leslie J. Naftzger, presiding elder of Muncie, North Indiana M. E. Conference. Among other signs of good luck for Dr. Naftzger was that he was born on a Friday the 13th as the 13th child of his parents—plus twin boys of his own were born on a Friday the 13th. Amazing!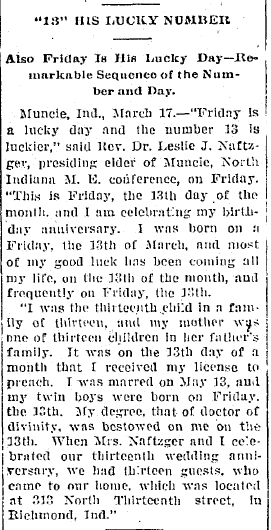 Good Luck Soldier
An article from a 1919 Pennsylvania newspaper really caught my eye. This soldier also relates a history of Friday the 13th good luck, including once being offered a free ride from Tacoma to Seattle.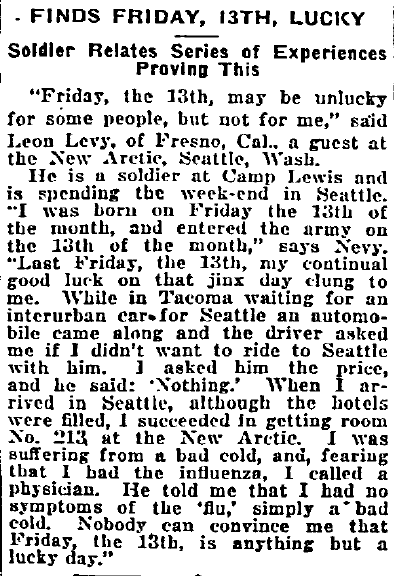 The Cubs Win!
Proving that good luck can really happen on Friday the 13th, this 1906 article from a Washington newspaper reports on a victory by the struggling Chicago Cubs baseball team. It does seem like unusually good luck to hear "Cubs Win!" even today, Friday the 13th or not, unfortunately, as the team continues to struggle.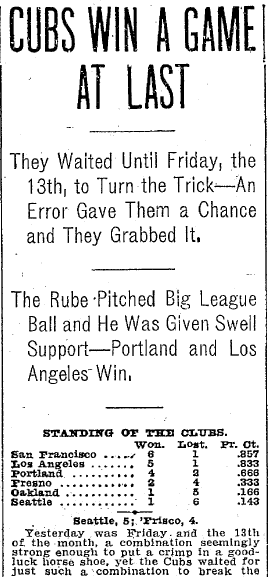 My Wife's Grandfather Mario
And, I'd like to add, my wife's grandfather, Mario Casagrande, always considered Friday the 13th as his luckiest of days. He closed many of his business deals on that day, as well as using it as the day he'd buy a new car.
So leave a comment here and tell me: is Friday the 13th lucky or unlucky for you? Got any Friday the 13th birthdays or stories in your family tree?
[bottom_post_ad]