Introduction: Gena Philibert-Ortega is a genealogist and author of the book "From the Family Kitchen." In this guest blog post, Gena—who gave two genealogy presentations on behalf of GenealogyBank at the recent Southern California Genealogical Society Jamboree—describes some of the search tips she discussed at the Jamboree.
We are back from the recent Southern California Genealogical Society Jamboree. It's always great to meet with GenealogyBank members and hear about their newspaper discoveries. If you weren't able to attend 2014 SCGS genealogy Jamboree, that's ok—many of the presentations are available online. For example, I made two presentations on behalf of GenealogyBank, "Using America's Ethnic Newspapers to Find and Document Your Family" and "GenealogyBank Inside and Out," and these were recorded and are now available from Conference Resource.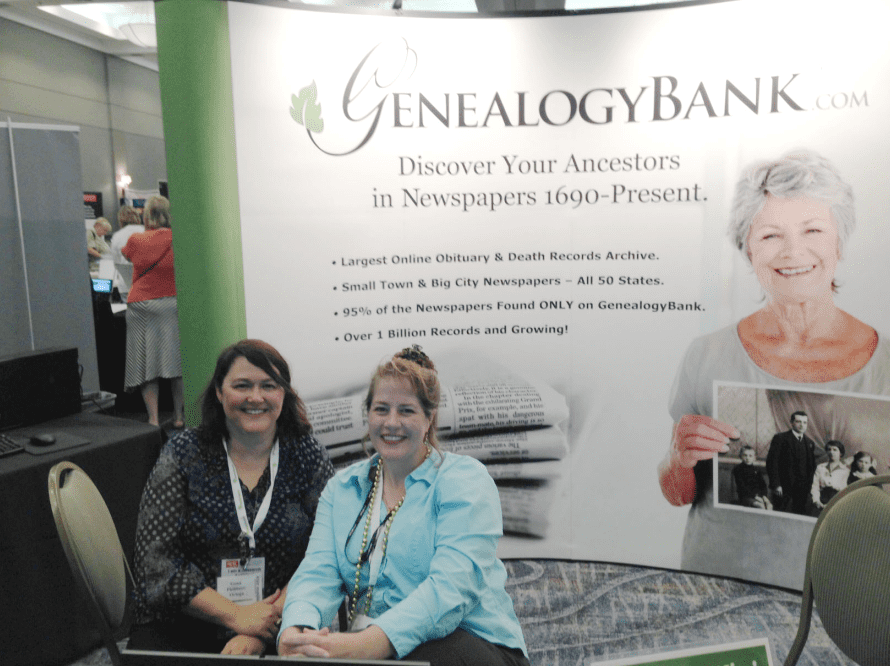 One of the benefits of a genealogy conference is the opportunity to learn new tips to search and make family history discoveries. I thought it would be helpful to share some of the genealogy tips we provided at Jamboree for you to try at home.
Also, remember that you don't have to attend a conference to have us help you with your GenealogyBank searches. The GenealogyBank Blog constantly provides genealogy tips, and you can always give us a call (1-866-641-3297) and we will work with you to help you trace your family tree.
1) Locations: Location, Location, Location—or Not
Family history researchers are accustomed to searching through a genealogy database by entering an ancestor's name, date, and location. In a previous blog article, Genealogy Search Engine Types & Tips: OCR vs. Indexed Databases, I discussed how searching indexed content is different than content that is being searched using Optical Character Recognition (OCR), like newspapers. While narrowing down a location is essential in researching other types of information, such as a census return, in newspaper research a specific location may be less important because a newspaper article can appear in multiple newspapers and locations—sometimes on the other side of the country from where your ancestor lived.
As you prepare your search on GenealogyBank, take some time to plan out different types of searches.
For example, if I'm searching for John C. McNeil who lived from 1823 to 1909 and spent time in Arizona, I would want to conduct searches that would include his name, date range, and place. But then I may want to a search with just his name (with or without the middle initial) and a date range. Because he lived in several different states, I don't want to always limit the place because I will miss mentions of him in other localities. Even if your ancestor didn't move around a lot, they can still be mentioned in other newspapers outside of their immediate area. In the case of ethnic newspapers, the newspaper can be aimed at a group from a larger geographic region. Remember that some newspapers may serve a county area, and not just a city. And in the case of a tragedy or even a human interest story, the article can be picked up and printed in newspapers across the United States.
So the bottom line is: don't include the name of the place or the newspaper location in every search you conduct.
2) Keywords: What Words Do You Include in Your Search?
One of the great features of the GenealogyBank search engine is that you can include or exclude words. So let's say the surname you are researching is also a noun or a verb, like Miller or Walk. Use the exclude keywords box to exclude certain words. If I'm researching on the surname Baker, I may exclude the word "bread" or "bakery" because I do not want results about bakers, I want results about people with that surname.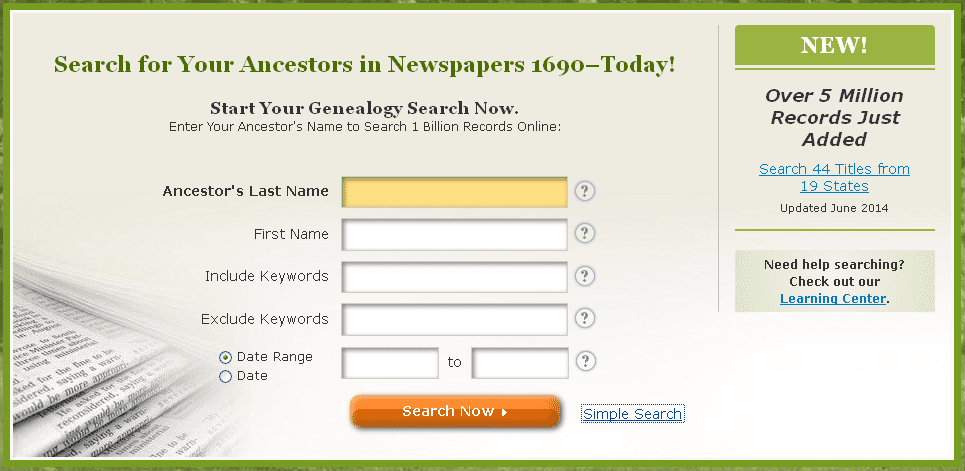 Have multiple words you want to exclude or include? Just place a comma in between each word. But don't try to include or exclude too many keywords or you may unnecessarily narrow your results.
3) Hacking Genealogy Searches: Type outside the Search Box
The GenealogyBank search engine has a place for a last and first name, but that doesn't mean you have to enter those names in those boxes. The search engine is looking for whatever characters you have typed—it doesn't know what words are names and what words are other keywords, so you could enter all of those characters (keywords) in the "Include Keywords" box.
However, it might help you organize your searches if you enter your ancestor's last and first names in those boxes, then keep changing terms in the "Include Keywords" and "Exclude Keywords" boxes as you continue trying to find as many articles as you can about your target ancestor.
The search engine also allows you to use wildcards (such as the characters ? or * ) to substitute for letters. Say your ancestor's first name is Alexander. You could try a search on Alex?. This way you would find results that list him as Alexander or Alex.
One additional genealogy search tip: conduct an "exact phrase" search. Try searching on "John C McNeil" (quotation marks around the words indicate it's an exact phrase) instead of just John C McNeil (and remember this entire phrase can be typed into one search box). By putting the phrase in quotation marks, you are telling the search engine to search for that exact phrase, and not articles that contain a John, a C, and a McNeil somewhere in the text.
But remember; don't limit your search to only exact phrase searches, or you will miss results where the name is slightly different than what you have entered.
4) Major Life Events & Gatherings
One of the biggest "aha!" moments I had during the Jamboree was talking to the staff at the GenealogyBank booth and learning this search tip: try searching on an event your ancestor was involved in without adding their name. When an event is reported in the newspaper (think car crash, natural disaster, or other tragedy), names associated with that event (such as survivors, victims, witnesses, and rescue personnel) are not always mentioned in the initial reports. The event will most likely be reported in articles over a period of time, and as those articles unfold, names may be added.
Say for example you know that your ancestor was involved in a ship accident. Don't search on their name initially; instead search on the name of the ship or the date the disaster happened. Gather all the newspaper articles you can find about that event to learn more about this incident that affected your ancestor's life—but don't limit your initial searches to your ancestor's name because you will miss important information, especially in some of the first reports about the event. You can later do a search using your ancestor's name to see if there was a report specifically focusing on your ancestor.
Those are some of the genealogy search tips I explained during my Jamboree presentations, as well as some lessons I learned by attending the Jamboree, listening to other presentations, talking to the audience, and discussing genealogy with the staff at the GenealogyBank booth. I hope they help you with your own family history research.
See You at the Jamboree Next Year!
Going to a genealogy conference? Good chance GenealogyBank will be there. Make sure to stop by the GenealogyBank booth and let us help you search for your ancestors. Not able to visit us at a particular conference? No problem—give us a call (1-866-641-3297) and GenealogyBank's helpful support staff will assist you with your family search questions. You can also find genealogy search tips on our site's Genealogist Q&A section.
[bottom_post_ad]