Marine artist William Formby Halsall's 1882 "Mayflower in Plymouth Harbor" painting is a favorite of New Englanders and Mayflower descendants. What do we know about the painter – was he also a Mayflower descendant?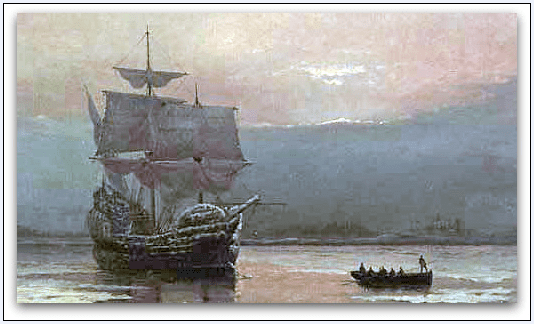 William Halsall was born 20 March 1841 in Kirkdale, Lancashire, England, and came to America in 1858 at age 17.
During the Civil War, Halsall enlisted in the U.S. Navy. His naval experience clearly shows in the theme of his paintings.
Following the war he married Josephine A. Nickerson (1841-1915) in Roxbury, Suffolk County, Massachusetts. He was naturalized a U.S. citizen on 24 January 1872 at the U.S. District Court in Boston, Suffolk County, Massachusetts. He died 7 November 1919 in Winthrop, Suffolk County, Massachusetts.
[search_box]
While William was not a descendant of the Mayflower Pilgrims, his wife Josephine was. She was a descendant of Pilgrim Stephen Hopkins.
There are many newspaper articles in GenealogyBank about William Halsall, including this one published a few weeks after his death.

The old 1900s news article describes the hanging of his painting "The Arrival in Boston Bay of the Fleet Bearing Governor John Winthrop's Company of Colonists," saying that it "…is a large canvas, in which the light of the early morning is flooding the spaces of the sea and sky with a rosy tone."
GenealogyBank is your go-to source for thousands of newspaper articles and historical documents about the Mayflower Pilgrims and their descendants.
Related Mayflower Genealogy Articles & Resources:
[bottom_post_ad]