Newspapers tell the story of the everyday lives of our ancestors. GenealogyBank is the best genealogy resource for online newspapers available anywhere, with a massive collection of content spanning nearly 400 years of American history.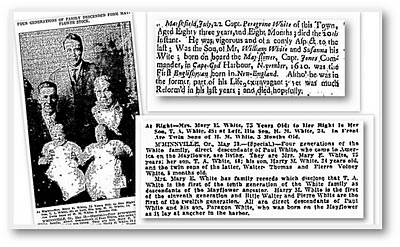 The historical newspaper article in the upper right is an obituary of Peregrine White, "the First Englishman born in New England"—he was born on board the Mayflower in Cape Cod Harbor in November 1620! Peregrine White's obituary appeared in the
Boston News-Letter
(Boston, Massachusetts), 24 July-31 July 1704, page 2. The newspaper article below it is about a family reunion including four generations of Peregrine White's descendants who gathered in McMinnville, Oregon. This family reunion newspaper article was published in the
Oregonian
(Portland, Oregon), 30 May 1915, Section 3, page 9.
Peregrine White's descendants were understandably proud to have such a famous ancestor, a Mayflower ship passenger, in their family tree. This past summer, when Mary Alice (Haskell) Morey (1928-2011) died, her obituary prominently mentioned that she was a direct descendant of Peregrine White.

Her obituary was printed by the
Natick Bulletin & TAB
(Natick, Massachusetts), 22 July 2011, page 18. Read her
complete obituary
in GenealogyBank.
With over 250,000 newspaper articles at GenealogyBank related to the Mayflower you can learn so much more about Peregrine White and his descendants, as well as discover who the other Pilgrims were that arrived in America as passengers on the famous ship. Research Mayflower ship passenger lists and explore our Pilgrim ancestors' lives with newspaper articles about Plymouth Colony. Maybe you have ancestors who arrived on the Mayflower too?

Happy Thanksgiving Day to all genealogists around the world!