Introduction: In this article, Gena Philibert-Ortega looks back 50 years to some of the pivotal events of 1969. Gena is a genealogist and author of the book "From the Family Kitchen."
Where were you in 1969? 1969 marked many historical and culturally relevant events, such as The Beatles' last performance on the rooftop of Apple Corps, the Apollo 11 mission, the creation of PBS, the death of Mary Jo Kopechne at Chappaquiddick, the first inauguration of President Richard Nixon, and the Manson murders.
Have you considered adding historical events to information about you or a family member's life? Adding just any historical event to your genealogy shouldn't be your focus – but instead, add those events that had a profound impact on your family. I've encouraged this in a previous GB Blog article about the Kennedy assassination (see Where Were You? Documenting Family History and the Kennedy Assassination), but there are so many other historical events that should be included in our story and that of our more recent ancestors.
1969 marked some historic events that are documented in newspapers and would provide fascinating reading for your younger family members. Here are just a few things that happened 50 years ago.
Woodstock
It was one of those concepts that started out sounding like a good idea but it quickly became an overwhelming ordeal for those in charge. It began with two young men, John Roberts and Joel Rosenman, looking for an investment opportunity for Roberts' money – but what started out as a way to make some money turned into a free event with a half a million people, lots of mud, and not enough restrooms or food. And that money they planned on making? They ended up with more debt than fortune. (1)
Woodstock was a three-day (it spilled into the morning of a fourth day) music festival held on 15-18 August 1969 on a dairy farm in Bethel, New York. Although some nearby farmers complained of stolen crops – and one can imagine the traffic and unexpected crowds also wreaked havoc on the area – it was a remarkably peaceful event, especially considering that an estimated 400,000-500,000 people attended.
Genealogist and retired librarian Larry Naukam said of his experience:
"It was an exciting time to be there. The overall feeling that I got was that 500,000 people were all keeping it together to make the festival work out. I saw no fights, untoward behavior, etc. Three days of music and bliss, highlighted by the Who hitting the opening chord to Pinball Wizard just as the sun rose." (2)
He goes on to say that it was exciting to get the chance to see bands that otherwise he would probably never have seen. Performers included Joan Baez, Santana, The Grateful Dead, Janis Joplin, The Who, Jefferson Airplane, and Jimi Hendrix, to just name a few. You can see a list of performers and the songs they performed on Wikipedia,
If you want to revisit the spirit of the Woodstock music festival, you can. The Woodstock 50 concert will be held 16-18 August 2019 in Watkins Glen, New York. You can learn more at their website.
Apollo 11: The Moon Landing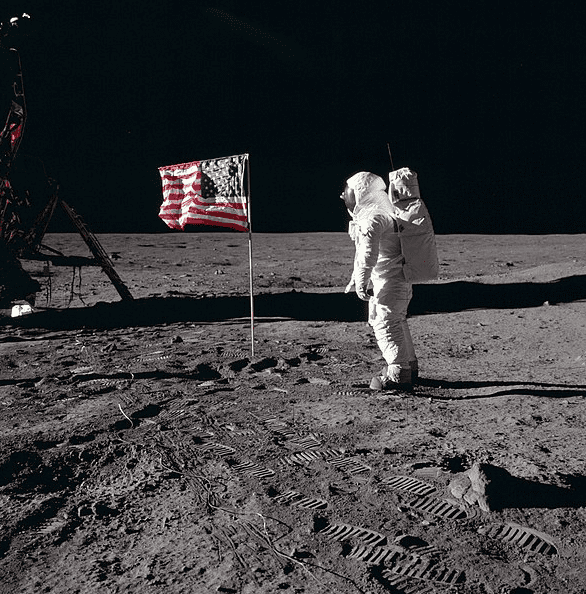 "Houston, Tranquility Base here. The Eagle has landed." That was the message the astronauts on the Eagle (the Apollo 11 Lunar Module) spoke to National Aeronautics and Space Administration (NASA) Mission Control when they landed on the moon on 16 July 1969 at 4:17 p.m. EDT. While President John F. Kennedy didn't live to see the day he inspired, Americans were riveted to the TV to watch the first men to land on the moon.
Tami Osmer Mize, genealogist and webmaster of ConferenceKeeper, was eight years old when the first astronauts walked on the moon. She said:
"I remember knowing that it was an event of huge significance that I was witnessing, but being a little disappointed that it didn't look much like the planets on Star Trek." (3)
For those of us that are younger, it's hard to imagine what those in 1969 thought they would see when the Eagle landed on the moon. It must have felt like something out of a sci-fi movie or a popular TV show. This huge accomplishment that led to other space missions was summed up by Neil Armstrong's proclamation when he first stepped onto the moon's surface:
"That's one small step for [a] man, one giant leap for mankind." (4)
The Vietnam War Draft
On 1 December 1969 the draft lottery for the Vietnam War was held. The first draft lottery since 1942, this lottery decided the order that young men born between 1 January 1944 to 31 December 1950 would be called into service in 1970. (5)
The draft lottery was based on birth dates. Each day was picked from a glass container and assigned a sequential number. The first birth date drawn was September 14 and each subsequent date was randomly drawn and assigned a lottery number. The lower the number, the higher the probability that the man would serve. A follow-up lottery determined the order of selection using initials. Draft lotteries were conducted from 1970 to 1972. (6)
What was it like to be faced with the possibility of being drafted into the war? Photographer and genealogist Gary W. Clark of PhotoTree.com, who served with the 101st Airborne in South Vietnam, described it this way:
"The prospect of being drafted in early 1969 was not a matter of if, but only when. 1968 had been a costly year for U.S. forces in Vietnam; notable losses fighting for the city of Hue and the Battle of Khe Sanh brought to the forefront that winning the war was not at hand. Every one of my friends within a six-block radius of my home in a working-class neighborhood were drafted by 1969, about eight of us from the high school classes of 1966 and 1967. Being young and naïve, we accepted this as our duty, and couldn't very well avoid it since other classmates had already gone to Vietnam. By the time I was drafted, six friends from school had already been killed and are now listed on the 'wall.'" (7)
While there is no active draft today, young men must still register with Selective Service within 30 days of their 18th birthday.
Where Were You?
Where were you 50 years ago? If you have memories of that year, now's the time for you to write them down. If you are too young to remember 1969, consider interviewing a family member who was alive then. Family histories are richer when we incorporate historical events that impacted our families. Historical newspapers (such as those in GenealogyBank's Historical Newspaper Archives), paired with memories, allow us to tell that story in a more comprehensive way, one that provides context for our descendants.
_______________
(1) "Organizing the 1969 Woodstock Festival," ThoughtCo (https://www.thoughtco.com/the-woodstock-festival-of-1969-1779367: accessed 12 June 2019).
(2) Quote given to Gena Philibert-Ortega via Facebook Message 12 June 2019.
(3) Quote given to Gena Philibert-Ortega via Facebook Message 12 June 2019.
(4) "July 20, 1969: One Giant Leap For Mankind," NASA (https://www.nasa.gov/mission_pages/apollo/apollo11.html: accessed 12 June 2019).
(5) "The Vietnam Lotteries," Selective Service System (https://www.sss.gov/About/History-And-Records/lotter1: accessed 12 June 2019).
(6) "Vietnam War Draft," The Vietnam War (https://thevietnamwar.info/vietnam-war-draft/: accessed 21 February 2019).
(7) Gary W. Clark to Gena Philibert-Ortega, email, 13 June 2019, "Vietnam Draft."