Today I am looking for more information about my cousin Andrew Reddick Richmond (1847-1905) of Mississippi and Arkansas.
According to the published family history: "It is believed that Reddick Richmond moved to Arkansas early in life and all trace of this family seems to have been lost."
Let's see what we can find about him in GenealogyBank.
With a quick search I found him, along with his family, in the 1850 census.
1850 Census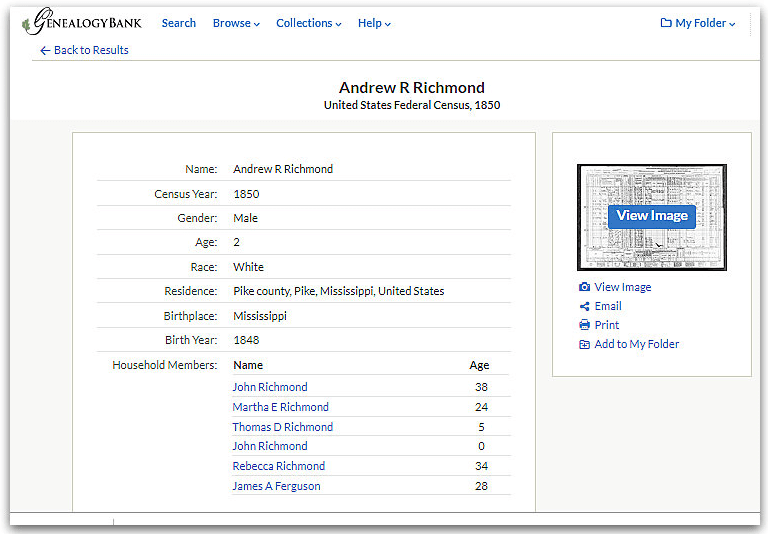 This is him – along with his parents and his two brothers.
And here he is in the next two census enumerations.
1860, 1870 Census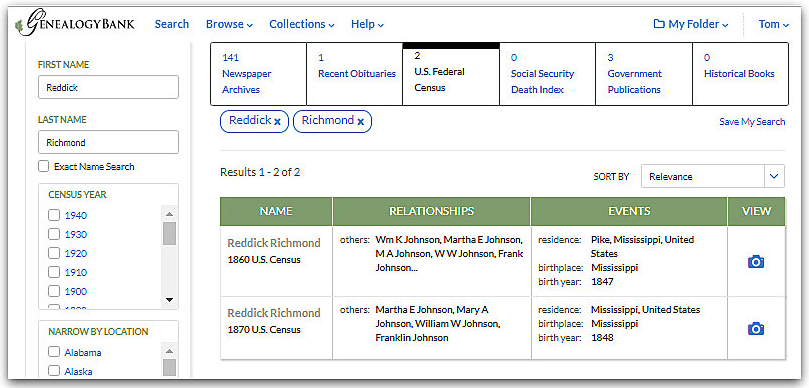 Great.
Notice that in these two census entries, only his middle name is used. No mention of his first name Andrew. A reminder to be flexible in searching.
Since his father John Richmond (1811-1850) had died when he was only two years old, I see that his mother, Martha E. (Sparkman) Richmond (1826-1913) had remarried. More clues.
1880 Census
Looking further, here he is with his family in the 1880 census.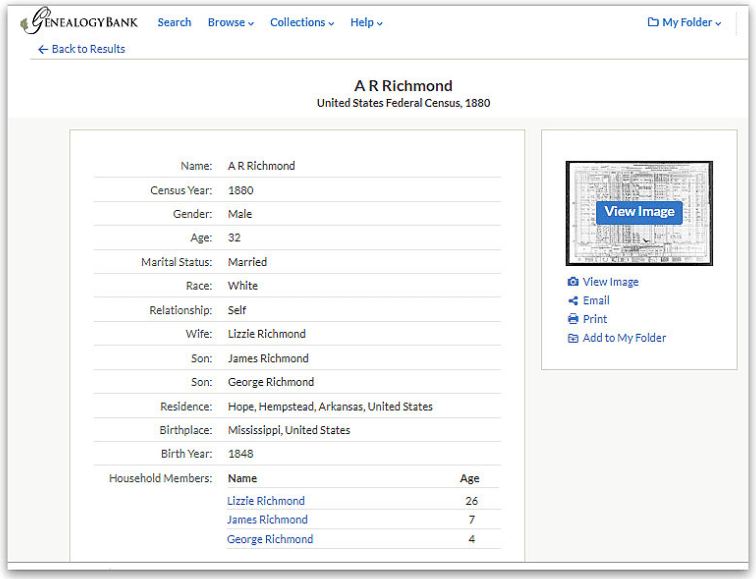 Notice that in this census his name was given as simply his initials: A. R. Richmond.
1900 Census
Then in the 1900 census it is given as Andrew R Richmond.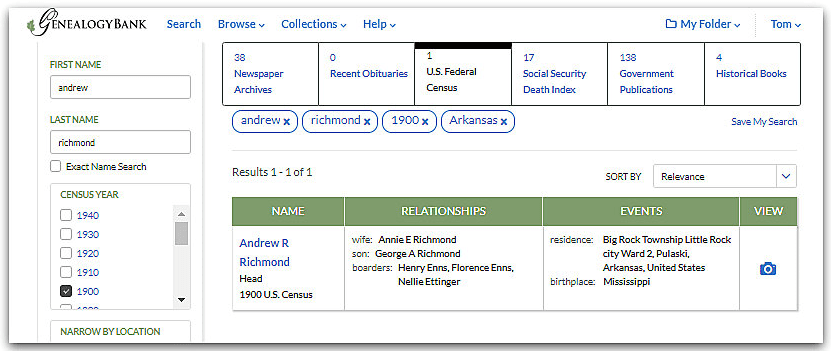 Great.
This gives us much more additional information about him and his family:
He was born in September 1847 in Mississippi.
His wife, Annie E., was born in April 1853 in Mississippi.
His son, George A. Richmond, was born in December 1875, also in Mississippi.
Now look at columns 10, 11 and 12.
This tells us that they both were age 29 when they got married, and notice in columns 11 & 12 – the "3, 2" tell us that his wife Ann has had 3 children of which 2 are still living.
One of those children, George, is named in this census.
James Richmond was named in the 1880 census.
Notice that Andrew Reddick Richmond's name has been given multiple ways over the decades of his life: A. R. Richmond, Andrew R. Richmond, and as Reddick Richmond.
Genealogy Tip: Be flexible in your searching. Use multiple forms of each person's name in order to find every document about them.