Introduction: In this article, Melissa Davenport Berry continues her story about a Civil War veteran who returned to Maryland battlefields in 1924 with his wartime diary. Melissa is a genealogist who has a blog, AnceStory Archives, and a Facebook group, New England Family Genealogy and History.
Today I continue with the diary extract of Samuel Woods Luitwieler, who served in Company I, 1st New York Veteran Cavalry Regiment, during the Civil War. He was  present during sporadic skirmishes between Union and Confederate forces leading up to the Battle of Monocacy, better known as "The Battle That Saved Washington." See: Union Soldier's Civil War Diary (part 1).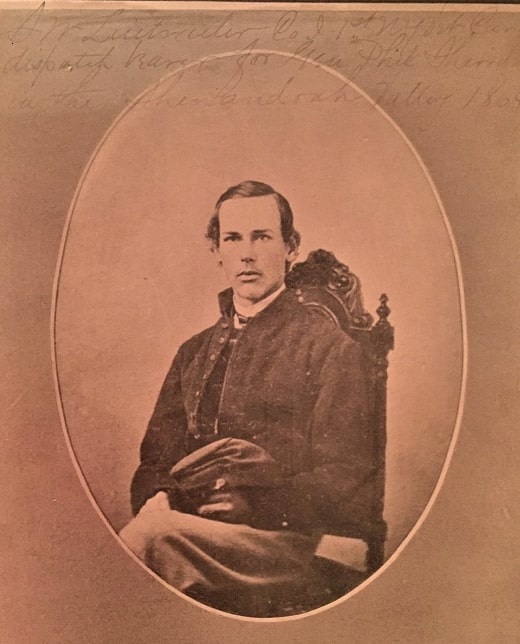 The Associated Press published some of the extracts from Luitwieler's diary under the title "Vet Who Fought Here in Union Army Gives Excerpts Entered in His Diary."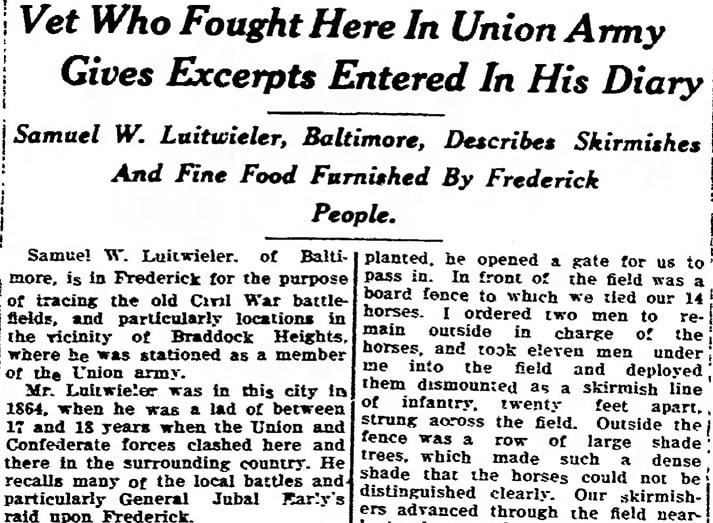 Here are some entries from his diary:
July 7, 1864.

…We were looking for something to eat that was better than hard tack, but we were not long in that pursuit – for the provost marshal [Maj. John I. Yellott] came up and said, "Boys how many men can you find here? I have just had Information that Early's advance guard of scouts would be here in 20 minutes."

Ed Goodell spoke up and asked me, "Luit., how many men can we find here?" [Yellott], taking me for a lieutenant, immediately said, "Lieut, find out how many men you can get together and I will take you to the place when the advance guard comes in."

I, only 17 years of age, been put in command of the men who were to keep Gen. Early's scouts out of Frederick – and I only a private.

We chased over the city and found 12 other cavalrymen who were separated from their command. The marshal came to us again and said, "I will take you up the road to where they will come in."

Going through the town to its extreme limit in a field where young apple trees were planted, he opened a gate for us to pass in.

In front of the field was a board fence to which we tied our 14 horses. I ordered two men to remain outside in charge of the horses and took eleven men under me into the field and deployed them dismounted as a skirmish line of infantry, twenty feet apart strung across the field.

Outside the fence was a row of large shade trees, which made such a dense shade that the horses could not be distinguished clearly.

Our skirmishers advanced through the field nearly to the opposite side where the tall fence was standing parallel to the board fence in front.

Out of the hillside, which was covered with young trees and brush, before us rode Gen. Early's advance scouts of thirty men, coming suddenly upon us. They were surprised to find us and looked on us with astonishment. Neither party fired a shot.

Taking in the situation they figured – Here is an infantry force of skirmishers supported by a reserve of infantry and cavalry. They reasoned it would not be wise to engage in a general fight, as a large force might be hidden among the trees.

I ordered the men to fall back, which the rebels took for a trick to draw them on, so they fell back into the brush again and began firing at us.

In the lot to the right of the young orchard were cords of wood piled up. I ordered my men to run for the piled cord wood to protect them from the shots of the scouts.

During that afternoons skirmish we had only one man wounded. The marshal, when hearing us [shooting], said, "I will wire to Baltimore and bring down the reserves. It will take two hours for them to come by train. When you hear the band playing and a great noise, you may fall back into town. There troops will relieve you."

About 5 o'clock we heard the noise and went back into the city. When we passed through a nice residential tract the ladies came out and served us as we sat on our horses in the street with cold chicken and meat, coffee, pie, and cake, which was the best feed we had in a year and a half.

After satisfying the inner man we went towards the railroad and camped for the night on a hill side. In the morning we were hungry again. I saw a railroad siding with a rough board freight house.

Thinking perhaps there might be some eatables there, I rode down to see what I could find. Then I saw a commissary officer and told him I had 14 hungry men to feed detailed away from their command.

We started at once to get out our rations. While doing so bullets began to spat through the inch boards of the house.

Said the commissary, "I did not come into the army to get killed. I came to dispense rations." So, he put a padlock on the door and left me sitting on my horse.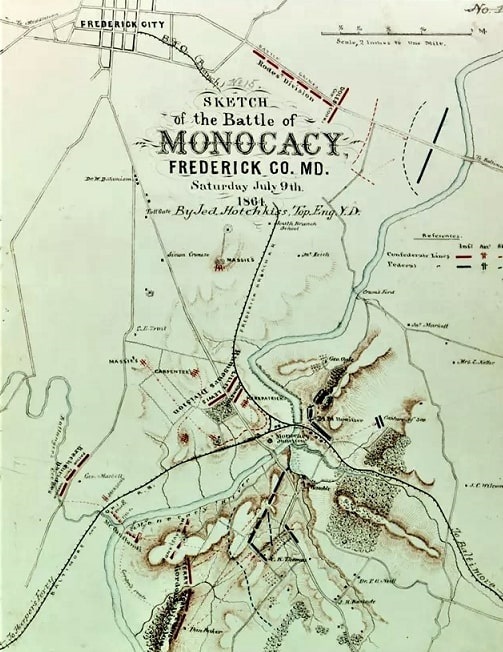 The battle of Monocacy was on – the skirmishers were at work. Later, I saw the battle lines surging in charges and drives throughout the day from the vantage view on the hill side. Late in the afternoon the ambulances came by; the beginning of a retreat had started.

[There were] many wounded men in the ambulances who had not had first aid, and the roadway was being sprinkled from the wounds of the soldiers' blood coming from the cracks in the floor of the ambulances.

A little later came Gen. Lew Wallace tearing down the roadway. He stopped opposite where we were. With sword waving overhead he tried to reform the men with cries of  "go back men, go back."

It was a hot July 9th and our men had fought bravely all that long hot day opposed by a vastly superior force, Early's command, on its way to take Washington but failed.

The battle at Monocacy had delayed Gen. Early 24 hours, during which time other forces from the south arrived and reinforced the Union forces and defeated Early in his plan.

Ed Goodell and I mounted our horses and rode all night, arriving at Ellicott Mills early in the morning.

July 10 – We joined our regiment again, and rode into Baltimore to protect the city from attack, [later] returning to the Shenandoah Valley, where we had been stationed for the most part of two years.
Check out this video: Civil War "The Battle of Monocacy" 125th Anniversary – Re-enacting Retro
Explore over 330 years of newspapers and historical records in GenealogyBank. Discover your family story! Start a 7-Day Free Trial
Note on the header image: Union Cavalry General Philip Sheridan (1831-1888). From The Photographic History of The Civil War in Ten Volumes: Volume Four, The Cavalry, The Review of Reviews Co., New York, 1911, p. 268. Credit: Wikimedia Commons.
Related Article: