Introduction: In this article, Gena Philibert-Ortega – a veteran RootsTech attendee – shares tips for experiencing RootsTech 2023 virtually if you can't make it in person. Gena is a genealogist and author of the book "From the Family Kitchen."
Ready for RootsTech this Thursday through Saturday? Lucky for us, there are two options for attending: in person; and virtually via the RootsTech website. The virtual option is free and only takes a few minutes to register.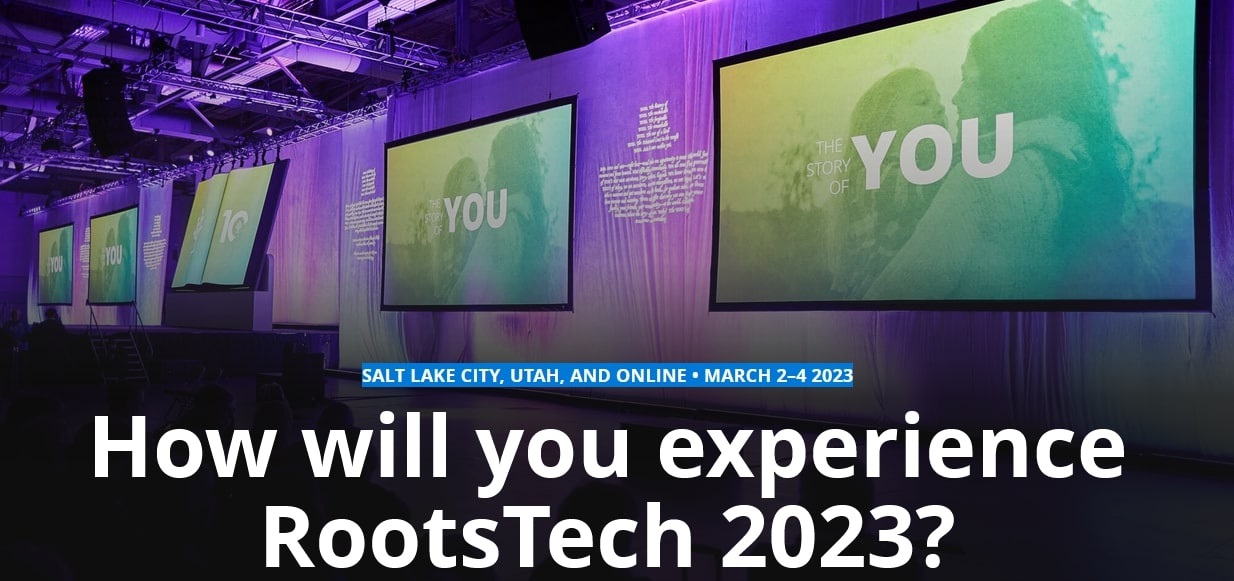 Why attend RootsTech virtually.? Aside from the presentations, there are other benefits to the virtual conference.
Are You Related?
Whether you are attending in person or online, you can take advantage of the option to see which of the conference attendees you are related to. Why should you take advantage of this?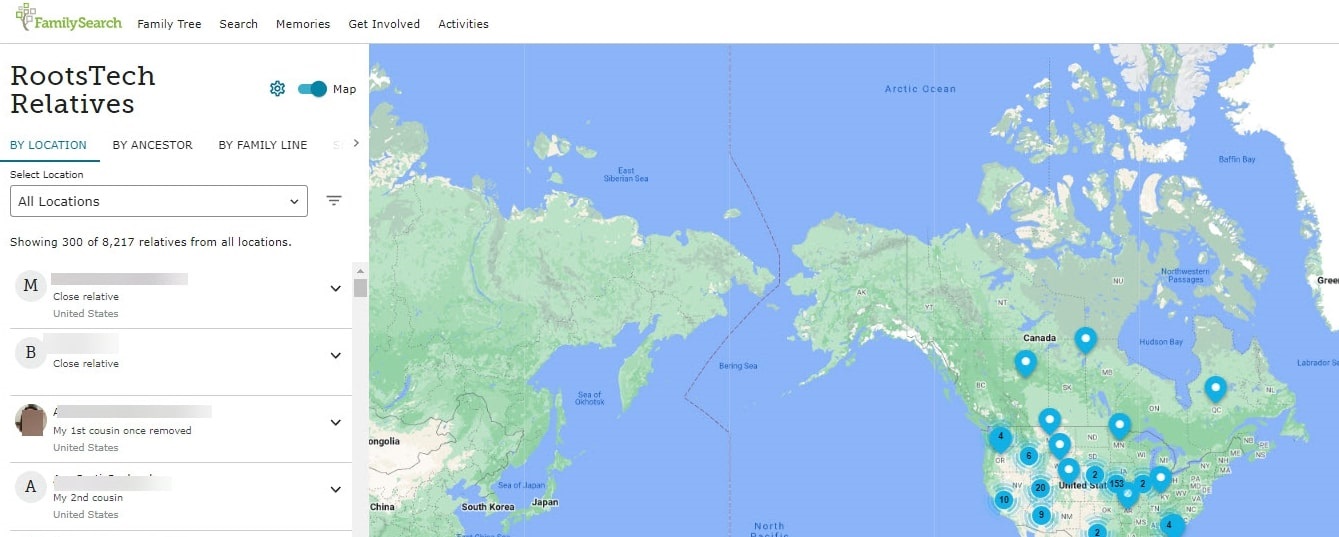 Keep in mind that this feature allows you to not only see your relationship but message the person. This automates your ability to find relatives that you may not find otherwise. Use this opportunity to reach out and ask about DNA matches, questions about shared ancestors, or to share your own research.
You can view relatives by location (the default), by ancestor, and by family line. My favorite way is by ancestor (this is a drop-down menu) which helps me see what relatives I want to connect with based on whom I'm currently researching.
Make a Playlist
Conferences are a place to hear educational presentations. When I write about attending in-person conferences, I always recommend that you pick and prioritize presentations. The same is true with a virtual event, even though you can delay watching presentations. Spend some time now to create a conference playlist.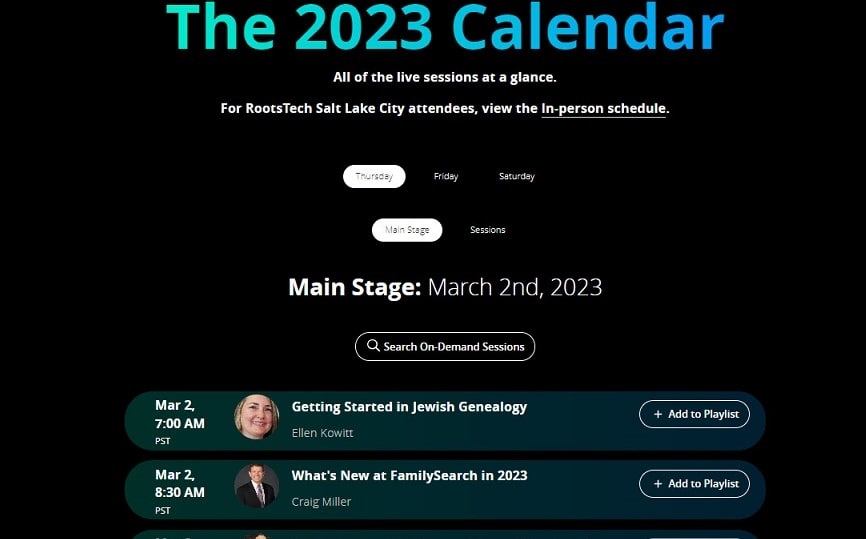 To do this, click on the RootsTech 2023 link on the upper right side of the RootsTech homepage, then select Calendar in the drop-down menu. You can then scroll through sessions based on day, main stage, or sessions. As you scroll through and find presentations that interest you, click the button "Add to Playlist" to add videos to your play list.

Once you've selected presentations you can find them all in your playlist. Your playlist is located at the top right of the RootsTech website. Click on the right facing arrow and that is your playlist. You will need to be signed into the website to access your playlist.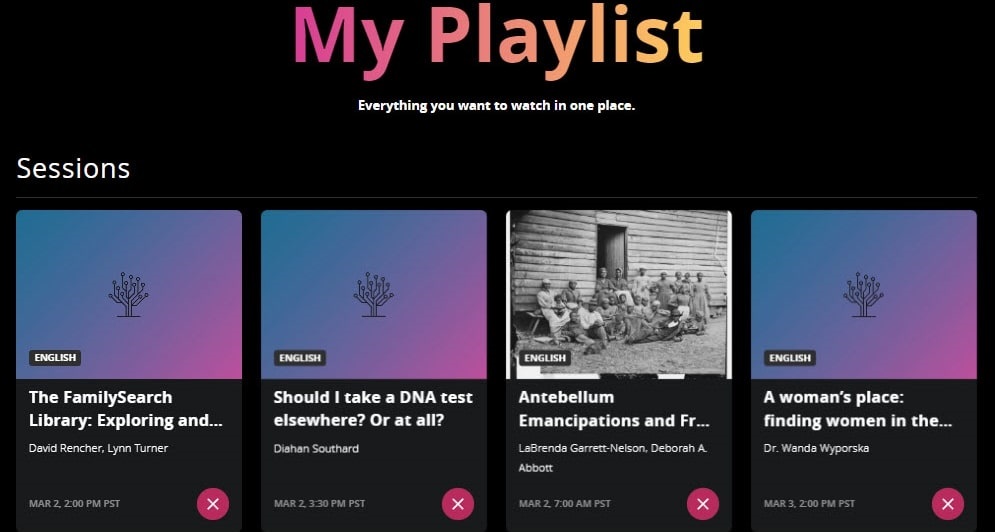 Tip: Keep in mind that the in-person conference is different from the virtual one. Not all of the in-person presentations are available via the virtual conference. This means that the in-person conference website is different from the virtual website. You can switch between websites by clicking on RootsTech 2023 and choosing the appropriate conference in the drop-down menu if you want to see what is happening at the in-person conference.
Don't Forget the Expo Hall
One of the benefits of an in-person conference is the exhibit hall – but even with the virtual RootsTech, you can still benefit from the Expo Hall.

Take some time during the conference days to check out the exhibiters. They will be there to answer questions and they may have downloadable guides to help your research. Keep in mind that unlike the recorded presentations, the exhibitors will only be available during the conference hours.
Some Day Never Comes
The nice thing about archived virtual presentations is the ability to watch them at your leisure. You may be too busy during the actual conference days to spend the time needed to participate. However, what makes recorded presentations a benefit is also a negative.
Let me tell you from experience that there rarely comes a convenient time to watch all of the presentations you want. Before you know it, a year has passed and there's a new RootsTech conference. Take some time now to schedule hours in the next few months to view the videos you're interested in before life gets in the way.
See You Online!
Going to RootsTech virtually? So am I! I'll see you online.
Explore over 330 years of newspapers and historical records in GenealogyBank. Discover your family story! Start a 7-Day Free Trial
Note on the header image: RootsTech genealogy conference. Credit: mormonnewsroom.org.
Related Article: