Introduction: In this article, Gena Philibert-Ortega – a veteran RootsTech attendee – shares five tips to get more out of this amazing genealogy conference. Gena is a genealogist and author of the book "From the Family Kitchen."
After two years, RootsTech is back as a hybrid conference. You can attend the conference live, in person, at the Salt Palace in Salt Lake City, Utah, or you can attend virtually. This year RootsTech is from Thursday, 2 March 2023, to Saturday, 4 March 2023, and promises to be the genealogy event of the year. With educational presentations, celebrity speakers, innovators, exhibitors, and more, you will definitely have plenty to do.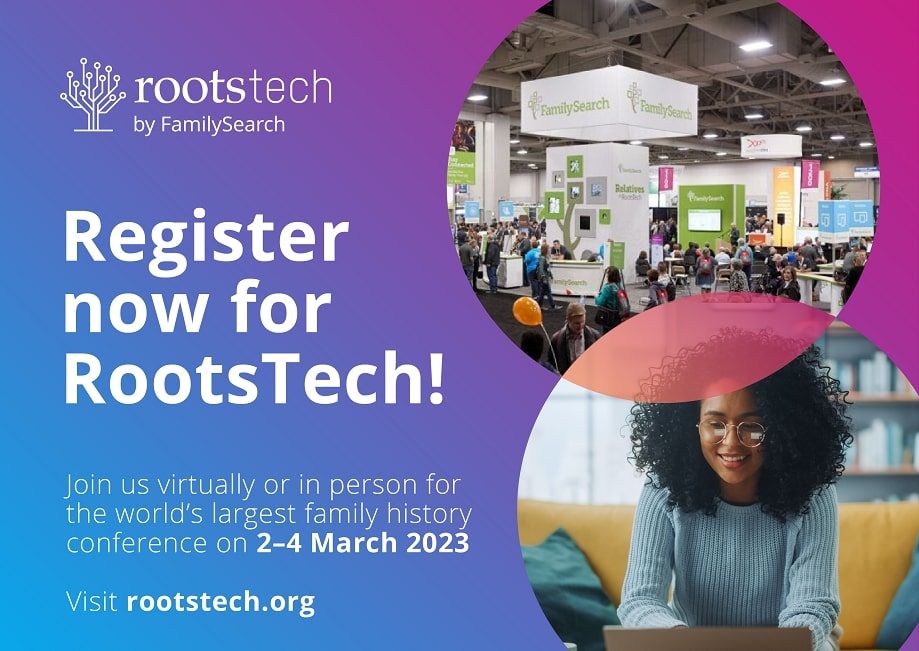 As with any genealogical event, you should start planning now. Your experience will be enhanced should you do some planning before the conference. Here are five ways to get the most out of the RootsTech conference.
1) Plan Ahead
It can't be said enough. There's more to attending a conference then paying for registration and making your hotel and travel arrangements. Keep in mind the unexpected. The conference center is huge! You will walk a lot. And the city blocks are longer than normal, so make plans for transportation if you need to walk from a hotel or restaurant and have mobility issues.
Classrooms can be cold, so bring a light jacket or sweater. Salt Lake City is a drier climate, so bring a refillable water bottle with you. I always bring some sort of snack in case I miss lunch or the food lines are too long. When you plan ahead for a conference, you're planning for the educational opportunities but also your comfort.
Speaking of the education you will receive, make sure to mark all the presentations you're interested in now. Don't wait until the day of the conference. Keep in mind that rooms fill up quickly and you may not get your first choice. Prioritize presentations so that you have options should your first choice not be available. If you miss out on a presentation, take that time to visit the Exhibit Hall (more on that later).
2) Consider Your Biggest Genealogical Knowledge Gap
Sometimes we get in the habit of attending presentations that are about topics we like. There's nothing wrong with that. But in doing so we skip the presentations we need.
Consider what your genealogical knowledge gap is. Now, look at the RootsTech schedule. What presentations would help with that gap? Choose those as your priority.
RootsTech is the time to learn from the experts. It's a time to commit to learning about the topics you wish you knew more about. This is your opportunity to learn. So, take advantage of what experts are there that can help you close the gap in your genealogical knowledge.
3) Spend Time in the Exhibit Hall
We've all gotten used to online presentations in the last few years, but what's missing is what the Exhibit Hall at RootsTech can offer. The Exhibit Hall provides you various opportunities, from networking to trying new products to taking a break. Carve some time to visit the Exhibit Hall and while there:
Learn about new services and products
Ask questions
Try new technology
Visit GenealogyBank at booth #419
Take some time to visit us in the booth. Bring us your questions, including how to search for your ancestors. This is an excellent time to learn how to make the most of your GenealogyBank membership.
Also, stop by our booth for a chance to win a free one-year subscription to GenealogyBank.
To see our location on the floorplan (indicated by the blue dot), click here.
4) Don't Spend All Your Time at the Conference
I know this sounds counterintuitive if you're spending money to attend a conference, but let me explain. RootsTech is held at the Salt Palace which is across the street from the FamilySearch Library (formerly known as the Family History Library). The benefit of the conference is that in addition to the education, networking, and inspiration it provides, you can spend some time researching.
There's no doubt that RootsTech is a busy time at the Library, since everyone will have the same idea. Take some time now to decide what research you want to work on and prioritize what you need to, knowing that it will be crowded. If you have several to-dos on your list, you can be flexible when the library is at its busiest. If you find yourself with a gap in your schedule, consider visiting the Library.
Tip: Prepare for a FamilySearch Library research trip by consulting the Catalog for the place your ancestor lived. Note what records are only available at the Library and not online. Prioritize those for your visit.
5) Take Time to Decide Next Steps
When the conference is over, you'll go home and resume your everyday life. But attending a live event should have benefits beyond the days of the event.
Once you get home and have recovered from the trip, consider sitting down and reflecting on what you learned. What does this mean? Some ideas include:
Writing notes that include bullet points of websites and resources you want to try
Writing up your most important take-aways from the presentations you heard
Saving the handouts on your computer
Bookmarking new websites
Adding to-dos for your research in your genealogy software or research log
Listening (or revisiting) recorded presentations on the RootsTech website.
By taking some time to "digest" what you heard and experienced you can make the most of your conference time. Don't let this conference be something you forget a few months from now.
Make the most of the experience and use what you learned.
See You at RootsTech!
Going to Salt Lake City, Utah, to attend RootsTech? Lucky you! Take some time now to plan that trip and decide what you want to accomplish while there. But most importantly, have a great time!
Explore over 330 years of newspapers and historical records in GenealogyBank. Discover your family story! Start a 7-Day Free Trial
Note on the header image: RootsTech genealogy conference. Credit: mormonnewsroom.org.