Introduction: In this article, to commemorate the anniversary of the Titanic's sinking this weekend, Gena Philibert-Ortega searches old newspapers to learn more about two crew members who survived the Titanic disaster – and, incredibly, several other shipwrecks as well. Gena is a genealogist and author of the book "From the Family Kitchen."
Risks come with many jobs. Those who work jobs in public safety, construction, or logging face injury or death in any manner of ways. Likewise, for those who choose a life working on the open seas, the possibility of the ship sinking is always there. Today, lifeboats and safety drills are a precaution to what danger could lie ahead in a voyage. But that wasn't always the case.
The sinking of the Titanic brought the issue of safety to the forefront. The loss of life from the Titanic sinking was preventable, and certain groups of people had less chance to survive than others (men, crew, and third-class passengers, for example).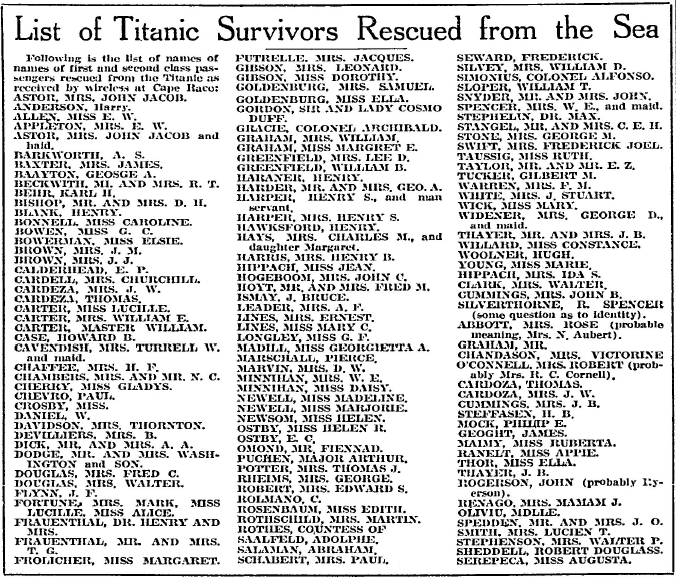 For two Titanic crew members, surviving that sinking was a miracle – but it was just the start of what they had to go through. Violet Jessop and Charles Lightoller not only survived the Titanic but later survived another sinking, while continuing to serve others on ships during war and peace time.
Violet Jessop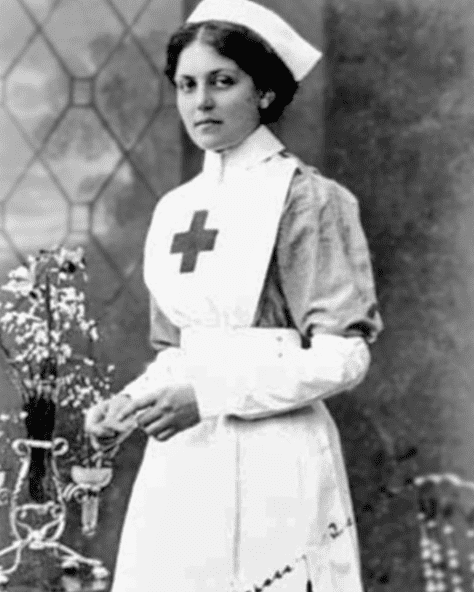 Violet Jessop was a 24-year-old stewardess of the Titanic when it made its fateful voyage in 1912, but she was no stranger to problems on board a ship. Prior to the Titanic she was working on the White Star Line's ship RMS Olympic. Like the Titanic, Olympic was the largest ship of its time. And like Titanic it would face problems.
In September 1911 the Olympic collided with the warship HMS Hawke as the two ships were parallel to each other:
"As Olympic turned to starboard, the wide radius of her turn took the commander of Hawke by surprise, and he was unable to take sufficient avoiding action. Hawke's bow, which had been designed to sink ships by ramming them, collided with Olympic's starboard side near the stern, tearing two large holes in Olympic's hull, above and below the waterline, resulting in the flooding of two of her watertight compartments and a twisted propeller shaft."*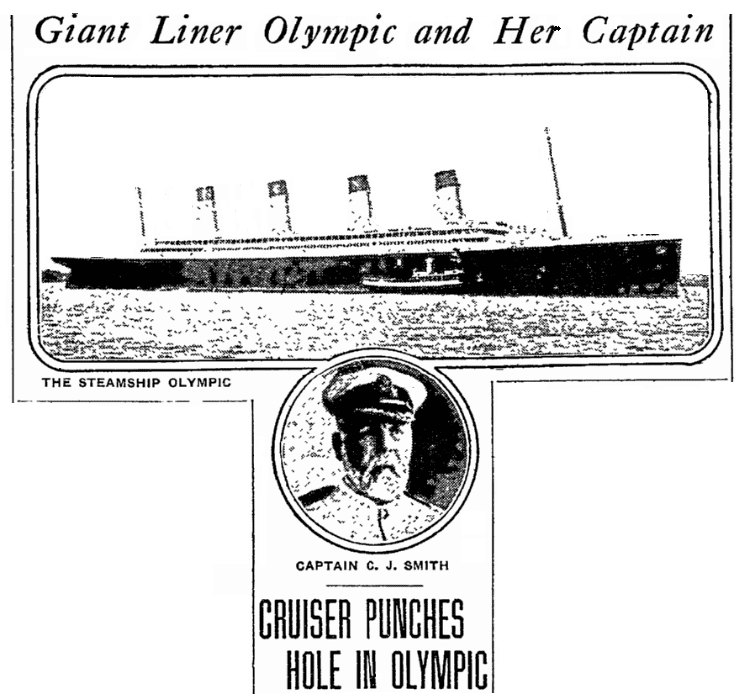 No causalities occurred and the Olympic was able to make it back to port but this accident must have been fresh on Violet's mind when the Titanic struck an iceberg on 14 April 1912, less than one year later. One interesting fact to note is that Captain E. J. Smith was captain of both the Olympic and the Titanic.
Violet continued to work for White Star Line during World War I on the ship HMHS Britannic, a hospital ship also known as the sister ship to the Titanic. On 21 November 1916 that ship was sunk by an unknown source, possibly a German torpedo or a mine. Violet was able to make it to a lifeboat but the "propeller of the ship was sucking the lifeboats into the stern" so she jumped from her lifeboat.** She sustained a head injury from this sinking but recovered.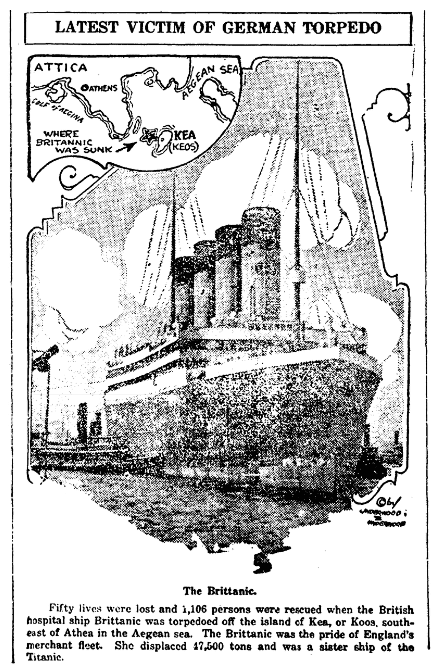 Incredibly, Violet Jessop served onboard all three of the White Star Line's Olympic-class ocean liners when they suffered catastrophes at sea – and survived all three disasters! She continued working for the White Star Line before eventually working for the Red Star Line and then retiring in 1950. She died in 1971 at the age of 83, taking her incredible memories with her.
Charles Lightoller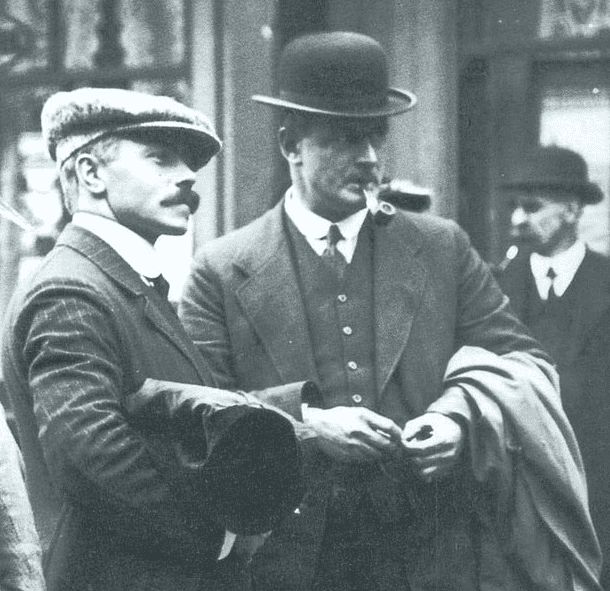 Second Officer Charles Lightoller was the most senior member of the Titanic crew to survive. He is probably best known as the officer who strictly interpreted the rule "women and children first" to mean only women and children, lowering some lifeboats with a few empty, much needed seats. He was on the ship until the end, and was pinned to a grate underwater from the pressure before miraculously rising to the surface when a boiler exploded. He survived on the surface by holding onto a capsized lifeboat with others until he was rescued.***
Like Violet Jessop, Lightoller had worked with Captain Smith previously. Prior to civilian service, his military service included the Boer War and World War I – where he was credited with sinking a Uboat (UB110). In April 1918 Lightoller was promoted to commander of the Falcon which, under his command, collided with the John Fitzgerald and sank "six years to the day as Titanic."**** He would survive that disaster as well.
After his military service, Lightoller performed odd jobs, wrote a book, and did work with small boats. Lightoller went on to help the evacuation of soldiers from Dunkirk in 1940 with his small ship the Sundowner. His boat, which normally carried about 21 people, rescued 122 soldiers that day. He died in 1952 at the age of 78.
Titanic
April 14th marks the 106th anniversary of the fateful night the Titanic hit the iceberg. You can read more about the Titanic, its history, and those who were on board in the pages of GenealogyBank's Historical Newspaper Archives, as well as several GenealogyBank Blog articles.
——————————
* "RMS Olympic," Wikipedia (https://en.wikipedia.org/wiki/RMS_Olympic: accessed 11 April 2018).
** "Violet Jessop," Wikipedia (https://en.wikipedia.org/wiki/Violet_Jessop: accessed 9 April 2018).
*** "Charles Lightoller," Wikipedia (https://en.wikipedia.org/wiki/Charles_Lightoller: accessed 9 April 2018).
**** "Mr. Charles Herbert Lightoller," Encyclopedia Titanica (https://www.encyclopedia-titanica.org/titanic-survivor/charles-herbert-lightoller.html: accessed 9 April 2018).
Related Articles: