Introduction: In this article, to commemorate the anniversary of President Abraham Lincoln's assassination this Saturday, Gena Philibert-Ortega searches old newspapers to learn more about Lincoln's killer: John Wilkes Booth. Gena is a genealogist and author of the book "From the Family Kitchen."
On 14 April 1865, President Abraham Lincoln was shot in the back of the head by actor John Wilkes Booth in Ford's Theatre while he and his wife Mary Todd Lincoln watched a performance of Our American Cousin. Lincoln's assassination is a topic still studied today, some 153 years later.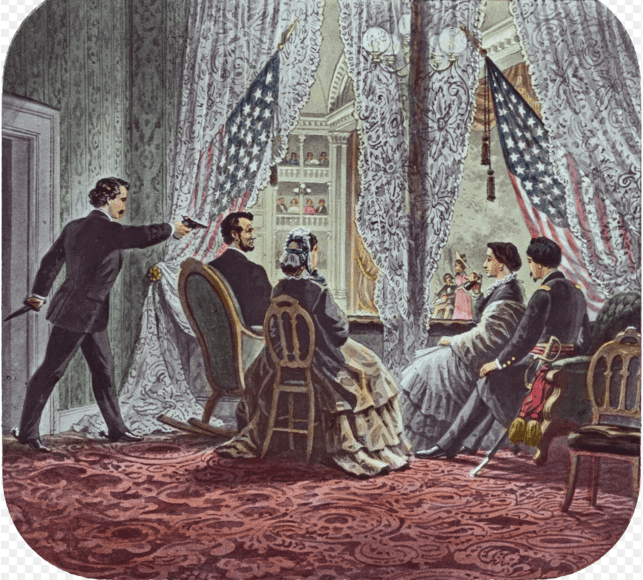 You may know the basic facts about Abraham Lincoln and the assassination – but what do you know about his killer, John Wilkes Booth? Most people know that he was an actor and he was a member of the Booth family acting dynasty, but what else do you know? Here are three lesser-known facts about John Wilkes Booth.
He Had a Fiancé?
John Wilkes Booth was one of the most eligible bachelors of his time, and no doubt he used his fame and good looks to impress his countless female admirers. One woman he caught the eye of was Lucy Lambert Hale, the daughter of the senator from New Hampshire. Hale and her family lived in Washington, D.C.'s National Hotel alongside the actor. No doubt this allowed Booth to get to know Hale better even though her family discouraged the relationship due to his profession. Because of this, much of the Booth-Hale romance was conducted in secrecy. There is little doubt he cared for Lucy Hale. At his death he was carrying photographs of five women, one of whom was Lucy.
Questions surrounding the Booth-Hale relationship still exist today, including whether she was disguised and taken to the USS Montauk in the Washington Naval yard to view Booth's dead body.
One thing we do know is that shortly after the Lincoln assassination, Lucy moved to Europe with her family because her father was to be the new U.S. ambassador to Spain. Before they left, her father John P. Hale was able to persuade the gossip mills, as published in the local newspapers, into believing that no such relationship existed between his daughter and Booth.
The following is one such example, as this newspaper article declares that Booth "attempted to force his attentions upon Miss Hale, but she always manifested a decided aversion to the handsome villain."
With her father's encouragement, newspapers started retracting and printing denials of stories involving Lucy Hale and John Wilkes Booth. However, not all of those denials were as clear about the lack of a relationship. The following states that Miss Hale's engagement to Booth was "wholly false" but then reports that Booth was "intimate all winter with prominent Republican ladies at the National Hotel." It goes on to report that "Booth was a great favorite with the wives and daughters of prominent Republicans at the National – went with him to places of amusement – took late suppers with him &c. Miss Hale was of the number."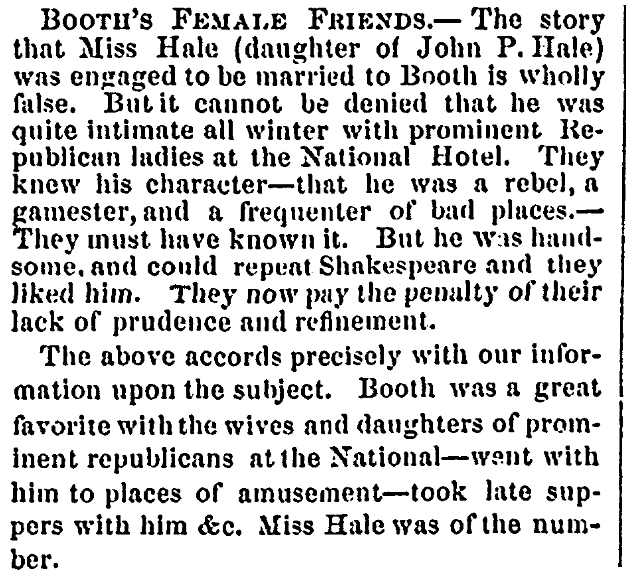 Unlike others connected with Booth, Lucy Hale was never questioned about his activities during the investigation into the plot to kill Lincoln.*  She was able to escape any long-term repercussions for her relationship with the killer.
Booth's Sister Wrote the Definitive Book about Him
Asia Booth Clarke, John Wilkes Booth's sister, is said to have screamed when she happened upon the newspaper headline proclaiming her brother to be the assassin of Abraham Lincoln. In her husband's safe lay a package John had left in her care to be opened if something happened to him. When she opened it, she found money, an oil-land transfer, a letter to their mother, and a statement.**
Asia was the family historian. She wrote a book about their father (the actor Junius Brutus Booth) and her brother Edwin Booth called The Elder and the Younger Booth. She went on to chronicle John's life. However, that subject was decidedly unpopular during her lifetime so she entrusted the manuscript to a friend. It was published some 60 years later posthumously.
One library review of Clarke's book The Unlocked Book: A Memoir of John Wilkes Booth by His Sister states:
"Few people realize the blow John Wilkes Booth dealt his family through the assassination of Abraham Lincoln… So, after his death, that of a traitor and an assassin, his sister, Asia Booth Clarke, has written his biography in an attempt to still some of the hatred the world holds for him."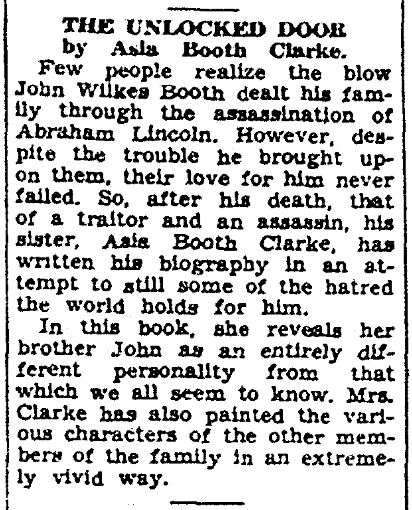 One Booth Killed a Lincoln, Another Saved a Lincoln
John Wilkes Booth killed Abraham Lincoln – but the story that is not as well known is that his brother, Edwin Booth, saved the life of President Lincoln's son Robert. The incident happened before the assassination – and while newspapers reported on it for years after the fact, the story changed just as often. The original story was a short blurb compared to later accounts.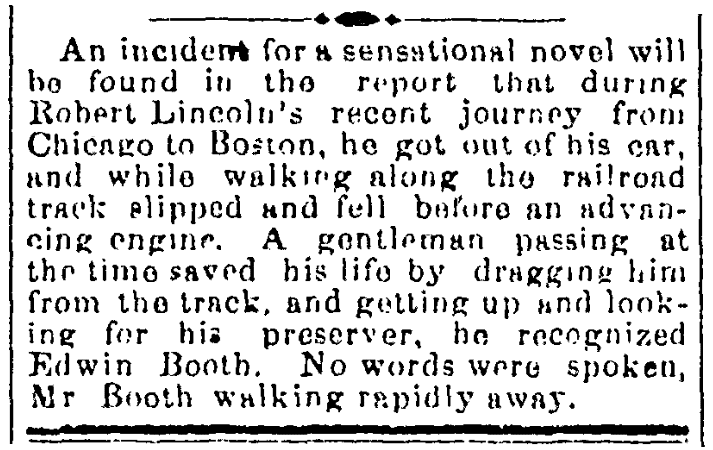 In this much later and longer version of the story, it is written that Edwin Booth didn't recognize the man he had just saved and had to be told his identity by Mr. Ford of Ford's Theatre.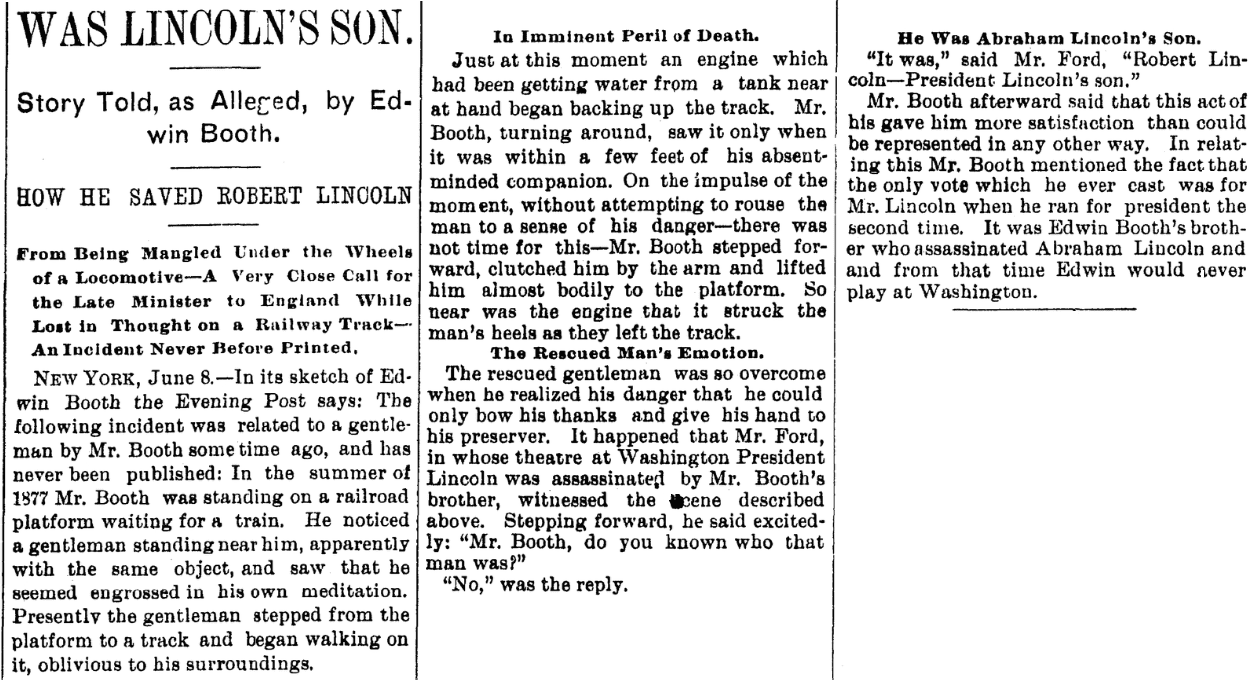 According to the book Giant in the Shadows: The Life of Robert T. Lincoln by Jason Emerson, in 1863 or 1864 Robert was traveling by train to Washington. He was waiting on the platform when a crowd pressed him against a train that then moved forward, causing him to fall into the open space between the train and the platform. Edwin Booth saw this and grabbed Robert's shirt collar and pulled him to safety. Robert recognized Edwin Booth and thanked him. Some stories state that Edwin, traveling with John T. Ford of Ford's Theatre, was told by Ford who that young man was whom he had saved. When his brother assassinated the president, Edwin's life-saving act provided him some comfort.***
Note: An online collection of newspapers, such as GenealogyBank's Historical Newspaper Archives, is not only a great way to learn about the lives of your ancestors – the old newspaper articles also help you understand American history and the times your ancestors lived in, and the news they talked about and read in their local papers.
———————————–
* "Lucy Lambert Hale and Her Notorious Valentine of 1862," New England Historical Society (http://www.newenglandhistoricalsociety.com/lucy-lambert-hale-valentine/: accessed 4 April 2018).
** "The Closest Source We Have to Really Knowing John Wilkes Booth Is His Sister," Smithsonian.com (https://www.smithsonianmag.com/history/the-closest-source-we-have-knowing-john-wilkes-booth-is-his-sister-180954328/: accessed 4 April 2018).
*** "Giant in the Shadows: The Life of Robert T. Lincoln," Google Books (https://books.google.com/books?id=tPqgC3RS-7sC&lpg=PA456&dq=%22robert%20lincoln%22%20%22edwin%20booth%22&pg=PA80#v=onepage&q=%22robert%20lincoln%22%20%22edwin%20booth%22&f=false: accessed 4 April 2018). Page 80 and 456.
Related Articles: