With GenealogyBank.com you may search what happened on every day in history and see what was happening the day your ancestors arrived in America – the day they married or the day they died.
Search the over 3,800 newspapers from all 50 States – from 1690 to Today.
Whether you want to see the newspaper for June 1st ….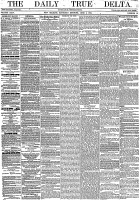 1861 (Daily True Delta – New Orleans, LA)
1901 (Morning Herald – Lexington, KY)
or 1961 (Dallas (TX) Morning News)
GenealogyBank sheds new light on the daily lives and communities of millions of American families from 1690 to today.
With more than 3,800 newspapers and other core documents from all 50 states, you'll find not only your ancestor's names, dates, places and events, but also learn about their everyday challenges and the events that defined their lives.
What will you discover about your family?