Introduction: In this article, Melissa Davenport Berry digs into old newspapers and archival records, as well as interviewing their surviving son, to tell the story of James and Marguerite Zafris and their sweet shops. Melissa is a genealogist who has a blog, AnceStory Archives, and a Facebook group, New England Family Genealogy and History.
When confectioner James George Zafris (1883-1977) tied the knot with Marguerite Greeley Russell (1892-1986) on 14 October 1911, it made the coastal town of Newburyport, Massachusetts, much sweeter.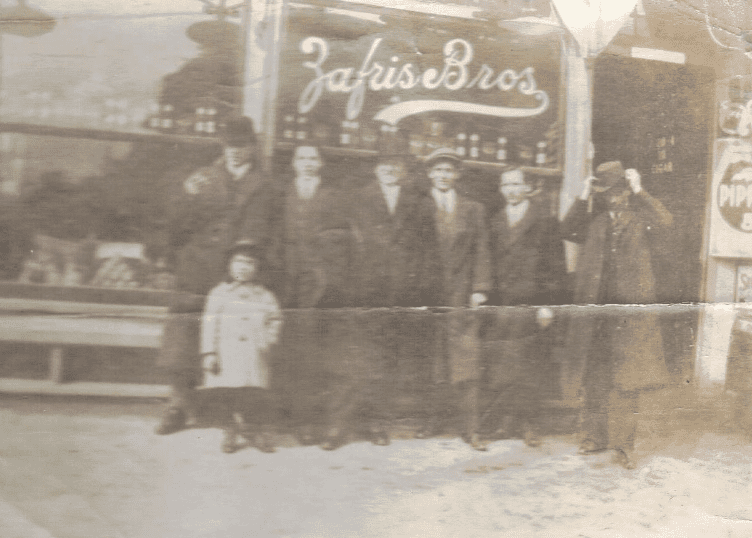 Over the past few years, I have worked with their son James Jr. (b. 1928) in Newburyport. The photos he shared are a great contribution to the Port's rich history.
His father left Greece when he was 13 to attend school in Alexandria, Egypt. He came to the United States in 1907 with his brother George Zafris. George was James' partner until he returned to Greece after 1917.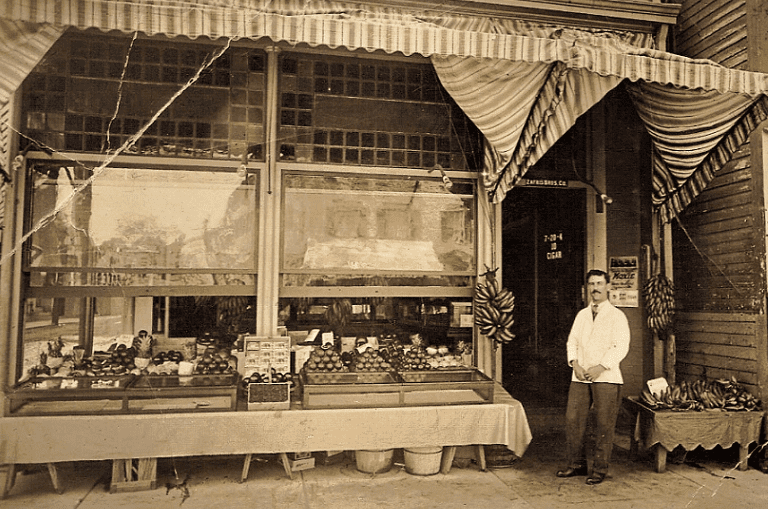 The two brothers' business, "Zafris Brothers," had two locations: 38 and 88 State Street in Newburyport. Zafris enticed the locals with an elaborate soda fountain shop shelved with sweets, succulent fruits, and exotic figs and nuts. They stocked with only the best quality goodies from such places as Schrafft's Candy Factory in Cambridge and Jersey Ice Cream Co. in Lawrence. Aromatic coffee blends and the best cigars could be had as well. They catered and made home deliveries.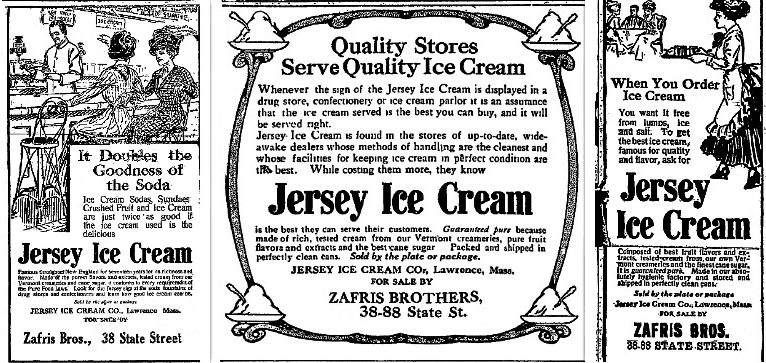 James established himself quickly and proved to be a real entrepreneur. He did renovations at the 88 State Street store per "patron demand," and added a new room to serve lunch.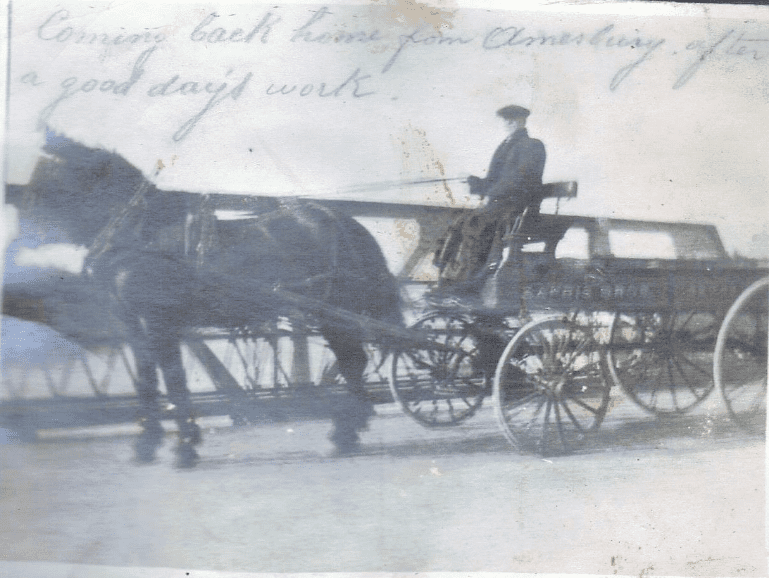 The family enterprises increased to include a vending business and the Riverton Trolley Park in Portland, Maine (partnered with Dennis J. Kelleher).
The sale of the 88 Street store to a Miss Annie J. Ryan was noted in "Confectioners' and Bakers' Gazette, Volume 41." James Zafris is listed in the 1922 "The New England Business Directory and Gazetteer" running a wholesale confectionery goods company on 13 Market Street in the same town. James Jr. remembered his dad was a wholesale distributor for Drake's Cake Company after he closed his shop.
I did find a few dramas in this family history. On 30 December 1912, James was held up at gunpoint, but he outsmarted the thief by pulling out his flashlight which the thief mistook as a gun.
A news clip called "A Lively Time" recalled the events one afternoon when a man named Crocker was in town to repair chimneys. He left his horse and buggy near the new Kimball block on Main Street alone. The horse got startled and made his way down Main to Timothy Sullivan's store and crashed into the truck owned by Zafris Brothers. The buggy and truck were wrecked, but the horse just trotted on, making his way to Market Square.
According to the Standard, in 1922 a fire consumed all the candy stock at Zafris Brothers on 13 Market Street and a loss of $10,300 was reported.
James Jr. remembers his mother was proud to be a "Joppy-ite," a term used by the locals who lived in the area named "Joppa Flats.' Her father, Captain Albert Russell (1862-1921), served at the Newburyport Hose 8 Fire Station and was chief for part of his career. Her mother, Margaret Moynihan, was a talented dressmaker born in Ireland.
"My parents were real opposites," James Jr. said. "My mother was extroverted, and my father was reserved." What brought these two together? Perhaps the magic started at the local dance hall. James Jr. showed me his mother's dance card from the "Sixth Annual Dance" given by "The Telephone Girls Club," to which his mother was a member. She was a telephone operator at the time, and "she knew everyone's name."
"She was a gifted pianist and loved music," noted James Jr. She gave private lessons and volunteered her time to teach children. I found several newspaper clips of community concerts, pageants and festivals in which Marguerite performed.
James Jr. noted that his father was a very disciplined fellow. He was a 32nd degree Mason head of the Newburyport Commandery, No. 3, Knights Templars, and a Shriner.
In addition, he served on the school committee, trustee of the library, and as director of the Y.M.C.A.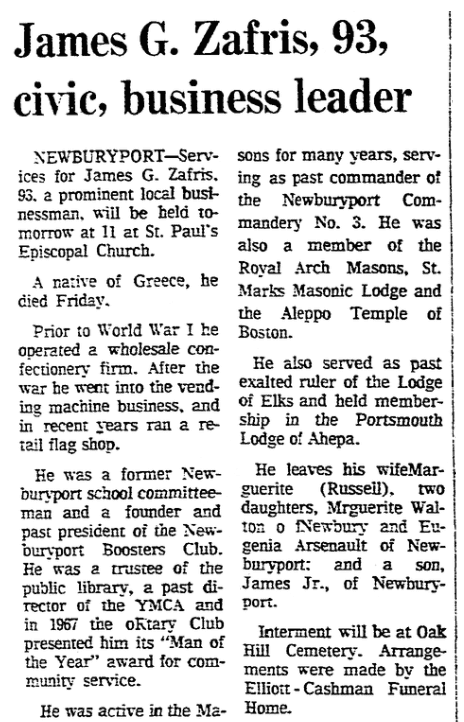 Marguerite's vivacious personality must have rubbed off on her husband. I found news clips revealing this couple liked to party and cut a rug. When the South End Civic Association was raising money for Christmas, James furnished the lasts tunes at the rock hop! Opposites really do attract.
In addition to James Jr, James and Marguerite had three daughters: Marguerite Zafris Walton, Georgiana Zafris McDonnell, and Eugenia Zafris Arsenault. James Jr. and I discovered many ancestral connections, which include Wolfe Tavern founder Captain William Davenport, Mayor Moses Davenport, Henry Coit Perkins, Rev. John Hale, and a few witches. We have traced the family line back to John Perkins of Ipswich and Captain William Berry of Rye, New Hampshire.
Note: Just as an online collection of newspapers, such as GenealogyBank's Historical Newspaper Archives, helped tell the stories of James and Marguerite Zafris, they can tell you stories about your ancestors that can't be found anywhere else. Come look today and see what you can discover!