Introduction: In this article, Melissa Davenport Berry writes a follow-up to her Fourth of July article about the ride warning that the British were coming that the history books forgot – not Paul Revere's ride, but Ebenezer Todd's. Melissa is a genealogist who has a blog, AnceStory Archives, and a Facebook group, New England Family Genealogy and History.
Author's Note: A continuation of this wicked tall tale from the archives that lasted only a night but managed to ignite a sizzling terror. For GenealogyBank Blog readers I offer a cool chronicle tidbit for our recently-celebrated Independence Day.
We all know the story of the famous dispatcher Paul Revere, who made the midnight ride on 18 April 1775 to warn the colonial militia that the Brits were coming. Revere was not the only one to deliver a message of warning.
Three days after Revere's ride – and two days after the Battles of Lexington and Concord – a Mr. Ebenezer Todd made tracks through the dusty trails and back roads of Essex County, Massachusetts, to warn that another British invasion was coming – only in his case, it was a false alarm that caused widespread panic.
On 21 April 1775, Todd's alarm terrorized the people of Newburyport and towns north to the New Hampshire border. According to sources, the whole debacle originated when a rumor circulated that British regulars had landed on Ipswich, Massachusetts, shores to execute a large-scale invasion to free prisoners jailed there.
In 1849 the National Era published John Greenleaf Whittier's account of the false alarm, "The Great Ipswich Fright." His story began with this witty introduction: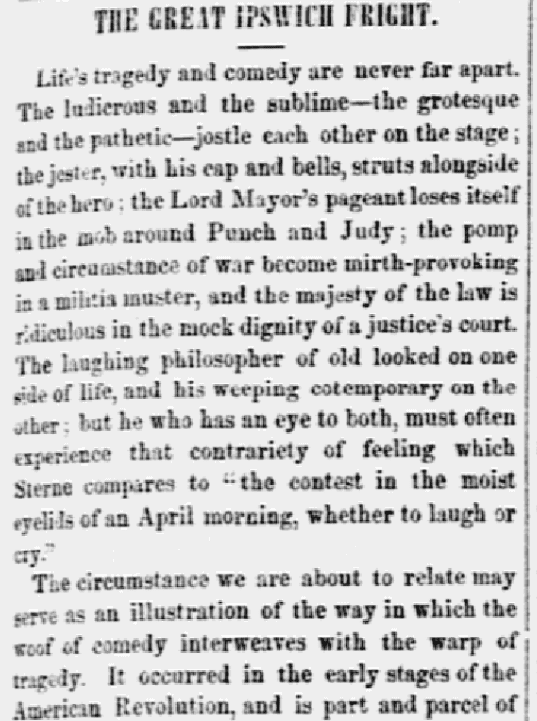 Whittier had plenty of material for the story, some furnished by his own family as well as his school master Joshua Coffin. Some of Coffin's account was covered in the first part of this story.
Whittier asserts that "many ludicrous instances of the intensity of the terror might be related," which included the following:
"One man got his family into a boat, to go to Ram Island for safety. He imagined he was pursued by the enemy through the dusk of the evening, and was annoyed by the crying of an infant in the after part of the boat. 'Do throw that squalling brat overboard,' he called to his wife, or we shall be all discovered and killed!'"
Whittier tells how his grandfather Joseph Whittier Jr., son of Joseph Whittier and Mary Peaslee, handled the news. Joseph lived in Haverhill, Massachusetts, with his wife Sarah Greenleaf (John Greenleaf Whittier birthplace Homestead).
 "All through that memorable night, the terror swept onward towards the north with a speed which seems almost miraculous, producing everywhere the same results. At midnight, a horseman clad only in shirt and breeches dashed by our grandfather's door, in Haverhill, twenty minutes up the river. 'Turn out! Get a musket, turn out!' he shouted; 'the Regulars are landing on Plum Island!'

"'I'm glad of it,' responded the old gentleman from his chamber window. 'I wish they were all there, and obliged to stay there.' When it is understood that Plum Island is little more than a naked sand ridge, the benevolence of this wish can be readily appreciated."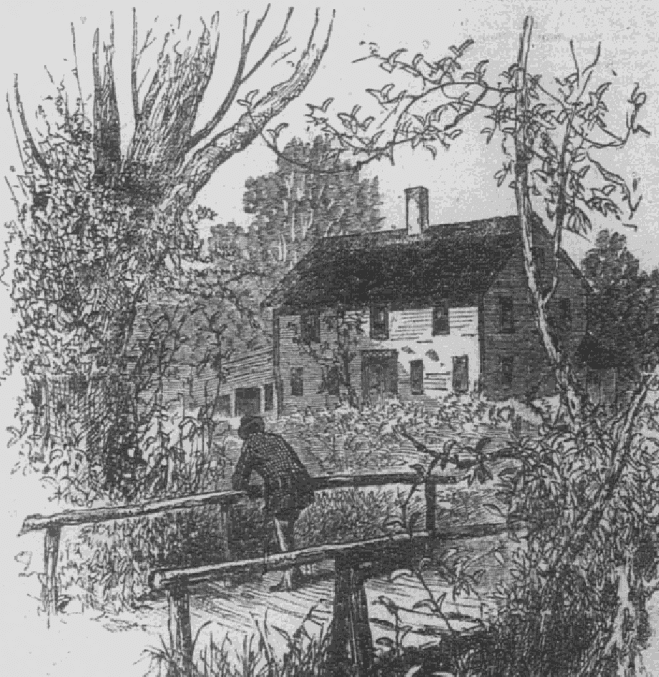 Despite the fact that it was a false alarm, Whittier asserted that the citizens would have put up a good fight had it come to that:
"Panics like the one we have described might bow and sway them like reeds in the wind, but they stood up like the oaks of their own forests beneath the thunder and the hail of actual calamity."
The messenger who gave the false alarm in the "Ipswich Fright," Ebenezer Todd, served as a soldier in the Revolutionary War, twice enlisting to serve his country. Years later his grandson, William C. Todd of Atkinson, New Hampshire, remembered his grandfather's earnest attempt to sound the warning.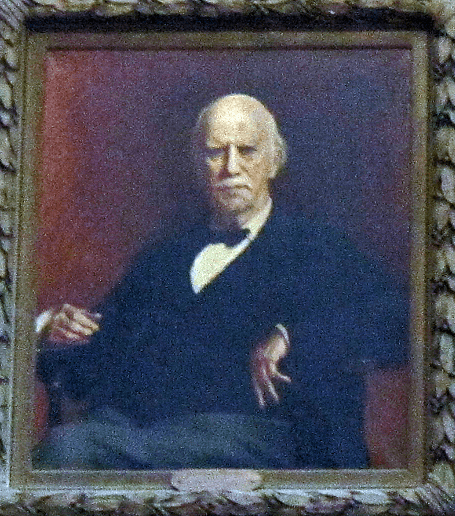 In 1901 Todd wrote a letter to Hon. Moses Brown, mayor of Newburyport. He informed the mayor that he shared the same sentiments as his grandfather Ebenezer and was just as anxious to preserve his home and people from destruction:
"My long acquaintance with Newburyport and my sense of its great value to the world have made me as anxious as my grandfather to preserve it and if I learn that evil menaces it, I will hasten as he did to give warning that it may be preserved for another half century as prosperous as the past for which it has my most earnest well wishes."
If ever the phrase "don't shoot the messenger" was to ring true, it applied to Ebenezer Todd – who only acted as any good Patriot would have.
Note: An online collection of newspapers, such as GenealogyBank's Historical Newspaper Archives, is not only a great way to learn about the lives of your ancestors – the old newspaper articles also help you understand American history and the times your ancestors lived in, and the news they talked about and read in their local papers. Have you traced your ancestors back to the Revolutionary era and the time of Paul Revere's ride? Please share your stories with us in the comments section.
Further Reading:
Fischer, David Hackett. "Paul Revere's Ride."
Pickard, Samuel T. Whittier-Land. "A Handbook of North Essex."
Waters, Thomas Franklin; Goodhue, Sarah; Wise, John. "Ipswich in the Massachusetts Bay Colony."
Waters, Thomas Franklin. "A History of Argilla Road in Ipswich, MA." Salem Press, 1900. "Publications of the Ipswich Historical Society, V. 9."
Prose Miscellanies, John Greenleaf Whittier.
Related Article: