Introduction: In this article, Melissa Davenport Berry searches old newspapers to find heartwarming stories from Christmas past. Melissa is a genealogist who has a blog, AnceStory Archives, and a Facebook group, New England Family Genealogy and History.
Local newspapers have long printed merry or heartwarming stories this time of year to bring good cheer to the season. I recently looked through GenealogyBank's Historical Newspaper Archives and found these anecdotes to share with you.
In 1940 the Omaha World-Herald published this adorable picture with this caption:
Meet Merrie Christmas. Here is a bundle from Santa. She is Merrie Christmas of Adrian, Mich., a 2-year-old parcel of good cheer. Her mother saved her from being just another Mary Christmas. When she was born, her father, E. J. Christmas, gave the name as Mary for birth records. Mrs. Christmas objected. If she was going to be Mary, she may just as well be Merrie, the mother insisted, and Merrie she has been ever since.
In 1930 the Richmond Times Dispatch published the photo of six-year-old twins Gus and Peter Mantzouris, who presented President Herbert Hoover with a large Christmas candy cane made by their father. Hoover in return gave an autographed photo of himself to each of the tots. The twins were born in Washington, D.C., to Greek immigrants George and Helen Mantzouris and later served their country honorably in World War II.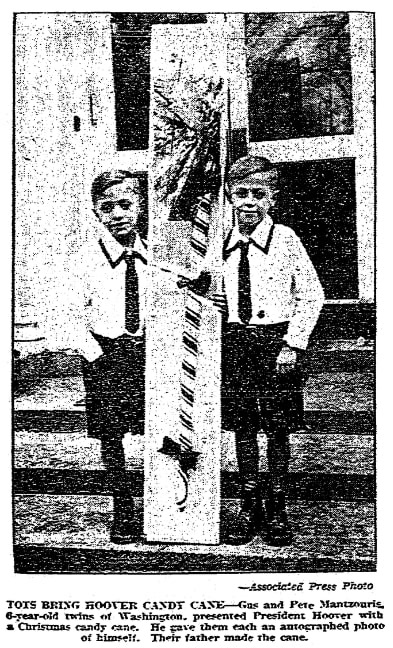 The Omaha World-Herald featured a story on how the Chicago fuzz manifested a magical intervention in 1946. Looking like the real thing in his Santa costume, "Benny the Bum," notorious Clarke Street habitue, distributed gifts to Barbara, Wesley, Roberta and Carol Drennen, whose parents were separated. The holiday spirit promoted two detectives from the police department to prevent a cheerless Christmas for the Drennen children – they bought gifts and a Christmas tree for the kids and "arrested" Benny to play Santa.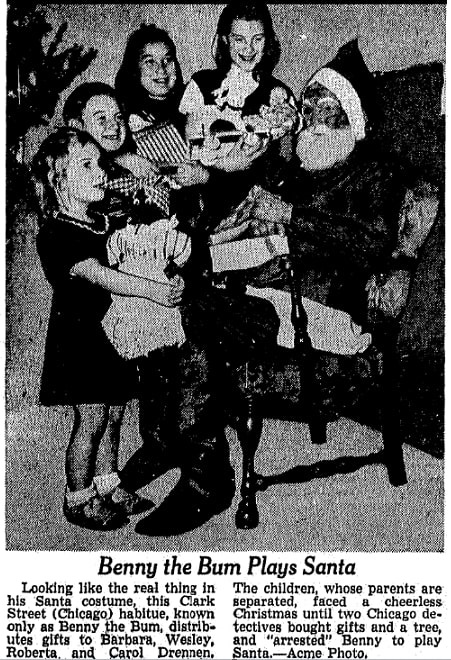 In 1950 Santa brought much magic to a young boy. Bobby Hiner, a nine-year-old boy from La Porte, Indiana, wrote a letter to Santa and dropped it in the Santa Claus box at the La Porte courthouse. The letter read:
Dear Santa:

Last year I asked you to bring my daddy home for Christmas. This year I wish that after you have delivered toys to all the good boys and girls that you will take me as far as Alaska when you go to the North Pole.
The letter landed in the hands of Leonard J. Kolb of the Chamber of Commerce. Kolb learned that Bobby's father, Andrew Hiner, worked in the coal mines in Jonesville, Alaska, and recently suffered an injury at work. Hiner did not have enough funds to secure a flight home, so the Chamber of Commerce worked with Alaskans and flew daddy home to see his Bobby, his brothers Theodore and Andrew Jr., and Mrs. Hiner.
For those who celebrate this holiday, have a very Merry Christmas – and may the magic be with you!