Introduction: In this article, Melissa Davenport Berry writes about an interesting fellow from Newbury, Massachusetts: Stephen Pettingell Hale, the "Old Sage of Newbury." Melissa is a genealogist who has a blog, AnceStory Archives, and a Facebook group, New England Family Genealogy and History.
Stephen Pettingell Hale gained a following in the newspapers as a noted authority on Newbury, Massachusetts, history and genealogy – and as a weather prognosticator and predictor of crops. He published under the name S. P. Hale, but more often he was coined "The Old Sage of Newbury" due to his accurate predictions on weather, crops and all things in nature.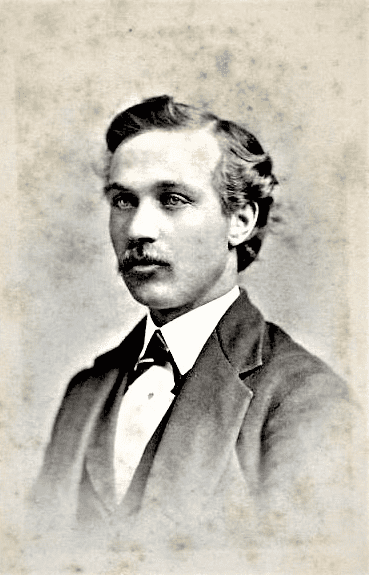 Stephen, born to sailmaker Daniel Knight Hale and Elizabeth Colley Pettingell, descended from the settlers of Old Newbury, Massachusetts. He was a farmer, milk dealer, horseman, and prolific writer. He resided at the historic Jackmen-Willett house in Newbury, built in 1683 by James Jackman – which he inherited from his sister Lucy Kimball Hale Danforth.
In an article published in the Newburyport News in 1900, Stephen worked from genealogy notes written by his relative Joshua Adams, uncle to his mother, as well as other tidbits he picked up from relatives.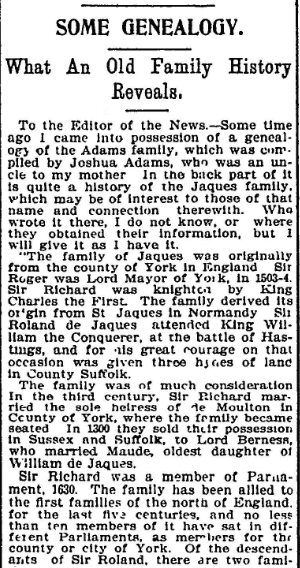 Here is a transcription of part of this article:
"The family of Jaques was originally from the county of York in England. Sir Roger was Lord Mayor of York, in 1503-04. Sir Richard was knighted by King Charles the First. The family derived its origin from St. Jaques in Normandy. Sir Roland de Jaques attended King William the Conqueror, at the Battle of Hastings, and for his great courage on that occasion was given… land in County Suffolk.

"…This is all I have about the Jaques excepting Robert Adams, who was my great great grandfather on my father's side, married Anna Jaques, and their son Israel Adams married Deborah Jaques. Also Robert Adams, who was my great great grandfather on my mother's side, married Love Jaques… The Robert Adams who married Anna Jaques was called 'Long Barn Robert' from his having a very long barn, and the Robert who married Love Jaques was called 'Bellus Robert' from the fact that he made bellows."
In 1923 Stephen wrote a letter to the editor of the Newburyport News and served up some warm memories of how Old Newbury kept out of the cold.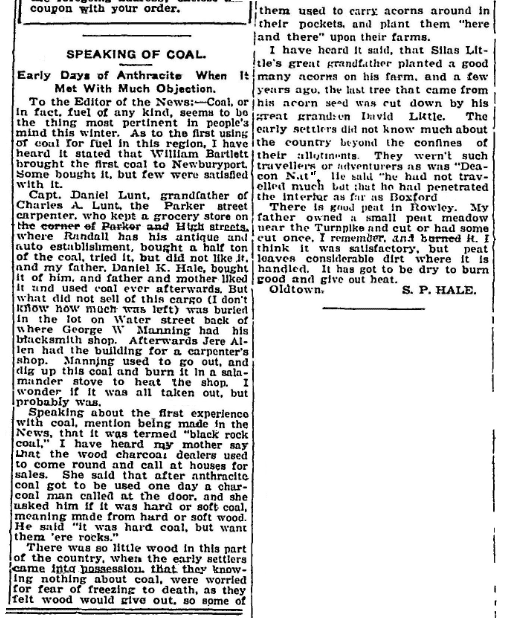 Here is a transcription of part of this article:
"…As to the first using of coal for fuel in this region, I have heard it stated that William Bartlett brought the first coal to Newburyport. Some bought it, but few were satisfied with it.

"Capt. Daniel Lunt, grandfather of Charles A. Lunt, the Parker street carpenter… bought a half ton of the coal, tried it, but did not like it, and my father, Daniel K. Hale, bought it of him, and father and mother liked it and used coal ever afterwards. But what did not sell of this cargo (I don't know how much was left) was buried in the lot on Water street back of where George W. Manning had his blacksmith shop. Afterwards Jere Allen had the building for a carpenter's shop. Manning used to go out and dig up the coal and burned it in a salamander stove to heat his shop.

"…There was so little wood in this part of the country, when the early settlers came into possession, that they, knowing nothing about coal, were worried for fear of freezing to death, as they felt wood would give out, so some of them used to carry acorns around in their pockets and plant them 'here and there' upon their farms.

"I have heard it said, that Silas Little's great grandfather planted a good many acorns on his farm, and a few years ago, the last tree that came from his acorn seed was cut down by his great grandson David Little."
Other newspaper articles reveal that Stephen's family members also treasured the history of Old Newbury. One sister, Sarah Curtis Hale Little, who lived on the Joseph Little homestead, was an authority often consulted on the genealogies of old families and early land grants.
His niece Mary Adams Rolfe, daughter of Abbie Frances Hale and Moses Henry Rolfe, compiled the Rolfe Papers, a collection on Old Newbury, Massachusetts, founding families' history and genealogies, housed at the Museum of Old Newbury. You can see a photo of Mary diligently working on the Newbury settler research in a 1943 article in Life magazine. (P. 129. "Life Visits a Town library, Newburyport, Massachusetts." Oct. 25, 1943. Vol. 15, No. 17. Time Inc.)
Stephen had a kindred spirit in the southland – another farmer who also published under the name S. P. Hale. His full name was Stephen Porter Hale and he lived in Tennessee, but is not directly connected to the Newbury Hale's. Every Thanksgiving a Kentucky turkey arrived at Stephen Pettingell's doorstep from the Dixie Hale folks. Many gifts and letters were exchanged through the years. Stephen Porter wanted Stephen Pettingell to marry his sister Sarah Alice Hale, a well-known scholar and missionary, but the two never hitched up.
Check back tomorrow for more on the Old Sage of Newbury, whose tragic death is linked to his weather predictions.
Thanks to the Newburyport Library Archival Center and Susan York Gagnon for digital clips, photos, and genealogy.
Further Research:
Muir, Edward Gerrish, Gagnon, Susan York. "1683 Jackman Willett House: The Sons and Daughters of the First Settlers of Newbury." SDFSN Newbury, MA 2018.
Groff, Bethany. "A Brief History of Old Newbury: From Settlement to Separation." History Press Charleston, NC 2008.
Sons and Daughters of Newbury Settlers MA Membership Join Today
Newburyport Daily News, Newburyport, Massachusetts on Thursday, April 21, 1910 P.5 Newburyport Library Archival Center
Genealogy:
Stephen Pettingell Hale (1851-1929), son of Daniel Knight Hale (1808-1870) and Elizabeth Colley Pettingell (1812-1896), daughter of Stephen Pettingell (1771-1847) and Lovely Adams (1778-1896), granddaughter of Henry Pettingell (1744-1774) and Sarah Cheever (1746-1774). S. P. Hale was named after his uncle Stephen Adams Pettingell, a sailor who died in 1827 in Georgia.
Elizabeth Colley Pettingell and Daniel Knight Hale had the following children:
Lucy Kimball Hale (1839-1918), married Joseph Knight Danforth (1839-1864), son of Joshua Jewett Danforth (1808-1865) and Mary Jane Knight (1813-1853).
Sarah Curtis Hale (1840-1929), married Joseph Little (1834-1912), son of Joseph Little (1799-1893) and Elizabeth Moody (1799-1895).
Georgian Balch Hale (1842-1925), married Paul Moody Ilsley (1835-1926), son of Paul Ilsley (1792-1848) and Mary Moody (1795-1846).
Abbie Frances Hale (1849-1920), married Moses Henry Rolfe (1848-1907), son of Joseph Noyes Rolfe (1822-1900) and Mary Little Adams (1823-1893).
STEPHEN PETTINGELL HALE (1851-1929), unmarried.
Adeline Knight Hale (1852-1912), unmarried.
Annie Rebecca Hale (1855-1936), married Edward Everett Bartlett (1852-1937), son of Jonathan Bartlett (1850-1859) and Sarah Shute (1817-1887).
Others:
Daniel Knight Hale, son of Ezra Hale (1771-1846) and Anna Adams (1780-1862), daughter of Silas Adams (1741-1800) and Lucy Underwood (1749-1844).
Ezra Hale (1771-1846), son of Ezra Hale (1737/38-1791) and Anna Knight (1742-1815), daughter of Dr. Daniel Knight (1699-1768) and Anne Hale (1709-1754).
Ezra Hale (1737/38-1791), son of Benjamin Hale (1699/1700-1716-17) and Judith Swett, daughter of Stephen Swett (1673-1746) and Mary Kent (1674-1714).
Benjamin Hale, son of John Hale Jr. (1661-1725) and Sarah Jacques (1664-after 1725), daughter of Henry Jacques (1618-1687) and Anne Knight (1631-1705).
John Hale Jr. (1661-1725), son of John Hale (1635-1707) and Rebecca Lowell (1641/42-1662), daughter of Richard Lowell (1601-1682) and Margaret Fawcett (1604-1642).
John Hale (1635-1707), son of Thomas Hale (1606-1682) and Thomasine Dowsett.
Thomas Hale (1606-1682), from Watton-on-Stone, Hertfordshire, England. He married Thomasine Dowsett on 11 Dec 1632 in St. Helen's, Bishopsgate, London, England. She was born about 1608. She died on 30 Jan 1682/83 in Newbury, Essex, MA. (Threlfall, John B. "The English Ancestry of Thomasine (Dowsett) Hale, Wife of Thomas Hale of Newbury, Massachusetts." NEHGR Volume 141 1897 and Corrections made by John Brooks Threlfall: The New England Historical and Genealogical Register. Boston, MA: New England Historic Genealogical Society, 1847-. (Online database: AmericanAncestors.org, New England Historic Genealogical Society, 2001-2018.)
The Southward Hale Family Genealogy:
Children of Stephen Porter Hale (1824-1904) and third wife, Mrs. Susan A. Price Palmore (1839-1925):
Sarah Alice Hale (1856-1952), unmarried.
William David Hale (1858-1947), married Theodosia "Donna" Lee (1861-1922).
Mary Elmira Hale (1861-1949), married Dr. Guilford Oasis Bicknell (1858-1910).
Lillian "Lillie" Hale (1872-1954), married George T. Florida (1857-1929).
Charles Price Hale (1874-1968), married Carrie Knight (1879-1939).
Stephen Porter Hale (1876-1955), married Edna Ervin (1877-1957).
Thomas Newton Hale (1881-1915), married Adelia Mae Kimbrough (1885-1957).