Introduction: Duncan Kuehn is a professional genealogist with over eight years of client experience. She has worked on several well-known projects, such as "Who Do You Think You Are?" and researching President Barack Obama's ancestry. With the East Coast (especially Boston) digging out from yesterday's blizzard, this seems like a good time for an article about winter. In this blog post, Duncan searches old newspapers to find poems and photos about our ancestors enjoying winter activities.
Some people love winter and the frosty fun that comes with it. They love wrapping up in blankets and sipping hot chocolate after a long day frolicking in the snow or skating on the ice.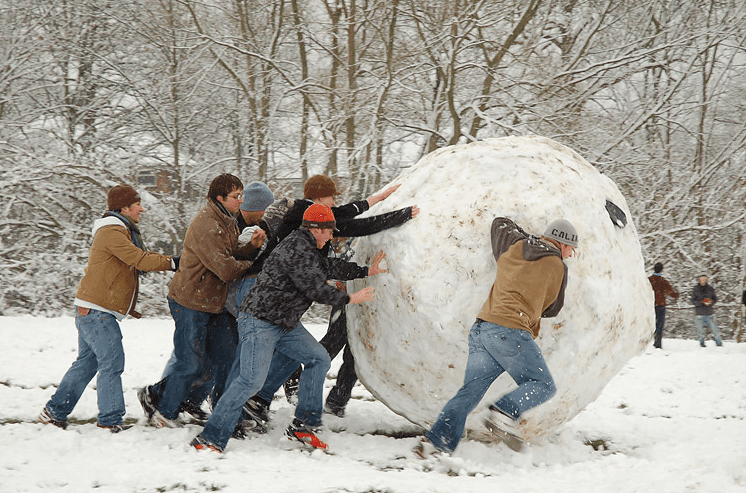 Children Play
The cold weather keeps some people indoors, where snuggling up with a loved one by the fire is the highest priority. For many children, however, winter is a wonderland to be explored. If this describes you, this poem by Robert Louis Stevenson, presenting a child's perspective on winter, may bring you joy.
Winter Time

Late lies the wintry sun a-bed,

A frosty, fiery sleepy-head;

Blinks but an hour or two; and then

A blood-red orange, sets again.

Before the stars have left the skies,

At morning in the dark I rise;

And shivering in my nakedness,

By the cold candle, bathe and dress.

Close by the jolly fire I sit,

To warm my frozen bones a bit;

Or, with a reindeer sled, explore

The colder countries round the door.

When to go out, my nurse doth wrap

Me in my comforter and cap;

The cold wind burns my face, and blows

Its frosty pepper up my nose.

Black are my steps on silver sod;

Thick blows my frosty breath abroad;

And tree and house, and hill and lake,

Are frosted like a wedding cake.
"Winter Time" was published in Stevenson's A Child's Garden of Verses (1885) and was reprinted in this 1903 Minnesota newspaper.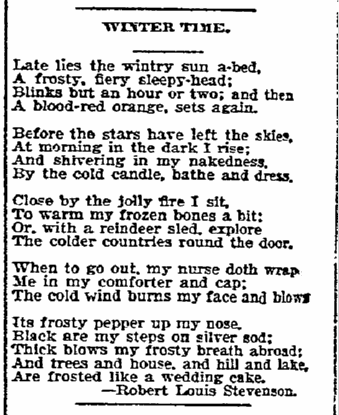 Adults Worry
Unlike children, many adults find that the harshness of winter reminds them of some of the difficulties of life. The hassle of slippery roads, buried cars, and treacherous walkways takes its toll.
[search_box]
This poem brings these sentiments to mind. It was published in a 1917 Pennsylvania newspaper and attributed to "Uncle Walt the Poet Philosopher."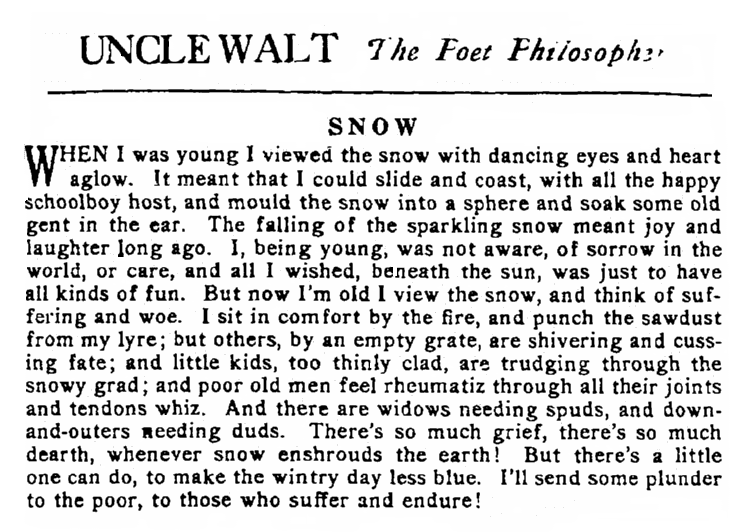 Remember the Joy
It seems that children are naturally drawn to the slippery stuff in nature's playground. Perhaps Uncle Walt needs to spend more time watching the pure joy of children playing in the snow to perk up his mood. Or watch lovers holding hands as they ice skate, round and round the pond. Or take a moment to really see the snow as it flutters to the ground. We get so focused on what we have to do and how the snow hinders us, we miss out on its wonder. The infuriating white stuff seems to be there just to make life hard. But maybe this is nature's way of reminding us to slow down and remember what is most important. Perhaps it is time to wrap up in a warm, fuzzy blanket and read the newspaper by the glow of a crackling fire. Or maybe we need to dust off the sled and get some invigorating exercise as we pull the kids around the yard. It is hard to retain our crusty mood as we watch children, wrapped in snow clothes to the point of near immobility, waddle around the uneven surface of a snowy field, laughing as they tumble to the ground in a frosty heap. And taking a moment to laugh with them can heal our soul.
Photos Capture the Fun
Here are pictures from four old newspapers to remind us of winter's joy.
These photos were published in a 1916 Oregon newspaper, entitled "Portland Children Reveling in the Snow with Christmas Sleds as Agents of Joy."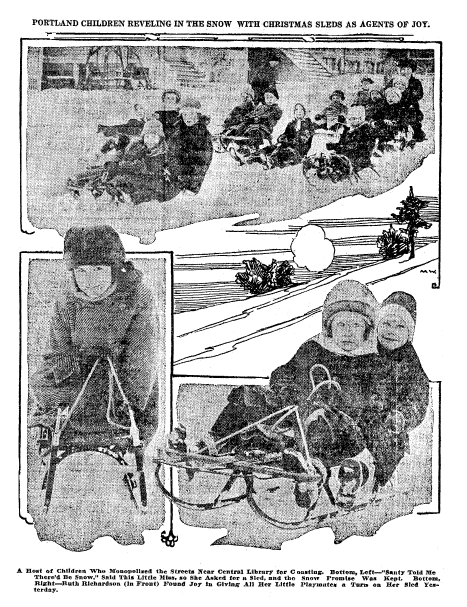 These photos were published in a 1939 Pennsylvania newspaper. They show adults "joining the 'keep fit' movement sweeping the nation" – but one look at their faces, and you realize what's really happening: these adults are remembering how much fun it is to play in the snow.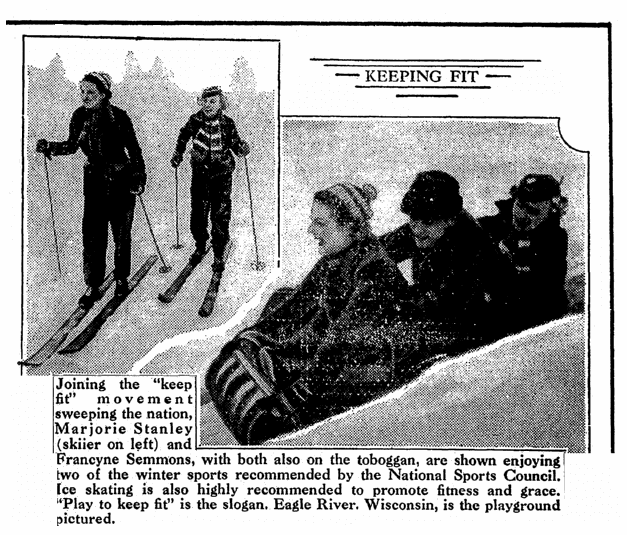 This photo, published in a 1912 North Dakota newspaper, shows U.S. Secretary of the Navy George von L. Meyer skating on the frozen Potomac River with his daughter Alice. The photo caption says "Washington Society" is excited about ice skating; Meyer is identified as "a leader in the movement."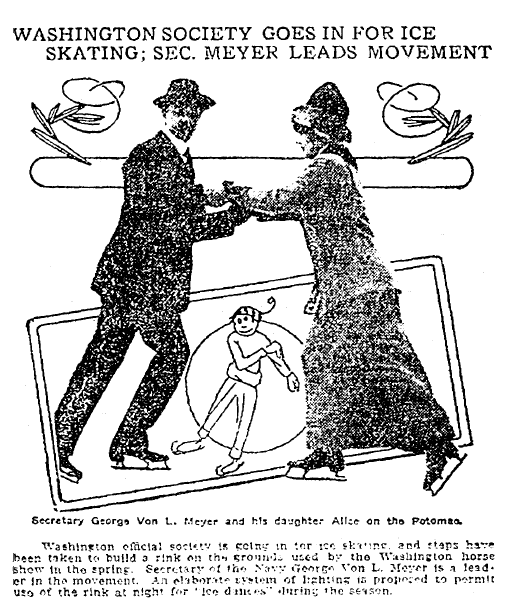 This photo, published in a 1910 Maryland newspaper, shows people enjoying ice skating on the boat lake in Baltimore's Patterson Park. The caption says:
This is practically the only place for ice skating which is convenient to East Baltimore folk, and it is thronged morning, afternoon and evening when the park officials consider the ice thick enough for the sport.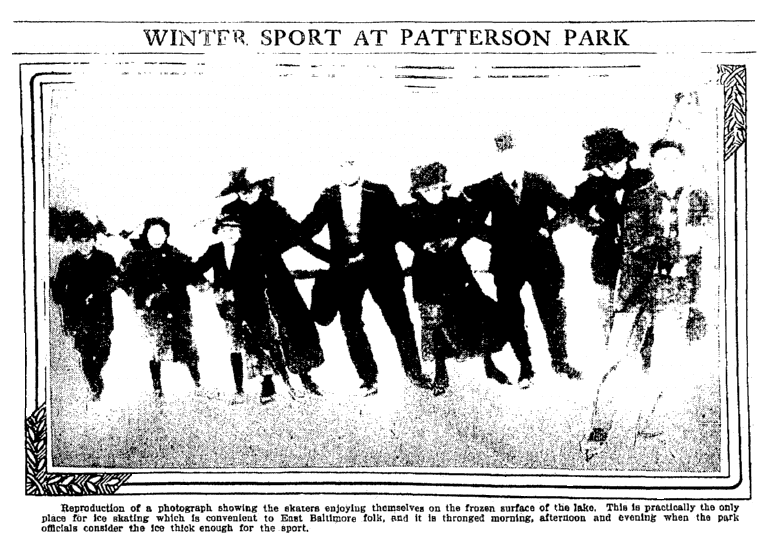 If you live along the East Coast, have you dug out from yesterday's major blizzard? How much snow did Winter Storm Juno dump in your area? No matter where you live, we hope you have found some time this winter to get out and enjoy the snow and ice – winter's frosty fun.
[bottom_post_ad]