When Alden Howell passed away in 1947 at the age of 106, he was the last surviving commissioned officer of the Army of the Confederate States of America.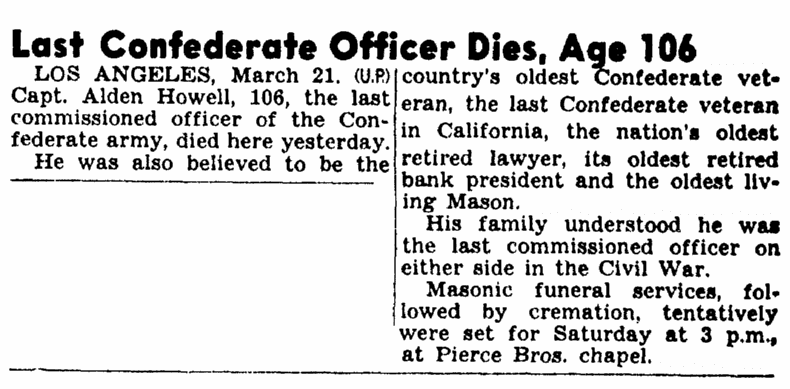 It's a good thing that there were multiple obituaries about this centenarian. Each historical obit gives us more of the details of his life.
For example, see this old obituary in the Greensboro Record.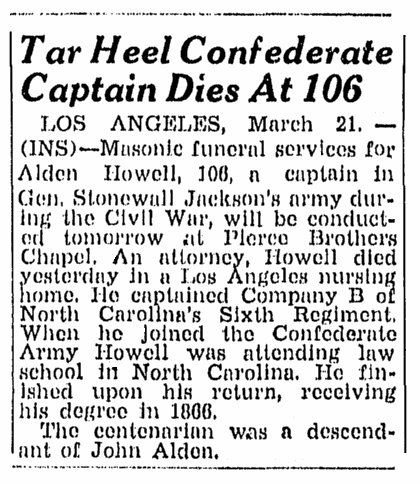 We learn that he was a captain of "Company B of North Carolina's Sixth Regiment," that when he enlisted he had been "attending law school," and that after the war he resumed his studies and received "his degree in 1866."
We also pick up this critical piece of genealogical information: he "was a descendant of John Alden," the famous ship's cooper on the Mayflower, signer of the Mayflower Compact, and best known for marrying Priscilla Mullins. A great clue.
[search_box]
In his ripe old age Howell was called upon to give advice, as reported in the Morning Olympian.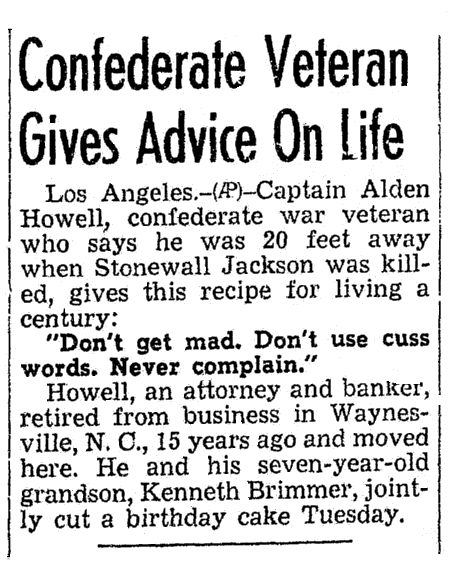 "Don't get mad. Don't use cuss words. Never complain."
Good advice – even now.
Even in this feel-good news article we pick up more genealogical details. He was an attorney and banker in Waynesville, North Carolina. He retired "15 years ago and moved [to Los Angeles]," and this critical statement: "He and his seven-year-old grandson, Kenneth Brimmer, jointly cut a birthday cake Tuesday" – a good clue that both he and his grandson were born on February 18th.
Genealogy Tip: Track down every newspaper article. Don't stop with the first news article or obituary you find about your relative. Each one might contain the critical clue or fact that you need to build your family tree. Take those clues, verify the facts and document your family history.
Note: FamilySearch International (FamilySearch.org) and GenealogyBank are partnering to make over a billion records from historical obituaries searchable online. The tremendous undertaking will make a billion records from over 100 million U.S. newspaper obituaries readily searchable online. The newspapers are from all 50 states and cover the period 1730 to the present.  Find out more at: https://www.genealogybank.com/family-search/
Related Articles:
[bottom_post_ad]