Happy Mother's Day!
Clementine (Robicheaux) Breaux, the widow of Paul Breaux, must have set a record.
As of March 19, 1915 – she was still going strong at age 110 – the mother of 13 children and the matriarch of more than 1,000 descendants born in her lifetime. She lived in Lafourche Parish, Louisiana and her family lived there in Thibodaux and "scattered over the entire state" of Louisiana.
Even though she was 110 years old according to the article in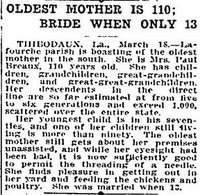 the
Duluth (MN) News Tribune
(19 March 1915) she was still active.
Her eyesight was still good enough "to permit the threading of a needle" and she enjoyed "getting out in the yard and feeding the chickens and poultry."
You learn the most amazing things about your family in these old newspapers.
GenealogyBank
has over 3,800 newspapers from across the country. Give it a try right now.
So – here's to our mothers everywhere, of all generations.
Happy Mother's Day!
(Visited 7 times, 1 visits today)