Estimates are that 92,000 American and French troops fought 314,000 British troops, Hessian mercenaries and loyalists during the American Revolutionary War. Of that number 25,000 Americans died in the war and an estimated 25,000 more were wounded.
Their stories were told in America's newspapers – especially in the veterans' obituaries, such as this one for 89-year-old Isaac Van Wart, described as a "brave and meritorious officer."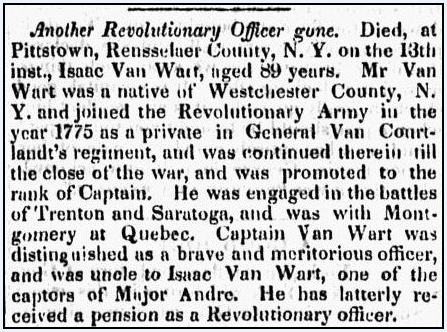 Here are just some of their stories that you can find in GenealogyBank's Historical Newspaper Archives. We've included the name of the newspaper and the exact page where you can find an article about that veteran.
Taintor, Charles (1761-1854)
Connecticut
Christian Register (Boston, Massachusetts), 9 December 1854, page 3
Teel, John (1740-1835)
Pennsylvania
Daily Pennsylvanian (Philadelphia, Pennsylvania), 20 July 1835, page 3
Terrett, William H. (1751-1826)
Virginia
Alexandria Gazette (Alexandria, Virginia), 13 April 1826, page 3
Thacher, M.D., James (-1839)
New York
Hudson River Chronicle (Ossining, New York), 27 August 1839, page 2
Thompson, Absalom (1754-1837)
South Carolina
Charleston Courier (Charleston, South Carolina), 31 August 1837, page 2
Thomson, Thomas (1762-1839)
Vermont
Bellows Falls Gazette (Bellows Falls, Vermont), 4 May 1839, page 1
Thurston, D. (1752-1850)
New York
Kalamazoo Gazette (Kalamazoo, Michigan), 7 June 1850, page 2
Milwaukee Sentinel (Milwaukee, Wisconsin), 3 June 1850, page 2
Tinkham, Ebenezer (1755-1825)
New Hampshire
Boston Recorder (Boston, Massachusetts), 23 December 1825, page 207
Tomlinson, Beach (1726-1817)
Connecticut
Connecticut Courant (Hartford, Connecticut), 16 December 1817, page 3
Connecticut Herald (New Haven, Connecticut), 16 December 1817, page 3
Townsend, Solomon (1748-1818)
Rhode Island
Newburyport Herald (Newburyport, Massachusetts), 7 April 1818, page 3
Trabue, John (1762-1828)
Virginia
Battles fought in: Yorktown
Eastern American (Castine, Maine), 14 May 1828, page 3
Enquirer (Richmond, Virginia), 18 April 1828, page 3
True, Edward (1753-1840)
Massachusetts
Boston Recorder (Boston, Massachusetts), 24 April 1840, page 67
Tucker, Samuel (1747-1833)
Maine
Columbian Centinel (Boston, Massachusetts), 20 March 1833, page 4
Hampden Whig (Springfield, Massachusetts), 20 March 1833, page 2
Hampshire Gazette (Northampton, Massachusetts), 27 March 1833, page 2
Lowell Mercury (Lowell, Massachusetts), 22 March 1833, page 3
Maine Working Men's Advocate (Belfast, Maine), 20 March 1833, page 3
New Hampshire Patriot and State Gazette (Concord, New Hampshire), 1 April 1833, page 1
Salem Gazette (Salem, Massachusetts), 19 March 1833, page 3
Vail, Alsor (about 1761-1841)
New York
Albany Argus (Albany, New York), 5 January 1841, page 3
Van Cortland, Phillip (1747-1831)
New York
Albany Argus (Albany, New York), 11 November 1831, page 2
Ithaca Journal (Ithaca, New York), 16 November 1831, page 2
Van Wart, Isaac (1750-1840)
New Jersey, New York, Quebec
Battles fought in: Trenton, Saratoga and Quebec
Barre Gazette (Barre, Massachusetts), 31 July 1840, page 2
Vance, William (1760-1843)
Vermont
Bellows Falls Gazette (Bellows Falls, Vermont), 13 May 1843, page 2
Daily Herald (New Haven, Connecticut), 8 May 1843, page 2
Newark Daily Advertiser (Newark, New Jersey), 6 May 1843, page 2
Vandeventer, Peter (1755-1837)
Pennsylvania
Public Ledger (Philadelphia, Pennsylvania), 12 July 1837, page 2
Sun (Baltimore, Maryland), 13 July 1837, page 2
Vanhining, Henry (1738-1840)
Ohio
Sun (Baltimore, Maryland), 25 February 1840, page 2
Veerbryke, Samuel (1760-1849)
New York
Albany Evening Journal (Albany, New York), 6 October 1849, page 2
Vicory, Merrifield (1764-1840)
Ohio
Cleveland Herald (Cleveland, Ohio), 1 April 1840, page 2
Vosburgh, Peter I. (1852-1830)
New York
Sun (Baltimore, Maryland), 11 February 1830, page 3
Related Articles: