Introduction: In this article, Gena Philibert-Ortega writes about the history of Armistice Day/Veterans Day, and gives some tips for celebrating the holiday with some family history research. Gena is a genealogist and author of the book "From the Family Kitchen."
Veterans Day is a federal holiday that honors veterans of all wars, but its roots are firmly planted in the end of World War I. Originally known as Armistice Day, it commemorated the end of hostilities on the Western Front of WWI, which occurred on the 11th hour of the 11th day of the 11th month of 1918.
In 1954 the day was renamed Veterans Day in the U.S. (it's also known as Remembrance Day in other countries). Unlike Memorial Day, which honors those who have died while in military service, Veterans Day honors all those who have served in the United States Armed Forces.
WWI Armistice
As you can imagine, the end of the fighting of the Great War (as it was then known) was a cause for celebrating. For those in Europe, the war had been a long four years – and although the after effects would continue, including civilian food insecurity, the end of hostilities was still a reason to celebrate.
One U.S. soldier from Council Bluffs, Iowa, Sgt. Sigvald Jensen, wrote home from France to his father recounting that day:
"The night the armistice was signed, the French ran up and down the streets, men grabbing other men's wives and kissing them; girls grabbed soldiers and kissed them. They were sure wild."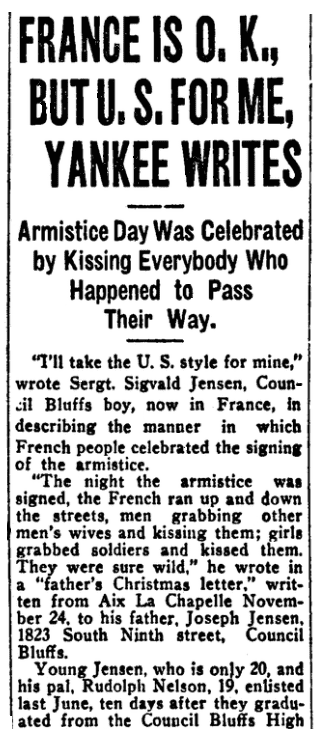 A year later, President Woodrow Wilson gave a statement about Armistice Day, remembering the sacrifices that were made by all:
"To us in America, the reflections of Armistice Day will be filled with solemn pride in the heroism of those who died in the country's service, and with gratitude for the victory both because of the thing from which it has freed us, and because of the opportunity it has given America to show her sympathy with peace and justice in the councils of nations."
By 1919, Armistice Day was a holiday – but not an official national holiday. A year later, this newspaper article tells of the day's celebration, which was not part of an organized event but a day of joy for those who were involved. It was a "duplication of the spontaneous outbreak of joy and patriotism which characterized the demonstration here on Nov. 11, 1918."
Veterans Day
In 1926 Congress passed a resolution for an annual observance of the day, but it did not become a national holiday until 1938. While that day was originally a day to honor the Great War's armistice, the meaning behind the day evolved – especially with the conclusion of World War II. In 1954 the day was renamed Veterans Day to reflect its new purpose: a day to honor all veterans.*
How Will You Remember the Veterans in Your Family Tree?
You may have numerous options for celebrating Veterans Day. Maybe you have a day off from work and plan to gather with family for a BBQ, or you're planning on being a part of your local community's festivities. May I suggest some family history activities to commemorate this day?
Consider the veterans in your family tree and take some time to document their military service. Some ideas to consider include:
Document their burial place through a search of the U.S. Department of Veteran Affairs Nationwide Gravesite Locator
Search for an obituary in GenealogyBank's Historical Obituaries collection
Read more about obtaining military records on the National Archives website
Request Military Service Records for 20th century veterans (including DD214)
Interview the veterans in your family
Search GenealogyBank's Historical Newspaper Archives for articles that provide information about the war/battles/or time that your veteran served
Scan photos of the veteran and share them (with permission, if the person is alive) with family via email or a private group on Facebook
If you have a living veteran in your family, take some time to sit down and learn more about their service.
If you're a veteran, thank you for your service. Please consider documenting some of your experiences.
Happy Veterans Day!
* "Veterans Day Facts," History (https://www.history.com/topics/holidays/veterans-day-facts: accessed 3 November 2019).
Related Articles: