Introduction: In this article, Melissa Davenport Berry writes about relics from America's past, focusing on family heirlooms from the Quinby family of Massachusetts. Melissa is a genealogist who has a blog, AnceStory Archives, and a Facebook group, New England Family Genealogy and History.
I discovered some interesting finds related to scions of Joseph Quinby of Amesbury, Massachusetts. Recently I covered some paternity drama cases on Quinby, who fathered two twin boys out of wedlock in 1715. His descendants married into the Titcomb, Dole, Pearson, and Cottle lines of Newbury, Massachusetts.
One of the twins, Joseph Quinby (1715-1776), married Mary Haskell and had a son, Captain John Quinby, who married Eunice Freeman. Many family portraits and heirlooms have survived through the generations.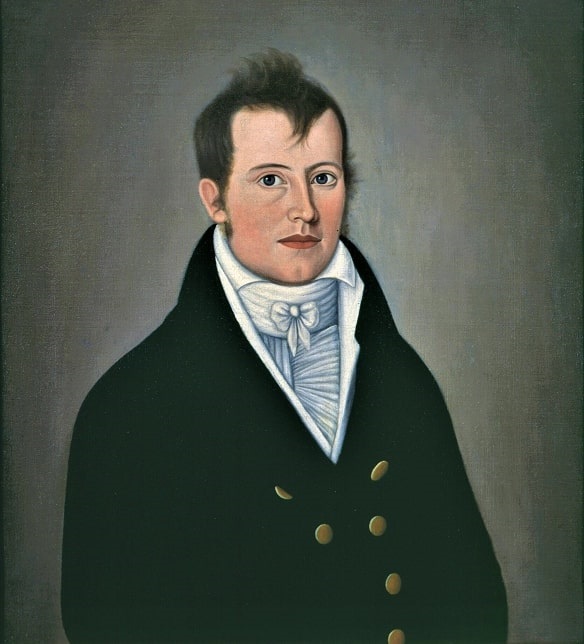 Among them is a portrait of Moses Quinby painted by John Brewster Jr., and a silver tankard made for the Quinby-Titcomb family by Boston silversmith Thomas Townsend around 1725. Both are now housed at Bowdoin College in Maine.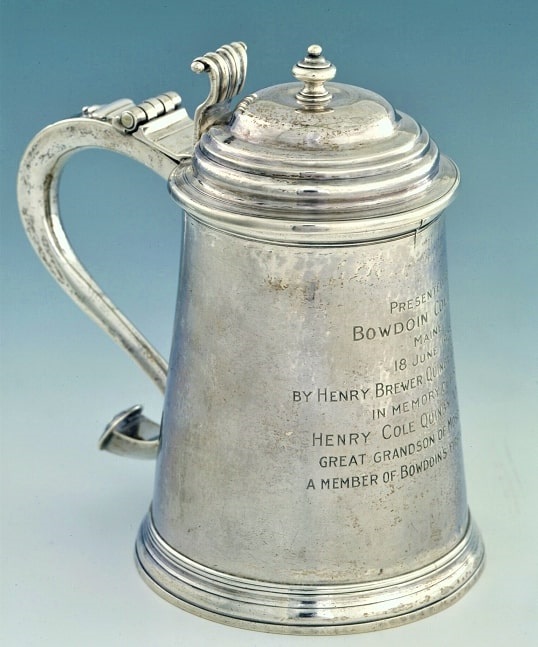 Moses Quinby graduated Bowdoin College in 1806, part of a graduating class of seven. The Boston Courier published a list of the graduates that year, which included Moses' cousin Benjamin Titcomb, son of the Rev. Benjamin Titcomb.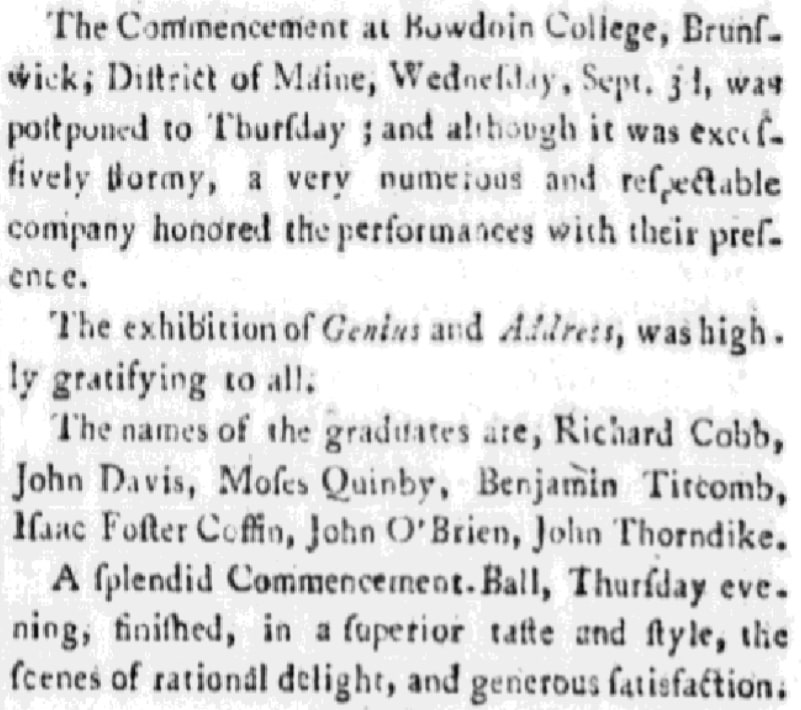 The others listed are Richard Cobb, John Davis, Isaac Foster Coffin, John O'Brien, and John Thorndike. These men were among the first to graduate from the college.
Moses studied law and worked in the office of Stephen Longfellow. In 1809 he married Anne Titcomb, daughter of Andrew Philip Titcomb and Mary Dole; granddaughter of Benjamin Titcomb and Anne Pearson; great granddaughter of Moses Pearson and Sarah Titcomb; gr. great granddaughter of William Titcomb and Ann Cottle.
In 1880 relics from the family were displayed at the Broad Tavern. The Portland Daily Press covered the event.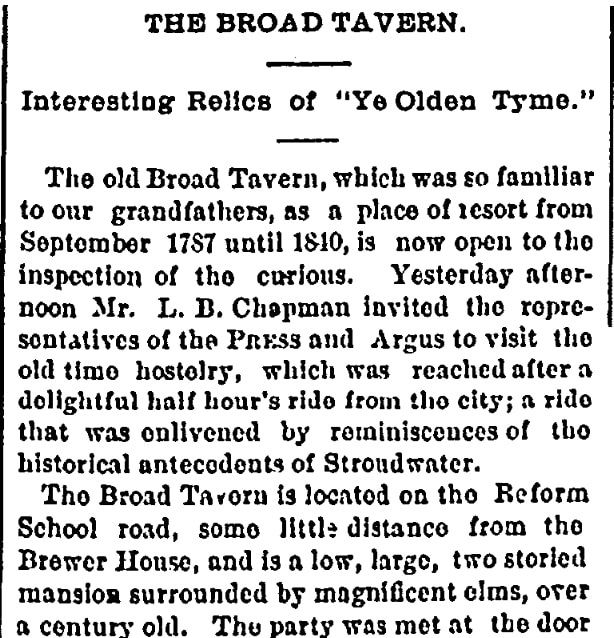 Leonard Bond Chapman invited the press to tour the old tavern, which had been shut down since 1840, and see some of the relics. Later, Chapman would donate a scrap book of images and narration on the event to the Maine Historical Society.
The hostesses who gave tours that day were Miss Ann Broad, a lineal descendant of Captain Silas Broad, along with Mrs. Quinby, Miss Quinby, and Miss Fickett.
This was a treat for many to see where their ancestors had tarried. Some of the mementos mentioned in the article included a silver plate once owned by Moses Pearson in 1766 and a silver tankard whose original owner was William and Anne Titcomb.
The history of these objects were detailed by the great grandson of Moses Quinby, Henry Cole Quinby (1872-1922), in his New England Family History Magazine articles. Below is an image of the plate and tankard along with other items which descended into the Quinby family.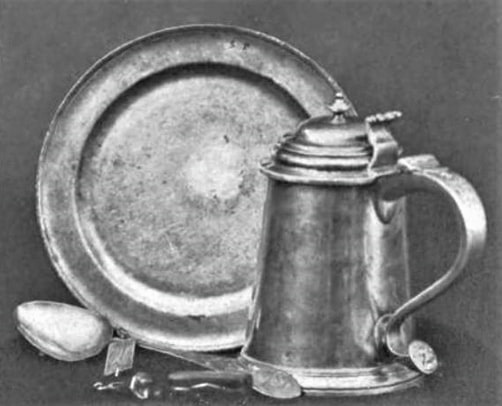 The silver (pewter) plate was part of a dining set owned and used by Moses Pearson and his wife Sarah Titcomb (born in 1693 in Newbury, Massachusetts). The silver tankard bears the initials of W. A. for William Titcomb and his wife Anne Cottle of Newbury, who were married in 1683.
There is also a silver spoon owned by Captain John Quinby and bears his initials. According to Agreeable Situations: Society, Commerce, and Art in Southern Maine, 1780-1830, Captain Quinby bought six silver tablespoons for $19 from silver maker William Homes while on a trip to Boston. (Laura Fecych Sprague, p. 199)
A portrait of Rev. Benjamin Titcomb that is still in the Portland Library Collection in Maine was gifted by his son Moses Titcomb to the city of Portland in 1873.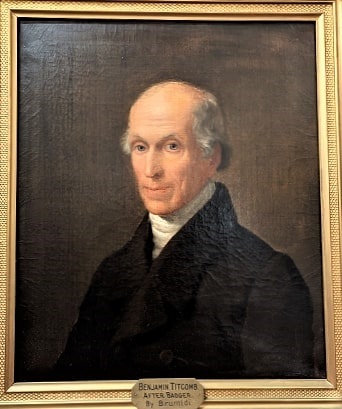 Rev. Titcomb was the son of Benjamin Titcomb and Anne Pearson, and married Mary C. Fairfield. Moses (1801-1881) was among the many children born to the couple.
The Daily Morning Chronicle provided the provenance of two paintings given by Moses.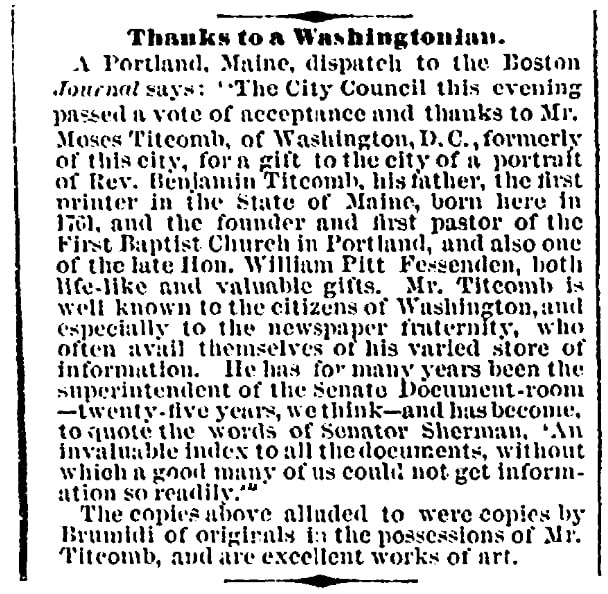 This article reported:
The City Council this evening passed a vote of acceptance and thanks to Mr. Moses Titcomb, of Washington, D.C., formerly of this city, for a gift to the city of a portrait of Rev. Benjamin Titcomb, his father, the first printer in the state of Maine, born here in 1761, and the founder and first pastor of the first Baptist Church in Portland, and also one of the late Hon. William Pitt Fessenden, both life-like and valuable gifts.

Mr. Titcomb is well known to the citizens of Washington, and especially to the newspaper fraternity, who often avail themselves of his varied store of information.

He has for many years been the superintendent of the Senate Document Room – twenty-five years, we think – and has become, to quote the words of Senator Sherman, "An invaluable index to all the documents, without which a good many of us could not get information so readily."
The artist Constantino Brumidi, best known for the murals he painted in the United States Capitol, had formed a friendship with Moses while he was the superintendent of the Senate Document Room.
Stay tuned for more!
Explore over 330 years of newspapers and historical records in GenealogyBank. Discover your family story! Start a 7-Day Free Trial
Note on the header image: portrait of Deacon Benjamin Titcomb (1726-1798). Signed, dated and inscribed "Painted by John Brewster 1798." Courtesy of Skinner Auction House. Read more history at Trio Of Americana Collections  Drives $1.3 Million Sale At Skinner.