Introduction: In this article, Melissa Davenport Berry writes about the successful, independent maverick Annie Webster of Amesbury, Massachusetts. Melissa is a genealogist who has a blog, AnceStory Archives, and a Facebook group, New England Family Genealogy and History.
A former resident of Amesbury, Massachusetts, Annie Esther Webster (1879-1964) aka "The Boss," was the first woman to serve as a selectman, receive a driver's license, and operate her own automobile. Her service to the community and her independent spirit is to be applauded. Perhaps her most distinctive duty came when she rallied the community to wage war on a whiskey distillery to preserve the reputation of a famed resident poet – John Greenleaf Whittier.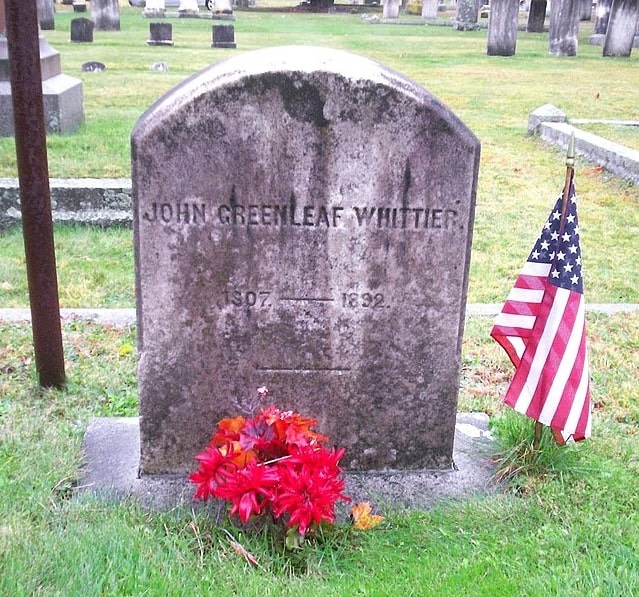 Annie, born to Daniel Webster and Hannah Newell Collins, was a descendant from the sturdy stock of Salisbury's first settler families: Colby, Fowler, Osgood, Eaton, Gould, the infamous Hannah Duston, and the prominent orator, lawyer, and U. S. Congressman Daniel Webster.
Her family owned the Webster building on Main Street in town, where her mother ran a millinery shop which became a dry goods store. Annie later operated a women's gear and household goods shop selling everything from pins to pillow slips.
In 1942 she sold the building to Francis and Evangeline Hession, owners of the famous "Evangeline's" clothing store.
In the 1930s Annie purchased the meat and grocery business of the Burbank brothers: Perry, Wilbur, and George Randall. Jonathan C. Wadley managed it.
During the Depression years Annie and her friend Grace Barella Carr distributed surplus milk from local dairy farms to needy families. This inspired a wave of local grocers to follow her lead and establish food banks.
Annie was the administrator for the federal emergency relief program (FERA) and developed projects for much-needed employment. The police placed Annie on their payroll as the FERA cop.
Annie gave great comfort to her neighbors, including Susan Sibley, who was one of Amesbury's noted centenarians at the time. Sibley was blind so Annie read the news to her every day.
Annie prodded Secretary Knox and the Naval Affairs Committee to secure the safety and security of the New England coast by adding additional reinforcements.
In 1933 Annie was elected as one of the three selectmen in town, and a year later she was named Chairman of the Board.
In an interview with the Boston Herald, Annie claimed a woman can be successful in small town politics and be a good politician if she put the needs of the public before her own.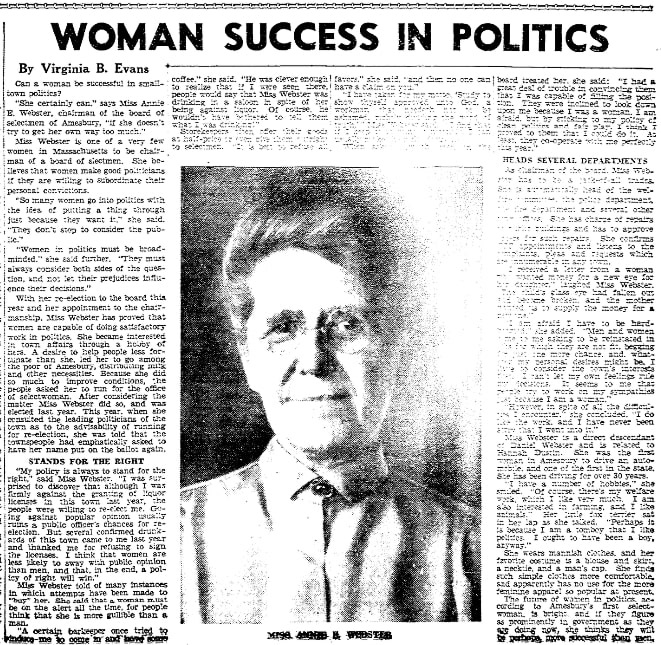 Annie noted she cannot be bribed, nor would she ever take advantage of half-price discounts on items offered to her from store owners in town because of her position. She did not want to be indebted to anyone.
This article reported:
"Women in politics must be broad minded," she said further. "They must always consider both sides of the question, and not let their prejudices influence their decisions."

…"My policy is always to stand for the right," said Miss Webster. "I was surprised to discover that although I was firmly against the granting of liquor licenses in this town last year, the people were willing to re-elect me. Going against popular opinion usually ruins a public officer's chances for re-election. But several confirmed drunkards of this town came to me last year and thanked me for refusing to sign the licenses. I think that women are less likely to sway with public opinion than men, and that, in the end, a policy of right will win."
And on that saucy note came her most bold move.
In 1937 Annie waged a protest against the National Distillers company for exploiting Amesbury's Quaker poet and abolitionist John Greenleaf Whittier by using his image and signature to promote sales of Old Taylor straight bourbon whiskey.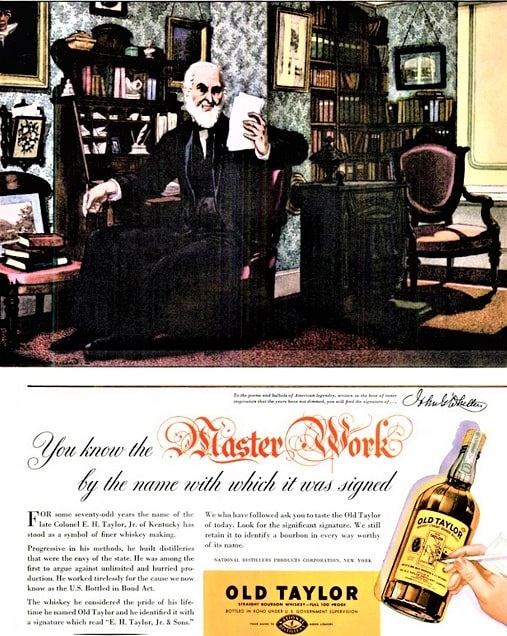 The image in the advertisement showed Whittier sitting at his desk at his home on 86 Friend Street in Amesbury. The ad campaign appeared in major publications such as Life magazine. Whittier had died in 1892 and was never a tippler.
According to sources, Annie rounded up over 50 petitioners and was urging more to rally for her cause.
Annie believed the ad was misleading and a defilement of Whittier's memory. She and her family knew Whittier well. Her grandfather, Dr. Hiram Collins, was his personal physician and good friend.
The right-hand man in this crusade was John F. Kellett, a reporter for the Haverhill Gazette whose family were old friends of the poet as well.
The petition that Annie was promoting read as follows:
"We the citizens of Amesbury wish to enter our protest in having a picture and autograph of our late poet, the most beloved and honored citizen also of New England, used in connection with an advertisement for the sale of whiskey.

"John Greenleaf Whittier stood for the highest and noblest things in life, and if he were here today, he would not allow his name to be used in anything of the kind. He stood for those principles which would lift mankind, and we sincerely trust that in the future you will refrain from using his signature and portrait in any advertisement such as this."
The campaign was a success and Whittier was removed from future whiskey ads. The poet's presence is still celebrated today by a large mural on Main Street painted by artist Jon P. Mooers.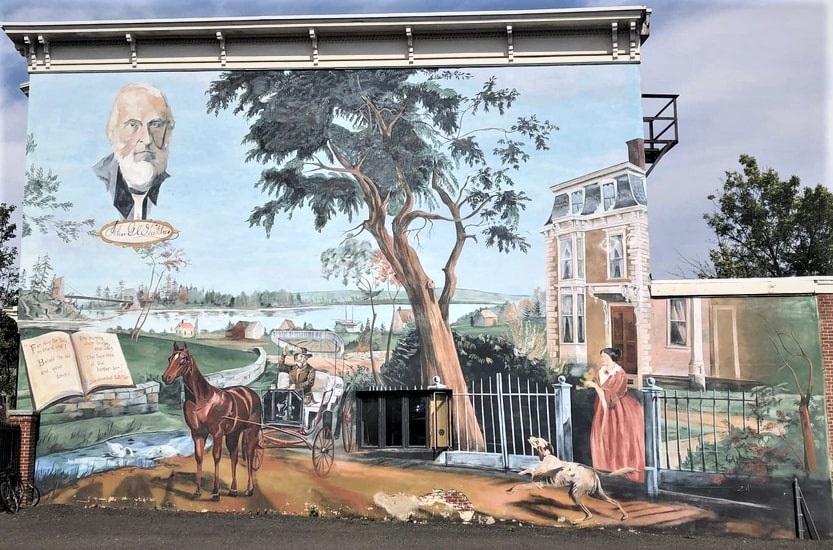 Annie died in 1964 and left the bulk of her $68,000 estate to her four-legged friends. Yes, her prime beneficiaries were her cats and dogs.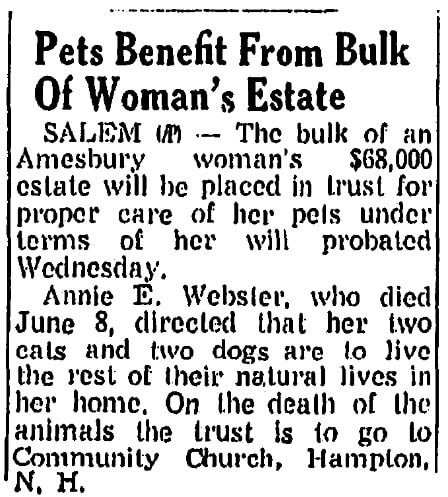 Ronald A. Woodwell, a friend and local historian, was the executor who honored Annie's wishes, and the furry companions lived high on the hog at 54 Market Street. Each pet was given a proper burial upon their death.
Tippy, the last surviving heiress, did relocate to Epping, New Hampshire, shortly before she died in September 1977. Her obituary was published in the local newspapers, which noted she was Annie's favorite cat.
The Patriot Ledger had a play at the event with the headline "Hampton Beach Church Gets Tippy's Estate," reporting that the wealthy cat left its annual income of $7,000 to the church.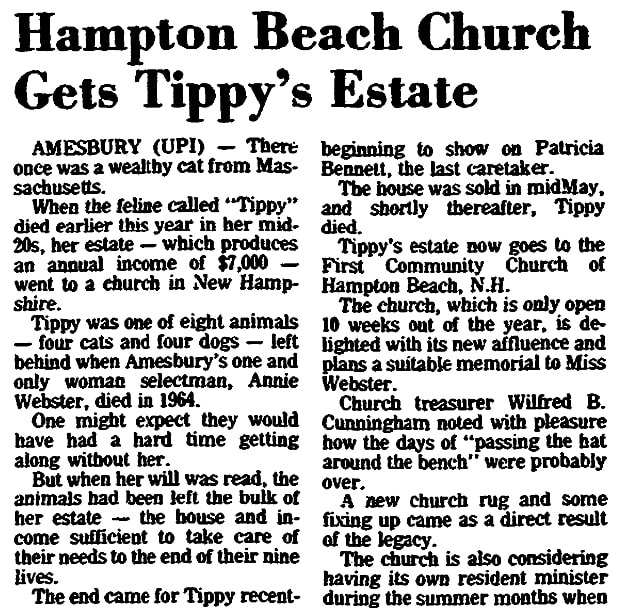 Learn more about Amesbury and Annie from Margery Walker's "Legendary Locals of Amesbury."
Explore over 330 years of newspapers and historical records in GenealogyBank. Discover your family story! Start a 7-Day Free Trial
Note on the header image: Annie Esther Webster. Courtesy of Amesbury Public Library Archival Center, Amesbury, Massachusetts.
Additional Source:
Amesbury Daily News, 24 October 1977