Introduction: In this article, Gena Philibert-Ortega provides tips and links to get you ready for RootsTech 2019 in Salt Lake City, Utah, whether you're attending in person or participating online from home. Gena is a genealogist and author of the book "From the Family Kitchen."
It's that time of the year when family historians gather en masse in Salt Lake City, Utah, to take part in RootsTech. Hosted by FamilySearch, RootsTech is the largest gathering of family historians in the United States. Part conference, part genealogy party, RootsTech brings together 300 presentations, keynote speakers, a gigantic expo hall, and events all held at the Salt Palace Convention Center.
This year the conference is from February 27 to March 2, and it promises to offer a little bit of something for every family historian, no matter what your experience is. In addition to everything else going on, we will be there to help you learn more about GenealogyBank and succeed in finding your ancestors.
If you're attending RootsTech, there is a lot to get ready for with all the conference has to offer, plus research at the Family History Library across the street. But if you plan to "attend" from home, it's a good idea to prepare for the conference as well. Here are some tips to consider as we head towards the big event.
Download the App
RootsTech has a free mobile app – and for conference participants, it's a must. Speaker information, schedules, information about local restaurants, and even the ability to connect with other attendees makes downloading this tool a priority as you plan your time at the conference. But the app is also important for those who are not attending RootsTech in person. With the app, you can peruse the conference schedule, download handouts, and learn more about what's going on. Session handouts provide you resources and links to websites that are important for all family historians to know. So, consider downloading the app even if you aren't attending the conference in person.
Follow Along on Twitter
I use Twitter every day for learning more about genealogy and connecting with other researchers. It's probably no surprise that I'm a big fan of following Twitter posts with the RootsTech hashtag (#RootsTech). You will also want to follow #NotAtRootsTech to hear from those who are watching from home.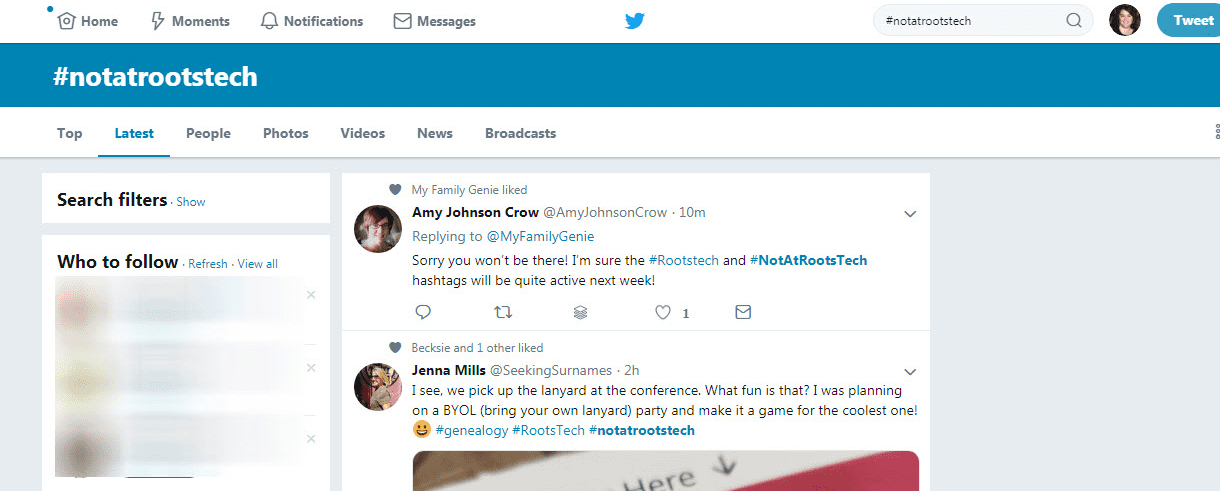 These tweeters provide valuable insight, and it's a great way to find a community of genealogists to follow on Twitter for ongoing research insight, resources, and assistance. Also, don't forget to follow GenealogyBank (@GenealogyBank) and the RootsTech Conference (@RootsTechConf) accounts.
Attending RootsTech
For those attending RootsTech, I highly recommend that you decide now, before you leave home, what you want to attend in the way of presentations. Remember that rooms can fill up quickly, so you may want to have a Plan B in case you don't find a seat in your preferred presentation. Consult the app or the RootsTech website for the conference schedule and plot out what are your must-see presentations. Remember to also make time for the Expo Hall, visiting, eating, and resting (a big conference means a lot of walking, standing, and waiting in lines).
Attend from Home
For those at home, you can "attend" RootsTech virtually. The free option allows you to view the live stream which includes 5-6 sessions each day. You can see this schedule on the RootsTech Free Live Stream Schedule web page. There are also a number of free recorded videos that will not be shown live but will be available after the conclusion of the conference. This list is also available on the live stream schedule page.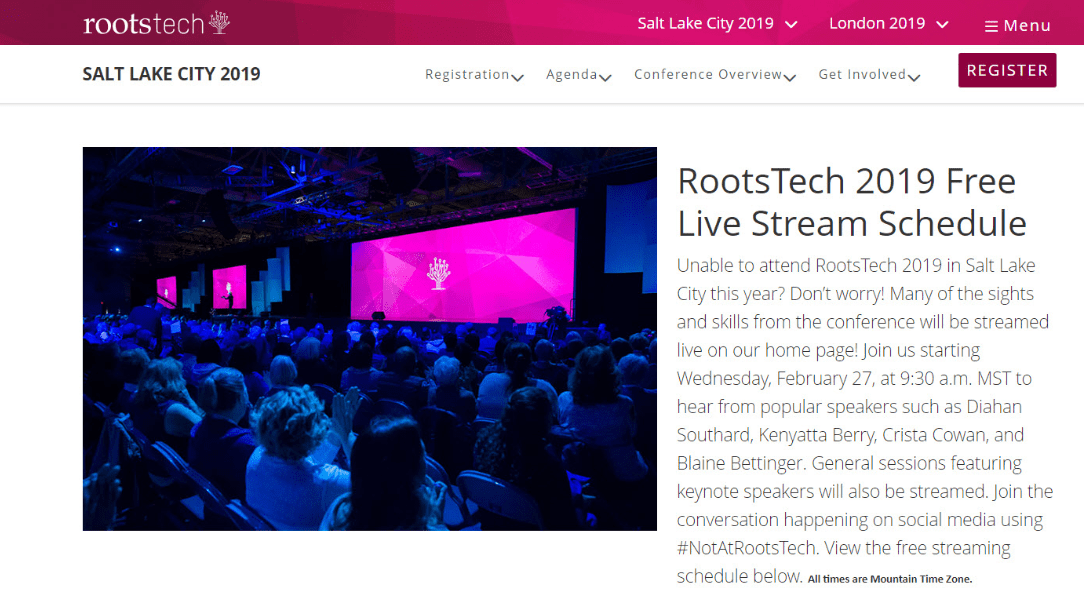 Finally, there is a paid virtual option available to both attendees and those at home called a Virtual Pass. With this Pass, you will have access to 18 recorded sessions (in addition to those offered for free) that can be accessed anytime you want for up to 12 months. These sessions are available 10-15 days after the conclusion of the conference. These sessions are not live streamed, but instead recorded and edited. For more information see the RootsTech Virtual Pass web page.
We Will See You There!
One of the best things about a genealogy conference is that it provides attendees the ability to network, learn, and become inspired. GenealogyBank is looking forward to RootsTech 2019 because it allows us to get to know you and help you find your ancestors using something we love: historical newspapers. Come visit the GenealogyBank team at Booth #1025. Our trained staff would love to meet you, and are prepared to help with your family history questions.
Attend the Presentation by GenealogyBank's Own Scott Spencer
If you're in attendance at RootsTech, make sure to add Session RT3884 to your schedule.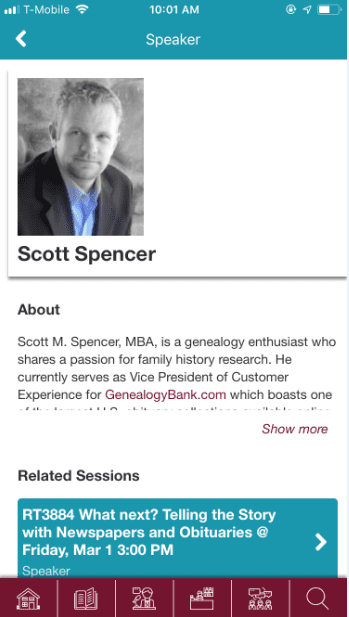 GenealogyBank Vice President of Customer Experience, Scott Spencer, will be presenting "What Next? Telling the Story with Newspapers and Obituaries" on Friday, March 1, at 3:00 pm. Find the handout in the RootsTech app by clicking on Speakers and then search for Scott Spencer.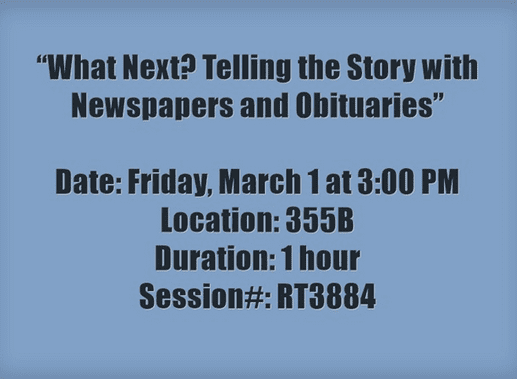 Going to RootsTech? Great! We hope to see you there. Not attending? That's ok, there are plenty of ways for you to still benefit from the education found at this yearly event. And remember, there is always RootsTech London 2019 and RootsTech 2020 in Salt Lake City that you can start planning for.
Related Article: