Introduction: In this article, Melissa Davenport Berry provides yet more stories about out-of-wedlock births in some of the earliest colonial settlements in America. Melissa is a genealogist who has a blog, AnceStory Archives, and a Facebook group, New England Family Genealogy and History.
Today I bring more paternity dramas brought to you by the Massachusetts Bay Colony residents of Salisbury and Amesbury, most of whom are the descendants of the towns' founding families.
To recap: Melinde Lutz Sanborn's book Lost Babes: Fornication Abstracts from Court Records, Essex County, Massachusetts, 1692-1745 helped me to locate the original Court records, 1686-1726.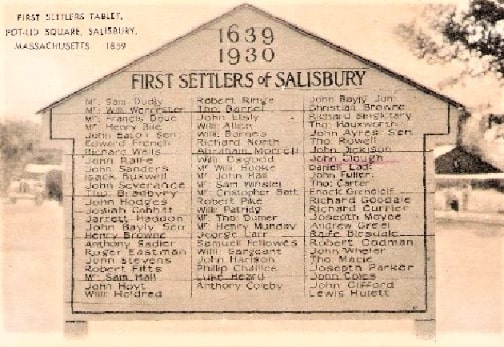 In some cases the child is easy to trace, but other babes born out of wedlock remain a mystery.
On 27 September 1692, John Hoyt (married to Mary Barnes) appeared in court on behalf of his daughter Rachel Hoyt, accusing Joseph Weed (son of John Weed and Deborah Winsley) of fathering her child. Weed confessed and the court fined him 40s for the crime of fornication and ordered him to pay maintenance for the child until he married Rachel.
Rachel was also fined 40s for the crime of fornication. Rachel and Joseph married on 29 November1693. The child, Johanna Weed, was born on 18 May 1692 in Amesbury. She married Nathaniel Hazeltine, son of Lt. Samuel Hazeltine and Deborah Cooper of Bradford, on 24 June 1713, leaving descendants.
In another case, Mary Stevens of Amesbury was charged with fornication on 26 June 1711 and named Henry Flood as the father.
Flood was ordered to pay 46 weeks of maintenance and bond on the child, Anne Flood, born on 18 March 1711.
Henry was the son of Philip Flood of Newbury and moved to Amesbury in 1710. Mary was the daughter of John Stevens and Mary Jameson, and the granddaughter of Susannah (nee North) Martin – who was a victim of the 1692 Salem witchcraft hysteria. She was tried and convicted on 29 June 1692, and sentenced to death. She was hanged on July 19 at Proctor's Ledge at Gallows Hill.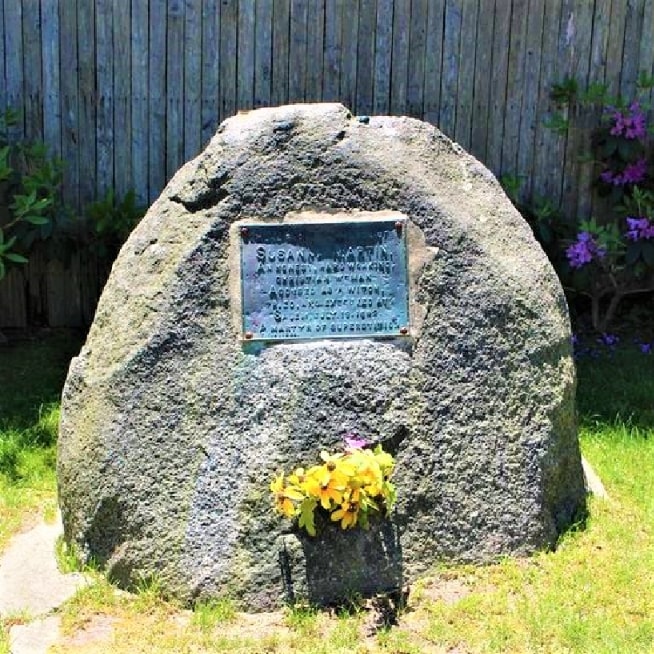 Mary and Henry had filed their intentions to marry in Amesbury back on 30 December 1710. However, Henry was not the church-going type of guy – so one can guess when the two made it to the altar.
In the court records, Henry is cited several times for "willingly absenting from public worship on the Lord's Day," and usually had a sidekick with him. For example, Henry Flood and Joseph Fowler were nabbed for frequent absence at public worship. Both were ordered to pay heavy fines and court costs – and to sit in the stocks for two hours each.
According to other records, Henry and Mary had more children. Among them is Andrew Flood, who married Sarah Hopkinson, resided in Maine, and left many descendants.
In Amesbury more paternity cases popped up, with Susannah Martin's descendants born to her granddaughter Sarah Hadlock (daughter of James Hadlock and Abigail Martin), who married Francis George.
At least three of the George children born to Francis and Sarah were convicted of fornication and birthing children out of wedlock.
The first George case I found was on 27 September 1737, when Martha Colby of Amesbury accused Humphrey George of fathering her child.
Martha confessed and pleaded guilty to the crime of fornication with Humphrey, who fathered her female child born in June 1737. She was ordered to pay 50s to the court for fine and fees.
Humphrey denied the claim, but Martha had made an oath to Mary Colby (the midwife during her time in labor) naming him as father. Also present to witness Martha naming Humphrey were Hannah Weed (daughter of Cormac Annis and Sarah Chase; wife of Ephraim Weed) and Dorothy Bagley (daughter of John Harvey and Sarah Barnes; wife of Orlando Bagley).
Humphrey was ordered to pay 4 shillings and six pence toward maintenance of the child from birth and going forward, until further notice.
Second George case: Lydia George pleaded guilty to the crime of fornication in a September 1735 court session. The child was born in March of that year. She was fined 30s. No father was named. Lydia married Caleb Hobbs Jr., son of Caleb Hobbs Sr. and Deborah Weed.
Caleb was another lad who skipped out on church service. He is found in the Amesbury First Church records, along with Ricard Hoyt, for scandal and suspense (drunkenness and absenting service). He repented and met with minister Edmund March, but within a few weeks was back pleading for more salvation.
Third George case: Abigail George was fined 50s for her child born in April 1734. She never married and there is no information on her babe.
In yet another case, Ephraim Eaton was accused of fathering a child born to "spinster" Sarah Hutchins, daughter of Samuel Hutchins, and was ordered by the court on 11 April 1727 to pay maintenance on a female child born in February that year. A fine of 50s is on record.
Ephraim was the son of Ephraim Eaton and Mary True (daughter of Capt. Henry True and Jane Bradbury), and a grandson of Thomas Bradbury and his wife Mary Perkins. Mary was jailed for witchery during the 1692 Salem witch hysteria but escaped the rope.
Ephraim's uncle, Capt. Joseph Eaton, was one of the subjects in my last article in this series. See: Paternity Drama in Colonial America (part 3). He fathered a child with Susannah Long while he was married to another. I mention this because I think Ephraim may have a bit of denial going on.
I found another charge of fornication for Sarah Hutchins in the court record for 29 September 1729. She was ordered to pay court fees and a fine.
Later in that session the court, after reading the petition of Sarah, ordered Ephraim to appear before the court in the next session for this new charge of fornication and fathering her son. In addition, he was cited for not paying maintenance fees imposed on him in 1727 for the first child.
I found a birth record for that second child Ephraim Hutchins, 6 October 1731 – but that must be a baptism date. According to the court record, the child was born in February 1729. The only parent listed is Sarah Hutchins. Ephraim defaulted and his brother Samuel Eaton appeared before the court a few months later. No further information to date.
Stay tuned for more!
Explore over 330 years of newspapers and historical records in GenealogyBank. Discover your family story! Start a 7-Day Free Trial
Note on the header image: cradle that belonged to Susannah (North) Martin, given to Anthony Colby family and now located in the Communion Room at the Macy-Colby historic house site. With all these intermarriages and paternity cases, I have no doubt this cradle rocked many babes! Courtesy of the Macy-Colby House, Main Street, Amesbury, Massachusetts.
Related Articles: