It's been eight years now since the world was saddened by the suicide of Robin McLaurin Williams (1951-2014), the man whose gifts as a comedian and actor brought joy to millions of us – yet whose own battle with depression drove him to end his life on 11 August 2014, at the age of 63.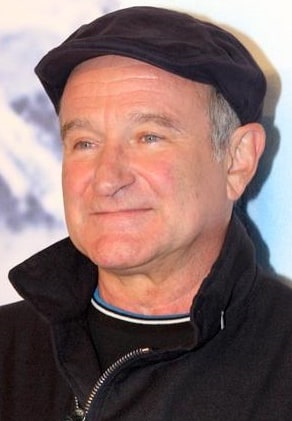 Williams was an extraordinary stand-up comic, with a dazzlingly quick mind and a genius for improvisation.
He was also an accomplished actor, starring in such moves as Good Morning Vietnam, Dead Poets Society, Mrs. Doubtfire, and Good Will Hunting. In his career, Williams was nominated for four Academy Awards, winning Best Supporting Actor for his performance in Good Will Hunting. He also received six Golden Globe Awards, two Screen Actors Guild Awards, two Primetime Emmy Awards, and five Grammy Awards.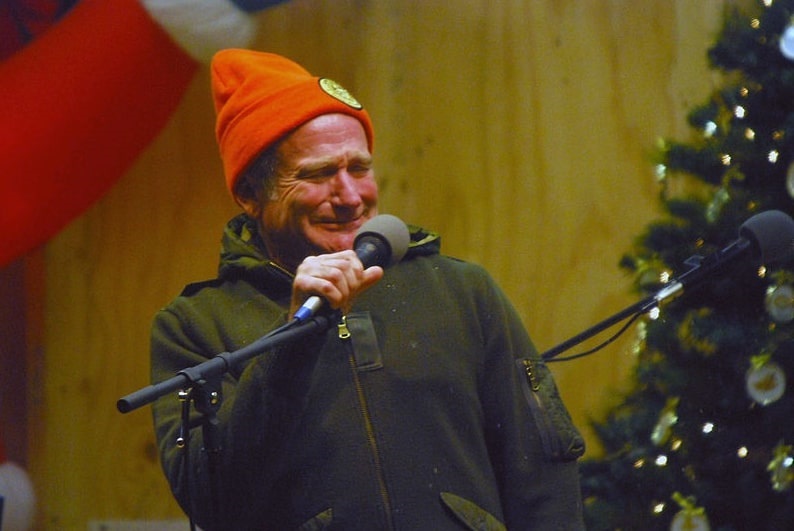 Here is a tribute by Kayla Pongrac that was published two days after Robin Williams' death.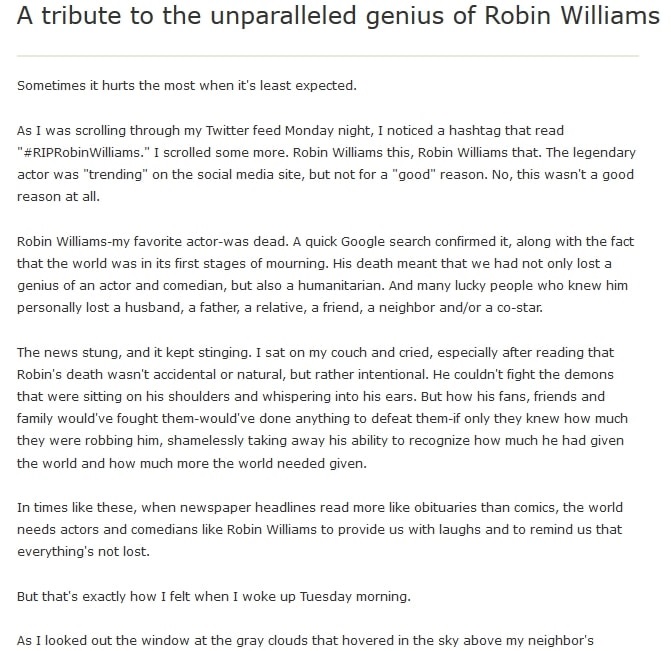 Here is a transcription of this article:
A Tribute to the Unparalleled Genius of Robin Williams
Sometimes it hurts the most when it's least expected.
As I was scrolling through my Twitter feed Monday night, I noticed a hashtag that read "RIPRobinWilliams." I scrolled some more Robin Williams this, Robin Williams that. The legendary actor was "trending" on the social media site, but not for a "good" reason. No, this wasn't a good reason at all.
Robin Williams – my favorite actor – was dead. A quick Google search confirmed it, along with the fact that the world was in its first stages of mourning. His death meant that we had not only lost a genius of an actor and comedian, but also a humanitarian. And many lucky people who knew him personally lost a husband, a father, a relative, a friend, a neighbor and/or a co-star.
The news stung, and it kept stinging. I sat on my couch and cried, especially after reading that Robin's death wasn't accidental or natural, but rather intentional. He couldn't fight the demons that were sitting on his shoulders and whispering into his ears. But how his fans, friends and family would've fought them – would've done anything to defeat them – if only they knew how much they were robbing him, shamelessly taking away his ability to recognize how much he had given the world and how much more the world needed given.
In times like these, when newspaper headlines read more like obituaries than comics, the world needs actors and comedians like Robin Williams to provide us with laughs and to remind us that everything's not lost.
But that's exactly how I felt when I woke up Tuesday morning.
As I looked out the window at the gray clouds that hovered in the sky above my neighbor's house, I wondered if anyone else was convinced that the world had shrunk in size. Everything suddenly seemed quieter, lonelier and smaller in diameter.
I wondered what the news outlets would have to say about Robin – what kinds of words would be written or photos would be posted to help comfort his fans young and old. One such photo, posted on Twitter by The Academy of Motion Picture Arts and Sciences, showed the Disney character Aladdin hugging the Robin Williams-voiced Genie. The caption read, "Genie, you're free."
I remembered reading Philip Seymour Hoffman's postscript in "The New Yorker" back in February (Hoffman was, of course, another talented actor that we lost this year, and also far too soon). The piece, written by Anthony Lane, was stunning. What will they say about Robin Williams? His career, like Hoffman's, was impressive. Robin took on roles that not only challenged him, but also his fellow characters and even his audiences.
What also impressed me was that Robin sometimes declined credit for his work. Take 1988's "The Adventures of Baron Munchausen," for example. He appears in that movie, all right, but you won't find his name in the credits. The same is true for a few other movies in his filmography. In my opinion, not a lot of artists are willing to let their names go, well, unnamed. Robin, however was different; he proved that just because credit is due doesn't mean that it always has to be.
Like many kids who grew up in the 1990s, I pushed my "Mrs. Doubtfire" VHS tape into the VCR and watched each scene as if I was seeing the movie for the first time. Same went for "Flubber," "Jumanji," "Aladdin," "Jack," "Patch Adams" and "Bicentennial Man." All of these movies were part of my childhood, which means that, in turn, Robin Williams became part of my childhood. And I was better for that. I have always been better for that.
"Robin Williams tour" had been a saved search on my iPhone for almost two years. I wanted to purchase tickets to one of his stand-up comedy shows had he decided to tour again, and I wanted to meet him. I had a "crush" on Robin – an innocent crush – the kind of crush that had I met him, I would've blushed while trying to untangle my tongue so that I could tell him that his lovable characters and their zany antics kept me company when I played hookie from school. Kept me laughing after I had lost an uncle to a brain tumor. Kept me entertained when the snow caused me to hibernate. Kept me grateful to be alive so that I could "carpe diem: seize the day."
Perhaps that is what makes Robin's death so unfathomable: he had so many more days left to seize.