Did you know Pilgrim Stephen Hopkins vacationed in Bermuda before he came over on the Mayflower? I didn't know that!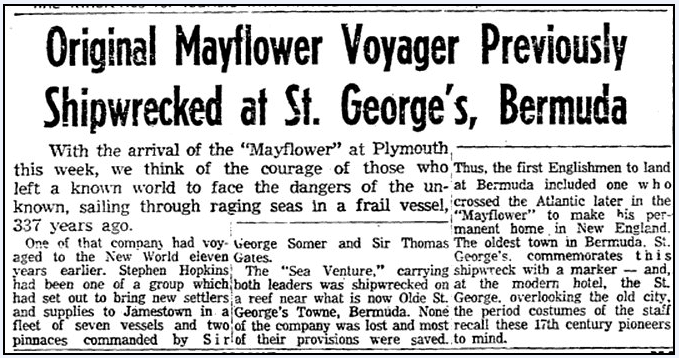 Well, it wasn't exactly a vacation—but Pilgrim Stephen Hopkins lived on the island of Bermuda for over a year, from 1609 to 1610. Below are some interesting facts about Stephen Hopkins and his connection to the Mayflower.
Eleven years before he left England headed for America in 1620 on board the Mayflower, Hopkins left 2 June 1609 on the ship Sea Venture headed for Jamestown with supplies and a new governor for the colony. The Sea Venture hit a storm on 24 July 1609 and was shipwrecked off of Bermuda. Hopkins and others on board survived and remained for over a year on Bermuda while building a new seaworthy boat that they could use to complete their trip to Jamestown. Soon after he arrived in Jamestown, the colony was evacuated back to England.
Key Skills Learned, Critical for the Mayflower Voyage
Stephen Hopkins, a Mayflower passenger, picked up critical skills and experience on that ill-fated 1609 voyage. He was one of the few Mayflower Pilgrims with experience at sea. He had survived a shipwreck, and knew what it took to be resourceful in extreme conditions in order to build a seaworthy ship to continue the voyage to America.
Perhaps the most critical skill he learned in 1609-1610 was to speak multiple Native American languages. He gained invaluable experience in getting to know and work with Native Americans. This experience would be pivotal 10 years later when the Pilgrims worked with Squanto and the local Native Americans in Plymouth Colony.
Pilgrim Stephen Hopkins liked his experience in Bermuda and Jamestown so much that he really wanted to go back to America.
So in 1620 he left along with 130 +/- other passengers and crew on the Mayflower to make the 66-day trip to America. It is estimated that today there are as many as 30 million Americans who are Mayflower descendants, although most are unaware of their ancestral tie to the founding of the country. Could you be one of Stephen Hopkins Mayflower descendents? Hopkins genealogy other passengers from the voyage have been researched through historical records and archives.
No Historical Coincidence?
They say there are no accidents or coincidences in life—that somehow seeming coincidences actually were critical to the way history turned out. One of those fortuitous coincidences was that Squanto and other members of his tribe were brought to England where they were trained in English to become interpreters. His language skills and life experience in England were critical to the success of the Pilgrim Colony, and helped frame the 50 years that followed of relative peace between the colonists and the Native Americans. Not many people have such a critical impact on the life and history of other people during their own lifetimes, let alone an impact that we revere to this day.
Newspapers Contain Our Long-Lost Family Stories
You can learn so much about your family in GenealogyBank's Historical Newspaper Archives.
Historical newspapers contain the stories and details of the lives of every one of our ancestors, many of them lost for generations.
Dig in and find your family's stories—don't let them remain lost to the family.
Related Mayflower Articles & Resources: