In my last post, I wrote about my search to learn more about my third-great-uncle Aretus Haskell (1811-1895). In that article, I included a clip from the Greenwood Genealogy that helped me to learn more about Aretus' life and family.
From this clip I learned that Aretus' daughter Helen Rosamond Haskell (1837-1885) has an interesting and tragic story as well:
"Helen Rosamond (Haskell)… [married] …Charles Haskell (an own cousin to his wife's father) a farmer in Readfield, Me., both beautiful singers and pianists. He enlisted in 1862 in the war against the Rebellion as a private in the 3d Maine regiment; rose to second lieutenant, wounded in the first battle he was in, in Virginia, and d. before his father-in-law could reach him. They had one child who d. in infancy and the widow went to New Jersey with her parents."
Interested in learning more about this couple, I searched for Charles B. Haskell (1828-1862) in GenealogyBank's Historical Newspaper Archives.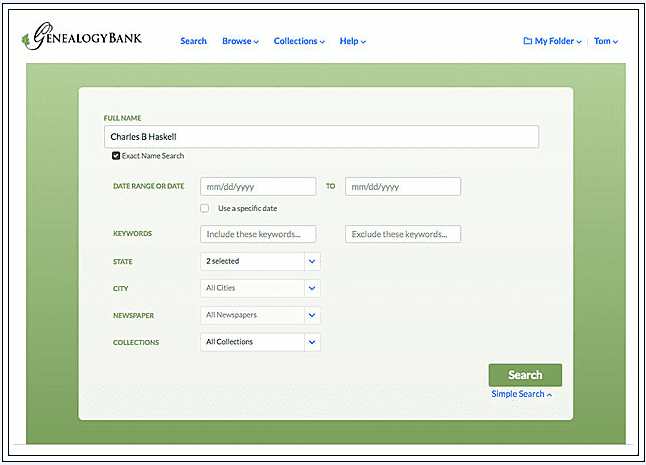 From the Greenwood Genealogy clip, I know that Charles lived in Maine and died in Virginia, so I searched for records in those two states specifically.
Among the first few search results, I located this beautifully written obituary about him.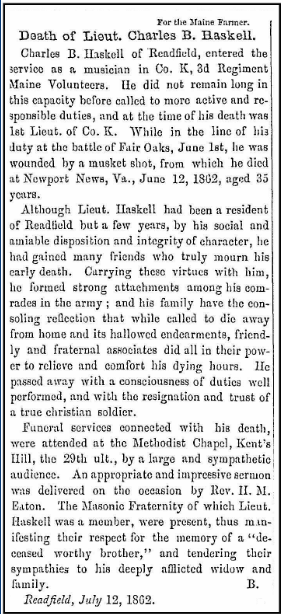 From the obituary I was able to learn a few more details about Charles' military service and subsequent death:
"Charles B. Haskell of Readfield, entered the service as a musician in Co. K, 3d Regiment Maine Volunteers. He did not remain long in this capacity before called to more active and responsible duties, and at the time of his death was 1st Lieut. of Co. K. While in the line of his duty at the battle of Fair Oaks, June 1st, he was wounded by a musket shot, from which he died at Newport News, Va., June 12, 1862, aged 35 years."
The next part of the obituary tells more about Charles' life and character:
"Although Lieut. Haskell had been a resident of Readfield but a few years, by his social and amiable disposition and integrity of character, he had gained many friends who truly mourn his early death. Carrying these virtues with him, he formed strong attachments among his comrades in the army; and his family have the consoling reflection that while called to die away from home and its hallowed endearments, friendly and fraternal associates did all in their power to relieve and comfort his dying hours. He passed away with a consciousness of duties well performed, and with the resignation and trust of a true christian soldier."
Wow – what a glowing tribute. Charles must have been a very good man.
As mentioned above, after the death of Charles and their child, Helen moved with her parents to a farm in North Vineland, New Jersey, where she presumably lived out the rest of her life, dying at age 48 in 1885.
Thanks to the help of written family histories and GenealogyBank, I now know a lot more about these cousins and can add this information into their FamilySearch pages and my own notes.
Genealogy Tip: Use GenealogyBank articles to supplement the genealogy sources you already have at your disposal, like written family histories and passed-down family stories.
Related Article:
(Visited 46 times, 1 visits today)