Among the interesting branches of my family tree is the Haskell family of Cumberland County, Maine. My fourth-great-grandparents are Nathaniel Haskell (1763-1843) and Sarah Stevens (1767-?), who married in Gray, Cumberland County, Maine, in 1788.
I know quite a bit about their daughter Abigail Haskell (1803-1861) (my third-great-grandmother), but I didn't have any information about their son Aretus Haskell (1811-1895), so I decided to search GenealogyBank's Historical Newspaper Archives to see if I could find anything about him.
I started by running a simple search for Aretus' first and last names. Because of the unusual and therefore likely precise spelling of his first name, I was fairly confident that any results I found would be about my third-great-uncle.

Among the three results this search generated, I found an obituary for Aretus in the New York Herald.

Aretus' FamilySearch page also lists him as having died in New York, so this article is probably referring to him.
Also among the search results was a notice that Aretus had a letter remaining at the post office in Vineland, New Jersey.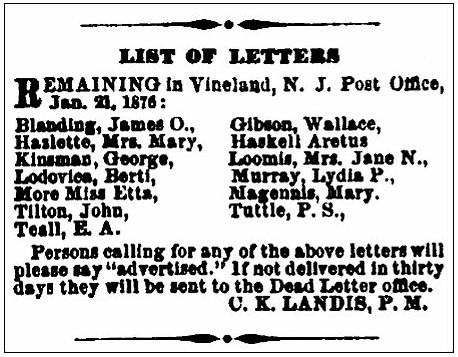 A good clue. I know that he was born in Maine and died in New York – perhaps Aretus also lived in Vineland, New Jersey?
A page from the Greenwood Genealogy that I located using Internet Archive proved to be the key I needed to piece together the puzzle of Aretus' life:
"Aretus Haskell… a farmer in Greenville, and later in Readfield, Me. After the death of their son-in-law, they moved with their widowed daughter to a small farm in North Vineland, N. J., where they enjoyed the filial affection and loving care of their daughter, whose death was an irreparable loss to her mother. After his wife died, being left entirely alone, he went to the Chapin Home in New York City, Feb 22, 1894, which he found very congenial in his loneliness, and d. July 27, 1895."
That confirms it. I now know that both of the articles I found refer to this Aretus Haskell – he was born in Maine, moved to Vineland, New Jersey, with his wife and daughter, and finally moved to New York City where he died in the Chapin Home.
I feel an ever-deeper connection to Aretus because his sister Abigail's portrait hangs in the hallway in my home.
So interesting that she's my third-great-grandmother, and yet after all this time I didn't have any of the details on her brother – until I looked for him in GenealogyBank.
Genealogy Tip: Searching for the siblings of your direct ancestors can allow you to find new information about your ancestors and feel more connected to everyone in your family.
(Visited 62 times, 1 visits today)