I knew my ancestor William Kemp had come to America – but I didn't know anything about the trip itself. What was it like for him as an immigrant traveling by passenger ship across the ocean to the new frontier?
Could GenealogyBank's Historical Newspaper Archives help me find the answer?
I knew that William came to America on board the ship Benjamin Adams, arriving 21 October 1853. He left from Liverpool, England, and arrived in New York City.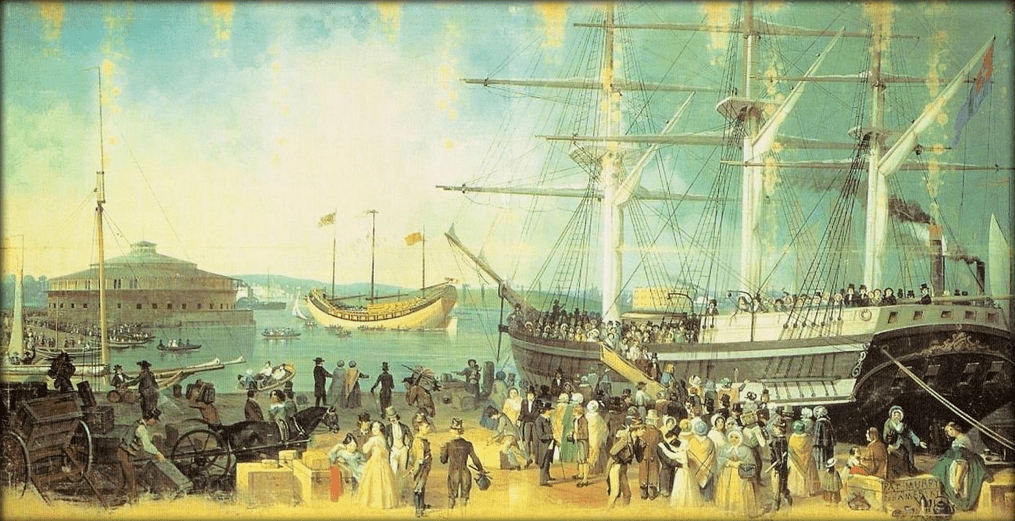 Since I knew that shipping was big business, I wondered if newspapers could tell me more about the movements of the Benjamin Adams and William's trip to America.
In testing my search I found that the name of the passenger ship appeared multiple ways in various newspaper articles – so I strategized that I needed to search every possible variation for any mention of the Benjamin Adams, from the spring to the fall of 1853, to make sure I didn't miss any articles.
To find all of the articles I needed to search GenealogyBank's archives using:
Benjamin Adams
Adams
Benj. Adams
Benj Adams
B. Adams
B Adams
This should give me all references to the passenger ship and William's voyage to America.
[search_box]
Here's what I found.
This Maine newspaper told me that by 23 August 1853, the passengers had boarded the Benjamin Adams and the ship was positioned "outward bound" in the Mersey River in Liverpool.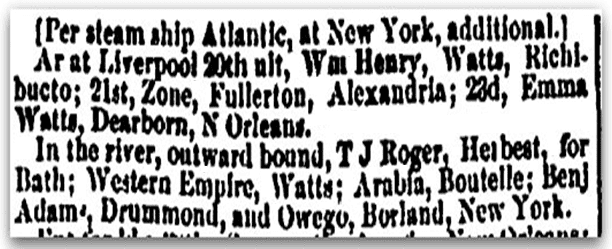 This Massachusetts newspaper gave me the critical fact that the ship sailed the next day – 24 August 1853. Wow – good to know.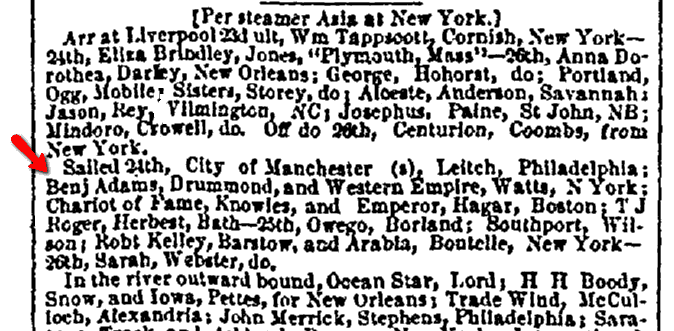 Next I looked for reports of the passenger ship arriving in America.
Here it is – this New York newspaper reported that the ship had docked in New York on 21 October 1853.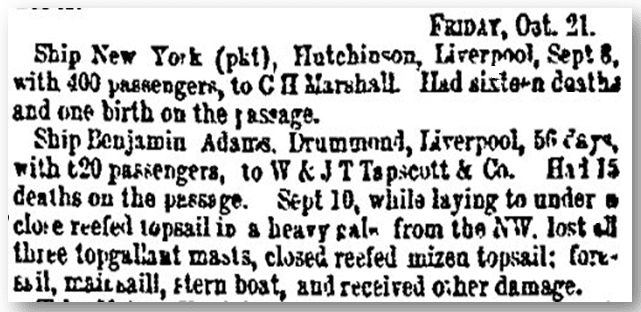 The trip to New York took 56 days. There were 620 passengers – but here's where the news turned more somber.
The old newspaper article reported:
Sept. 10, while laying to under a close reefed topsail in a heavy gale from the NW, lost all three topgallant masts, closed reefed mizzen topsail, foresail, mainsail, stern boat, and received other damage.
The ship was damaged in a fierce storm just 17 days after leaving Liverpool. The passengers must have been terrified – wondering if they were going to make it.
But there was more bad news:
Had 15 deaths on the passage.
Significant storm damage to the ship and 15 people died?
What?
Fifteen people died?
Wow. Was that normal on these trips? Why did so many die?
William was lucky to make it safely to America!
[search_box]
In a follow-up article a week later, the Weekly Herald explained why so many had died on the passage. These passengers just didn't die of random causes – they died from an outbreak of cholera, which struck  many ships.
…it is pretty certain that the disease which carried them off was cholera. ….The sickness on the Benjamin Adams was decidedly cholera.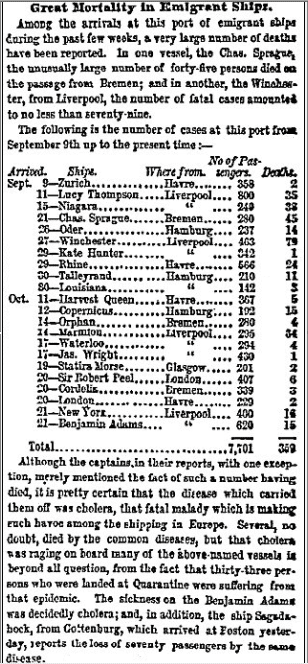 This was a tough trip.
GenealogyBank's newspapers continued to tell me more about William's trip.
This New York newspaper mentioned that the ship Benjamin Adams had arrived "from Syria."

From Syria?
I thought they left from Liverpool?
They did – but before arriving in Liverpool, the ship had been in Syria.
This Massachusetts newspaper told me that the Benjamin Adams had docked in Beirut, Syria, on 25 July 1853, before it went to Liverpool to pick up William Kemp and the other 619 passengers.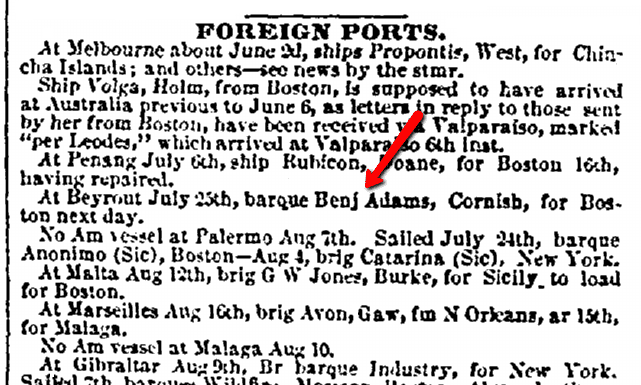 The reason for the trip to the Holy Land was explained in this Massachusetts newspaper. The Benjamin Adams picked up artifacts there to display at the World's Fair:  "an Arab plough and other agricultural implements for the World's Fair…canes from the banks of the Jordan, branches from the Mount of Olives and cedars of Lebanon…" and apparently somewhere along the way it picked up cholera.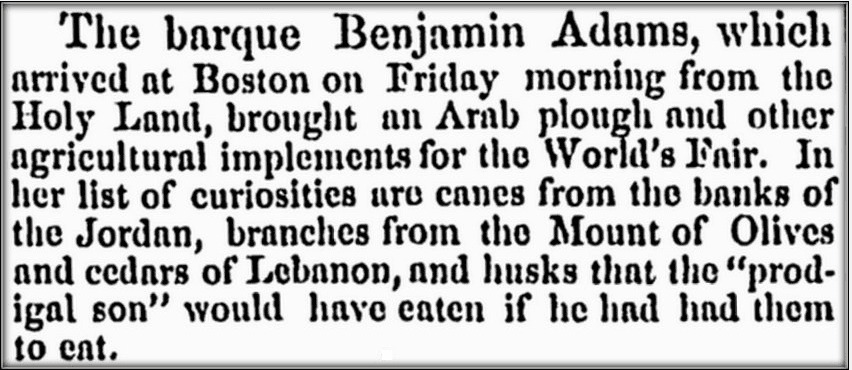 GenealogyBank doesn't just give you the names, dates and places for your family tree – it gives you the stories of our ancestors' lives.
You know when your ancestors arrived in America – dig in GenealogyBank and find out the rest of their stories.
Genealogy Tip: Search Wide Geo Areas
Did you notice a pattern with the newspaper articles in this blog post?
There were newspapers in Maine, New York, Massachusetts and beyond that reported on the Benjamin Adams. You want to search for this type of article and for the articles about your ancestors across all 8,000 of GenealogyBank's newspapers. To find these articles, you cannot limit your search to only the newspapers of one or two states. If you limit your search geographically, you might miss an article critical to the telling of your ancestor's story.
Related Articles:
[bottom_post_ad]