This obituary caught my eye for several reasons.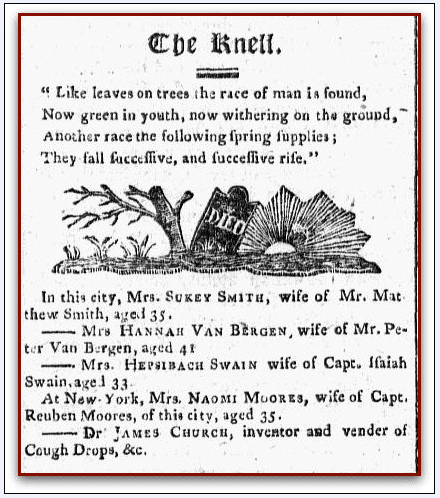 First is the header, with its poem and graphic.
"The Knell."
Not "Deaths" or "Died" – which are very common headers for obituary notices even today – but instead "The Knell," as in death knell.
Crisp. An excellent choice of words that immediately tells us this newspaper editor took time with the layout and content of each issue.
The poem also is on target to the newspaper's audience.
It is mournful but upbeat.
Next is the illustration, centered toward the top of the article.
It evokes an image of the somber tone of the obituaries we are going to read in this newspaper article.
The tombstone, leaning to the side – the setting sun – the barren tree – all framed by the grass and the outline of the ground.
Striking.
Remember – this was published in 1801. What a memorable graphic.
This is a good example of the care that "Sampson, Chittenden and Croswell" – the newspaper's publishers – took with this newspaper.
The other part of this obituary that caught my eye was the first death notice:
In this city, Mrs. Sukey Smith, wife of Mr. Matthew Smith, aged 35.
Sukey – that name sounds so familiar – but at the same time, I don't think I've ever met a person named "Sukey."
I wondered if it was an abbreviation.
No, according to the dictionary it is "a Hebrew baby name… [and means] Graceful Lily." (Source: SheKnows.com)
Hebrew name? So I checked the Bible to see if there were any women named Sukey who were mentioned in the Bible. Nope – no one named Sukey is listed in the Bible.
A quick search of GenealogyBank showed that there are only 6 people with the name Sukey in the Social Security Death Index; there are over 150 marriages and nearly 400 obituaries involving a person named Sukey.
Maybe "Sukey" sounded familiar to me because of Sukey Tawdry from the lyrics of "Mack the Knife" by Bobby Darin.
Do you have a Sukey in your family tree?
Note: FamilySearch International (FamilySearch.org) and GenealogyBank are partnering to make over a billion records from recent and historical obituaries searchable online. The tremendous undertaking will make a billion records from over 100 million U.S. newspaper obituaries readily searchable online. The newspapers are from all 50 states and cover the period 1730 to the present.  Find out more at: https://www.genealogybank.com/family-search/
[bottom_post_ad]
(Visited 32 times, 1 visits today)