Introduction: In this article, Melissa Davenport Berry continues her series profiling descendants of the Mayflower settlers, focusing on the White, Enegren and Olds families. Melissa is a genealogist who has a blog, AnceStory Archives, and a Facebook group, New England Family Genealogy and History.
Today I continue with my Mayflower "Who's Who" descendants series. Washington Mayflower Society members were featured in a Seattle Daily Times article in 1922 as they celebrated their cherished holiday Forefather's Day to commemorate the landing at Plymouth in 1620. State historian Ada Caldwell White (1880-1959) descends from Francis Cooke. Her four-year-old son Henry Middleton White Jr. was pictured in the newsclip.
I found other Mayflower passengers in her line – John Alden and Priscilla Mullins – through her grandfather Thomas Baxter Caldwell's marriage to Mary Ann Ames. This makes her ninth in descent from John Alden and tenth in descent from William Mullins. Here is the genealogy:
Ada Baxter Caldwell Ada married 1st Henry M. White (married 2nd Lewis Larkin Berens)
Emma Isoline Whittier and Thomas Ellis Caldwell
Thomas Baxter Caldwell and Mary Ann Ames
William Ames and Polly Ager
Israel Alger and Rachel Howard
George Howard and Abigail Copeland
Jonathan Copeland and Bette Snell
William Copeland and Mary (nee Bass) Spear, widow of Ebenezer Spear
John Bass and Ruth Alden
John Alden and Priscilla Mullins
An obituary for Ada's 4th great grandfather Jonathan Copeland, published in the Pennsylvania Mercury and Universal Advertiser on 30 September 1790, notes his many descendants and the astonishing increase of generations.

In that Seattle Daily Times article, Nina Olds Enegren – a descendant of Governor Bradford, John and Priscilla Alden, and William Mullins – was quoted.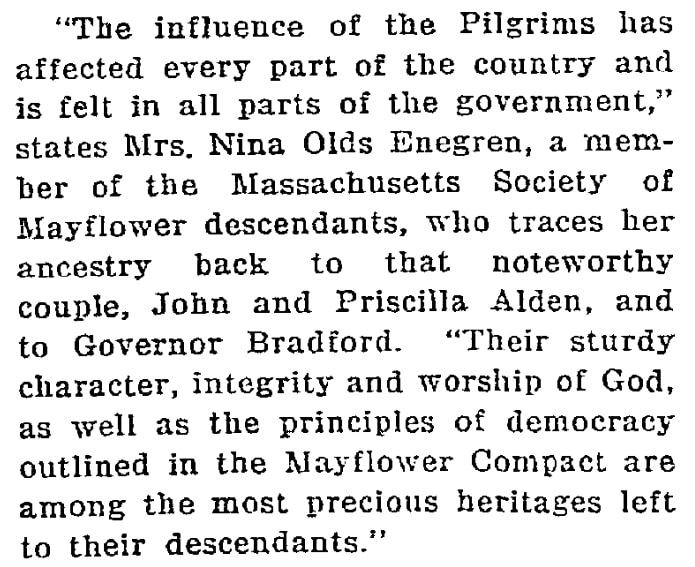 Nina was born to Gamaliel Whitney Olds and Hannah Leffingwell Tracy. She married Robert Enegren, who emigrated from Sweden. Nina's grandchildren also appear in that article – Katherine, William, and Robert Garland – born to Cecile Leffingwell Enegren and William Delwie Garland. Katherine is dressed in quaint long skirts, white cap, fichu, and apron of the Pilgrim style as the demure Priscilla Alden herself.
Despite the Christmas holiday distractions, the Garland children took the day to be thankful for those ancestors of theirs who made such nice things possible – or rather who in 1620 laid the foundation for the happy homes of the children in 1922.
Nina's other daughter Mrs. Helen Enegren Garrison, wife of Alfred Selman Garrison, is also mentioned. I found a beautiful photo in the Seattle Daily Times of Helen on her wedding day (23 June 1922) with her sister Cecile.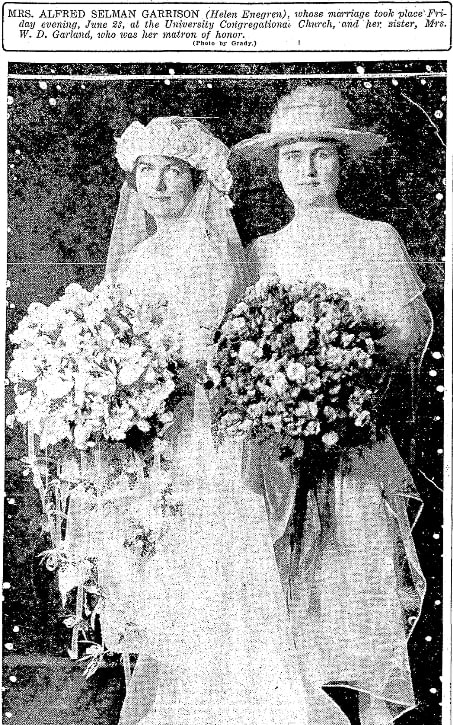 All the Olds women were also members of the Daughters of the American Revolution under patriots Benjamin Olds, Perley Howe, and Daniel Leffingwell.
Nina was the principal of the Bradford Hall School for girls, a day and home preparatory school in Seattle whose goal was to foster habits of thoroughness and self-reliance before high school and advanced work. The annual cost for Bradford Hall was about $450 – almost $13,000 today.
Nina's interest in cultivating social progress shows up in an announcement in the Minneapolis Journal from 1897. Nina was heading a committee to organize a social science club for the purpose of bettering social conditions, inspired by the lectures of Professor Charles Zeublin, known for his urban activism and celebrating the city's diversity.
Stay tuned for Washington Mayflower Society member Mrs. Annette Fitch Nelson – her story full of color and scandal is up next!
Note: Just as an online collection of newspapers, such as GenealogyBank's Historical Newspaper Archives, helped tell the stories of the White, Enegren and Olds families, they can tell you stories about your ancestors that can't be found anywhere else. Come look today and see what you can discover!
Additional Note on the header image: Nina Olds Enegren. Courtesy of her granddaughter Sandra Taylor.
Related Articles: